Monday Morning Collector: The Super Bowl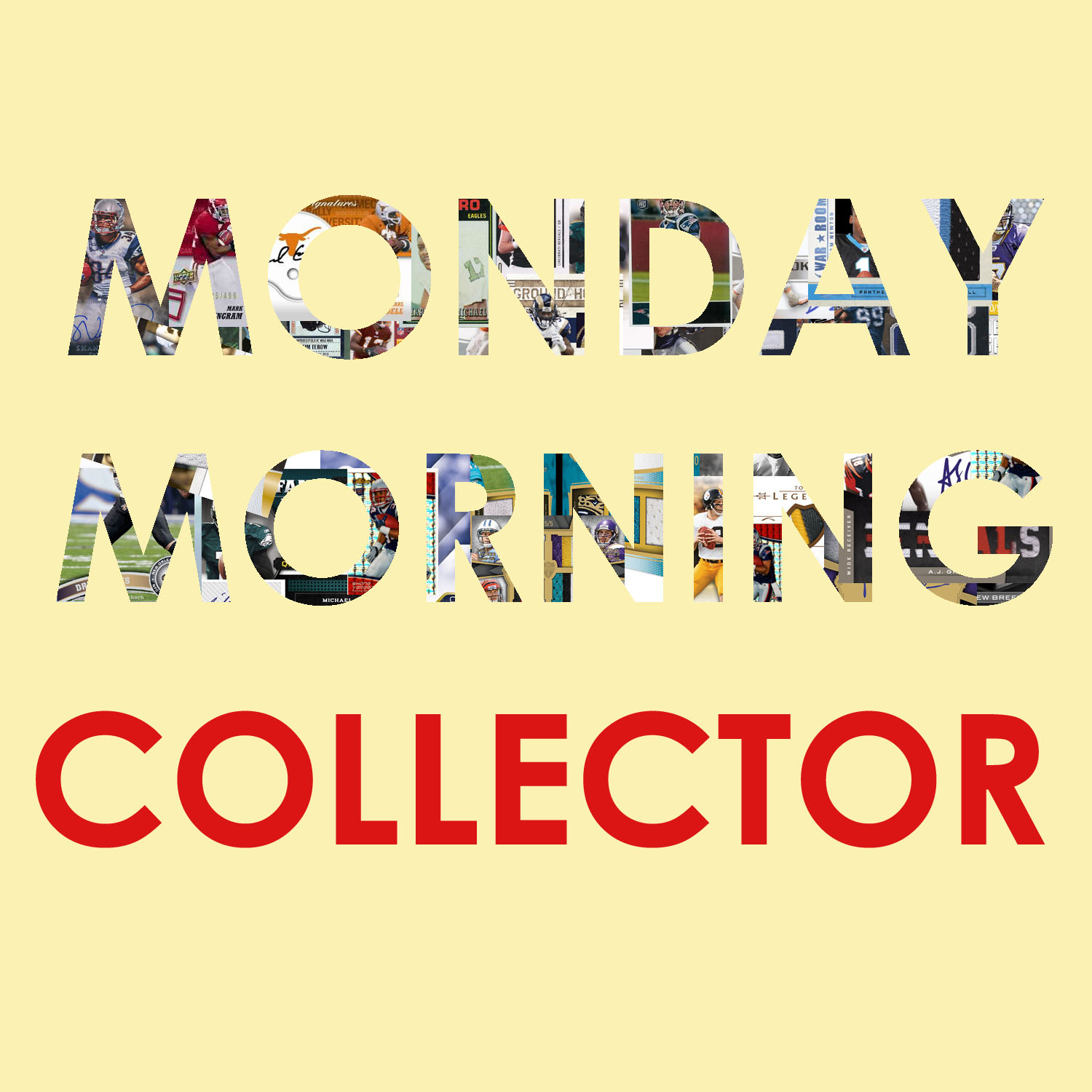 By Dan Hitt | Sports Data Publishing Manager
Every Monday morning throughout the NFL season, we selected our rookie, veteran and breakout players of the week with a run down on why collectors should take notice. For the postseason we'll select three standout players for each round. Here are our choices for the Super Bowl.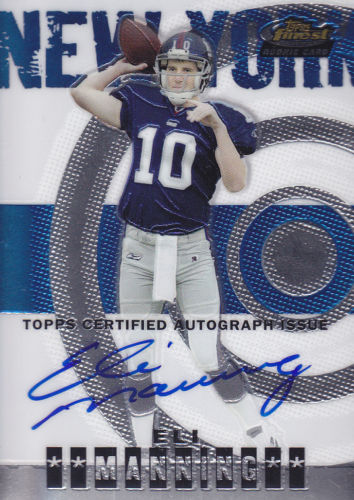 Eli Manning, QB, Giants
(296 yards passing, 1 touchdown)
After securing his second Super Bowl victory and second MVP Award, the adjective "Elite" seems to be finally sticking to the younger Manning. There was much talk about this moniker leading up to the game and the results are sure to end most of that debate now. What will happen to Eli's cards now that he's officially an elite quarterback? The first level that we're likely to see is that Eli's 2004 rookie season cards will increase to that of Ben Roethlisberger – fellow two-time Super Bowl champion. That should be the immediate benchmark. Where his top cards go from there is anyone's guess, but there's a great chance that the buying momentum will carry Eli's most valuable signed Rookie Cards higher than Big Ben's—at least in the short run.

Cards to Grab:
2004 Donruss Elite #134 RC/500 ($50)
2004 Finest #110 AU/399 RC ($200)
2004 Ultimate Collection #130 AU/150 RC ($300)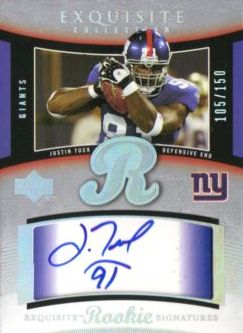 Justin Tuck, DE, Giants
(2 sacks)
The Giants' defense, particularly their pass rush, was anticipated to be a key factor leading up to the game. While Tom Brady seemed to have more time, generally, to throw than most Giants fans would have liked, Justin Tuck came through with two very large sacks of Brady late in the game. Tuck was also the player pressuring Tom Brady in the end zone that forced the intentional grounding penalty resulting in the safety early in the game. That safety proved to be important in the final minute of the game when the Patriots were forced to score a touchdown instead of a field goal. Watch Justin Tuck cards this week and the following week for a possible surge in interest, especially his only certified autograph – 2005 Exquisite Collection.
 Cards to Grab:
2005 Exquisite Collection #125 AU/150 RC ($100)
2005 SP Authentic #142 RC/750 ($15)
2005 Topps Chrome #231 ($6)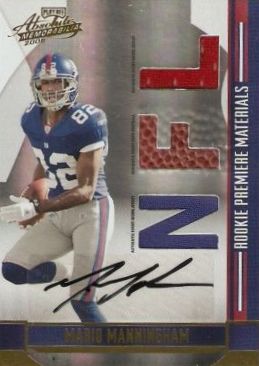 Mario Manningham, WR, Giants
(5 catches, 73 yards receiving)
Mario Manningham's great over-the-shoulder catch late in the fourth quarter of the Super Bowl reminds many of us of David Tyree's famous catch in the previous Giants-Patriots super match-up. Just like Tyree, Manningham is now and forever part of New York Giants Super Bowl lore. Manningham's hobby status is much stronger than Tyree's, although his 2011 season statistics where weak. As a 2008 rookie, Manningham has plenty of autographs to choose from and none have been selling strongly for months, so we should see a rapid spike in value for many of them this week.
Cards to Grab:
2008 Absolute Memorabilia #258 RPM AU/299 RC ($25)
2008 Exquisite Collection #159 JSY AU/199 RC ($80)
2008 SP Authentic #282 JSY AU/999 RC ($30)