Monday Morning Collector: NFL Week 6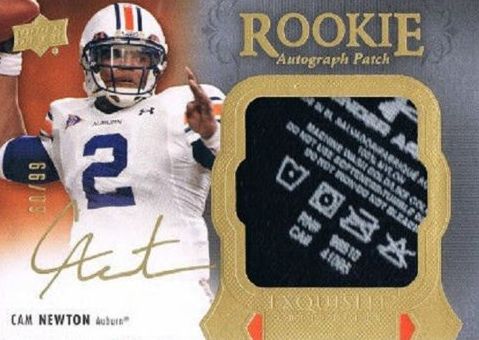 Every Monday morning throughout the NFL season, we'll select our rookie, veteran and breakout players of the week and provide a run down on why collectors should take notice. Here are our selections for NFL Week 6.
By Justin Grunert and Dan Hitt
Veteran of the Week:
Cam Newton, QB, Panthers
(269 yards passing, 1 touchdown, 65.6 QB rating)
Who would have thought that the Carolina Panthers were going to start the season 5-0? Well, after five weeks and a bye week that is exactly where the Panthers are sitting. It is in large part to fifth-year veteran quarterback Cam Newton. The Panthers were down 23-14 in the fourth quarter and Newton let his team two 80-yard scoring drives to beat the Seattle Seahawks in their stadium. While his numbers aren't eye-popping, he has found ways to win this season even without star receiver Kelvin Benjamin. Collectors should start paying more attention to Cam Newton's cards. He has cooled off over the last year so his cards should be at a much more reasonable price. If he can keep his team on the winning side his values should start to rise back up to the level that they once were at.
Cards to Grab:
2011 Exquisite Collection #11 JSY AU/99 ($600)
2011 Playoff Contenders #228A AU RC ($120)
2011 Topps Chrome Rookie Autographs # 1 ($200)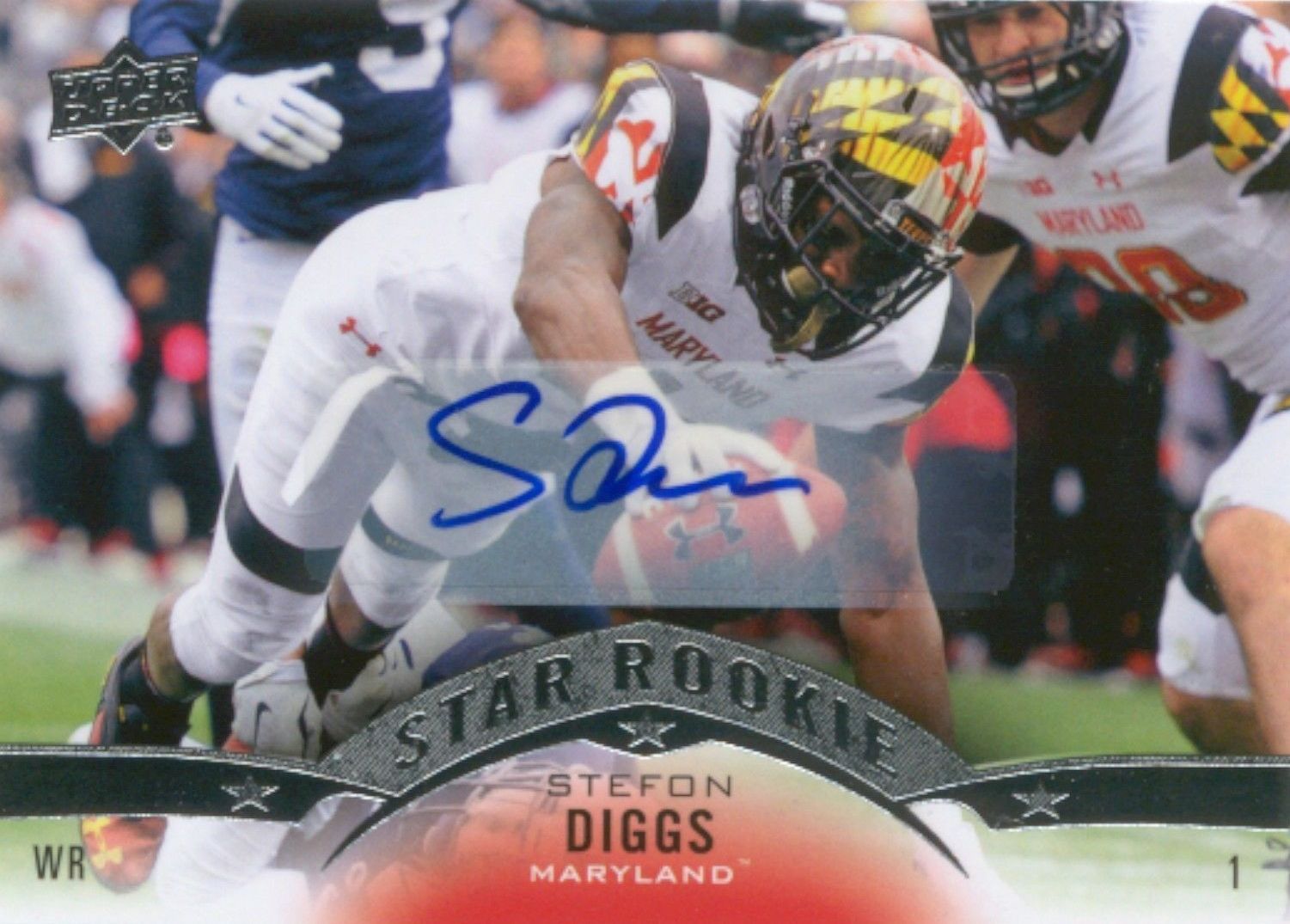 Rookie of the Week:
Stefon Diggs
(129 yards receiving, 18.4 yards/catch average)
Stefon Diggs could be the poster child for an NFL player flying under the radar. The Minnesota Vikings are a solid 3-2 to start the season but are largely overlooked as a serious contender in the tough NFC. However, with Adrian Peterson running the ball very well and the recent emergence of a legitimate passing game, the Vikings could be a viable Wild Card team. Watch for Stefon Diggs to become a full time second receiver threat opposite Mike Wallace to round out the passing game for Teddy Bridgewater.
Diggs has plenty of 2015 Rookie cards and autographs to choose from and is likely to be included in all key football products releasing for the remainder of the year. He has a few top cards that can be found right now that should hold up in value despite more significant products coming our way later.
Cards to grab:
2015 Panini Contenders Draft Picks #143A AU RC ($10)
2015 Topps Rookie Premiere Autographs/150 #SD ($25)
2015 Upper Deck Star Rookies Autographs #175 ($30)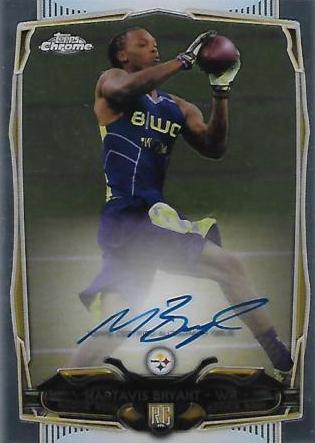 Breakout Player of the Week:
Martivis Bryant, WR, Steelers
(137 yards receiving, 2 TD)
It was the first game of the season for Steelers wide receiver Martavis Bryant after serving a four-game suspension. He exploded for 137 yards and two scores. It didn't seem to matter what quarterback was playing, Bryant was coming down with the ball. Mike Vick left the game with an injury and third-stringer Landry Jones came in and threw to Bryant…a lot. He accounted for almost 80% of the receiving yards on his team in their victory over the Cardinals on Sunday. Martavis Bryant has seen the value of his cards rise lately. Being a successful young receiver on a highly collected team helps that out, but how dominating he can be on the field makes collectors seek his rookies and autographs so much. If he has such a strong performance against a good team with a third string quarterback, imagine what he can do when Ben Roethlisberger comes back from injury. While Bryant's value is strong right now there is plenty of room for his value to grow.
Cards to Grab:
2014 Panini Contenders #159B AU RC ($60)
2014 SP Authentic #207 Martavis Bryant JSY AU/550 ($50)
2014 Topps Chrome Rookie Autographs #133 SP ($60)