Monday Morning Collector: NFL Week 11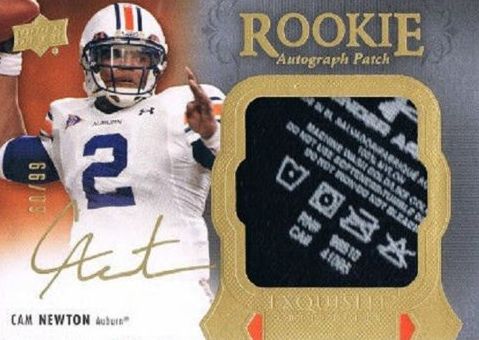 Every Monday morning throughout the NFL season, we'll select our rookie, veteran and breakout players of the week and provide a run down on why collectors should take notice. Here are our selections for NFL Week 11.
By Justin Grunert
Veteran of the Week:
Cam Newton, QB, Panthers
(246 yards passing, 5 touchdowns, 123.3 rating)
Cam Newton is making a strong case for to win this year's MVP award over Tom Brady. Newton was dominant in Sunday's 44-16 blowout of the Redskins. He threw five touchdowns, four of which came in the first half. He also did not throw an interception in the game. Collectors had started to cool a little on Newton's cards, but that didn't last long. With the Panthers 10-0 on the season and almost a lock to win the NFC South, he should start getting more attention from collectors. Expect to see his value rise, especially if he can lead the Panthers to a deep run in the playoffs.
Cards to Grab:
2011 Exquisite Collection #11 JSY AU/99 ($600)
2011 Playoff Contenders #228A AU RC ($120)
2011 Topps Chrome Rookie Autographs # 1 ($200)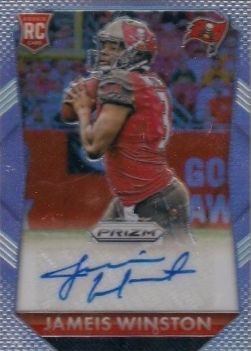 Rookie of the Week:
Jameis Winston, QB, Buccaneers
(246 yards passing, 5 touchdowns, 131.6 rating)
Rookie quarterback Jameis Winston tied an NFL rookie record when he threw five touchdown passes in Buccaneers 45-17 victory over the Eagles on Sunday. After a slow start to the season, Winston has woken up and is leading his team to more victories than the team has seen in the last two years combined. All he needs to do is win one more game to give the Bucs six wins and he matches that number. Fellow rookie Todd Gurley has looked like he would run away with the Rookie of the Year honors, but Winston is making a strong case for him to win the award. His cards value his taken a slight dip in the last few weeks, but it could be an easy rebound for him if he can keep up his winning ways.
Cards to grab:
2015 Bowman Chrome Rookie Autographs Refractors #RCRAJW ($150)
2015 Panini Prizm Rookie Signatures #RSJW ($N/A)
2015 Upper Deck Star Rookies Autographs #46 ($150)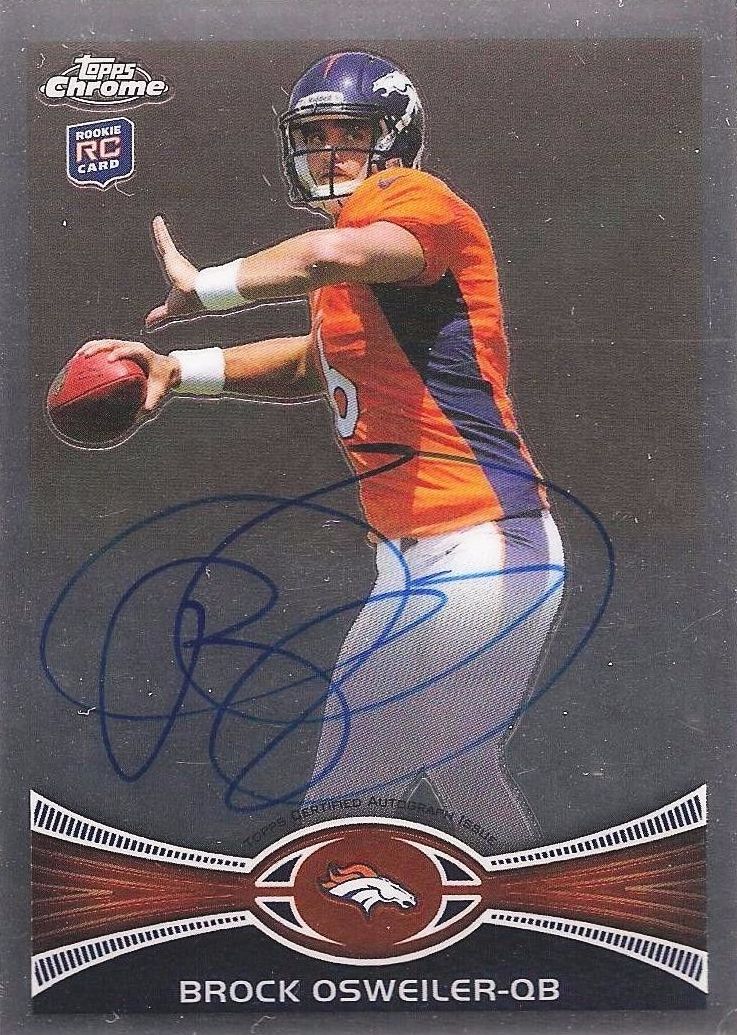 Breakout Player of the Week:
Brock Osweiler, QB, Broncos
(250 yards passing, 2 touchdowns, 127.1 rating)
It's not every day that a player gets to study the greatest to play their respective game, but that is exactly what Brock Osweiler gets to do as backup to Peyton Manning. Osweiler got his chance to show what he has learned on Sunday and he didn't disappoint leading the Broncos to a 17-15 victory over the Bears. Many have said that he is the future of that team once Manning decides to retire. He showed everyone why he is deserving of that position on Sunday. Brock's value has always been fairly strong, especially for someone who took four years to start their first game. The more playing time and wins that he gets collectors could expect to see that value rise. It might not be too long before a lot of his cards have up arrows in Beckett Magazine and Online Price Guide.
Cards to Grab:
2012 Exquisite Collection #122 JSY AU/150 ($150)
2012 Panini Contenders #207A AU RC ($80)
2012 Topps Chrome Rookie Autographs #210 ($50)