Monday Morning Collector: NFL Week 10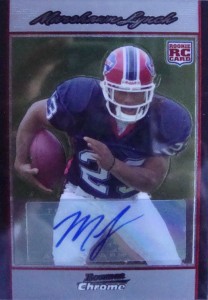 By Justin Grunert and Dan Hitt
Every Monday morning throughout the NFL season, we'll select our rookie, veteran and breakout players of the week and provide a run down on why collectors should take notice. Here are our selections for NFL Week 10.
Veteran of the Week:
Marshawn Lynch, RB, Seahawks
(140 yards rushing, 4 touchdowns)
Beast Mode was out in full force on Sunday against the New York Giants. Marshawn Lynch scored a career best four touchdowns while he rushed all over the Giants' defense. His first three scores were all goal line scores but his fourth was a 16 yard rush where he made up for a fumble on the previous play. Marshawn Lynch has exactly 3,800 cards in the Beckett database; most of them are at the Unlisted Star level. His autographs are very accessible for collectors to buy, but if he keeps tearing apart defenses it is only a matter of time before we could see his value rise.
Cards to Grab:
2007 Bowman Chrome Rookie Autographs ($50)
2007 Exquisite Collection #131 JSY AU/99 RC ($150)
2007 Playoff Contenders #194 AU/533* RC ($50)
Breakout Player of the Week: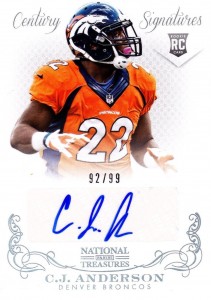 C.J. Anderson, RB, Broncos
(90 yards rushing, 73 yards receiving, 1 touchdown)
The Denver Broncos like to get a wide variety of players active on offensive, especially at running back. With Ronnie Hillman largely ineffective on Sunday, it was C.J. Anderson's turn to show what he could do. Anderson, essentially the fourth RB on the depth chart, managed to carry the ball for 6.9 yards-per-carry average and score the go ahead touchdown on a spectacular 51 yard catch and run in the second quarter. Anderson, a 2013 free agent rookie, has a smattering of cards from late season releases with a number of autographs among them (56 of his 77 card are signatures). Expect some increased interest in his cardboard, but a wait-and-see approach would be prudent given the team's preference for the running back by committee approach.
Cards to Grab:
2013 Panini Contenders #116A AU RC ($12)
2013 Panini National Treasures #254 JSY AU/99 RC ($20)
2013 Panini Spectra #114 AU/299 RC ($10)
  Rookie of the Week: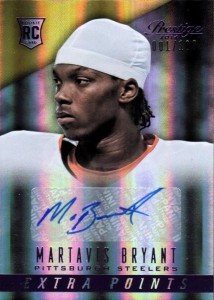 Martavis Bryant, WR, Steelers
(4 receptions, 143 yards receiving, 1 touchdown)
There was one bright spot in the Steelers loss to the Jets on Sunday, and that was Martavis Bryant's performance. He caught an 80-yard touchdown pass from Ben Roethlisberger to bring his club within one score of the Jets. Bryant has only played in four games this year but he already has six touchdowns. It appears that he is becoming a valuable weapon for Big Ben to throw to. Bryant has plenty of autographed rookie cards for collectors to buy, and with the average high book value around $12.00, it's a bargain for someone with so much potential. His value has the potential to rise if he becomes the number one receiver in Pittsburgh.
Cards to Grab:
2013 Exquisite Collection Draft Picks Autographs #ERMB /99 ($50)
2014 Prestige Extra Points Purple Autographs #271 /100 ($12)
2014 Topps Autographs #419A/B ($20)
 Honorable Mention:
Aaron Rodgers (315 yards passing, 6 touchdowns) Key Card: 2005 SP Authentic #252 JSY AU/99 RC ($2,500)
Dez Bryant (6 receptions, 158 yards receiving, 2 touchdowns) Key Card: 2010 Panini National Treasures #311 JSY AU/99 RC ($300)
Calvin Johnson (7 receptions, 113 yards receiving, 1 touchdown) Key Card: 2007 Bowman Chrome Rookie Autographs #BC75 ($150)