Monday Morning Collector: NFL Week 1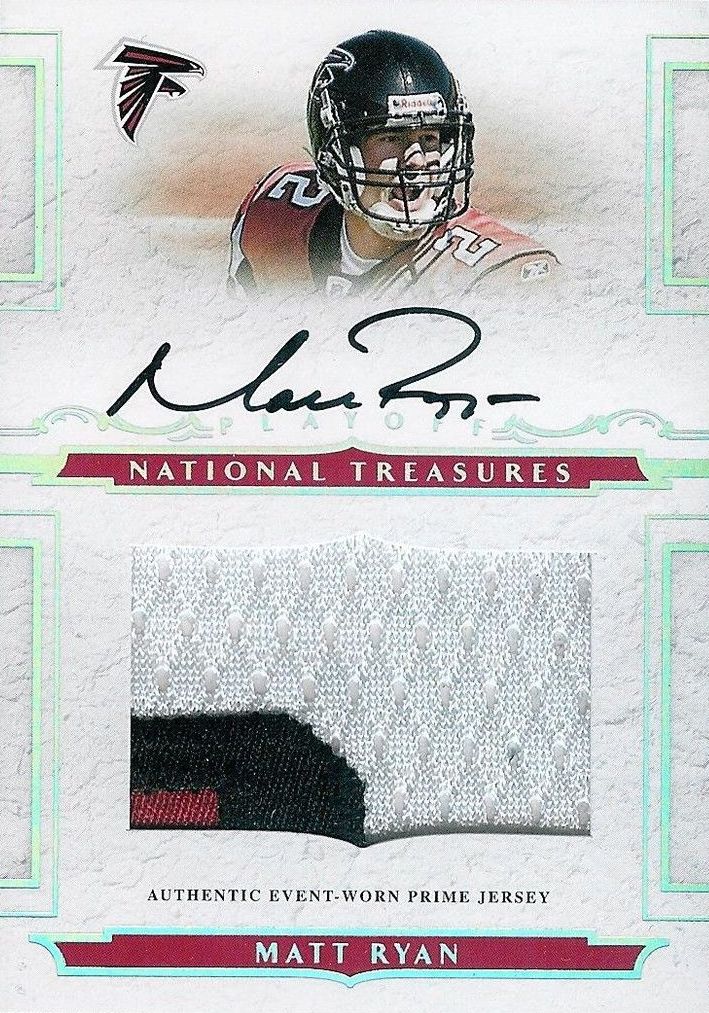 By Justin Grunert and Dan Hitt
Every Monday morning throughout the NFL season, we'll select our rookie, veteran and breakout players of the week and provide a run down on why collectors should take notice. Here are our selections for Week 1.
Veteran of the Week:
Matt Ryan, QB, Falcons
(448 yards passing, 3 touchdowns)
After a dismal year in 2013, Matt Ryan appears to be back! He threw for 448 yards and three touchdowns( with no interceptions) in the Falcons 37-34 overtime win against division rival New Orleans Saints. The 448 yards passing sets a new Falcons franchise record. He also set a new team record for career touchdowns with 156, beating the previous record of 154. Ryan's cards have cooled off over the last year, but if he can return to elite form expect his hobby status, and his key card values, to begin to rise again.
Cards to Grab:
2008 Playoff National Treasures #111 JSY AU/99 RC ($350)
2008 SP Authentic #300 JSY AU/499 RC ($250)
2008 Topps Chrome Rookie Autographs #166 ($120)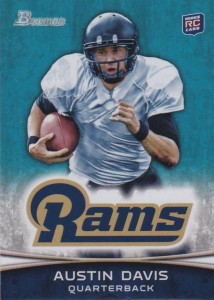 Breakout Player of the Week:
Austin Davis, QB, Rams
(70% passing efficiency (16-23), 192 yards)
Austin who? Austin why? You may be asking yourself these very basic questions and legitimately so. Before Sunday, we hadn't really heard of Austin Davis before either and the card manufacturers all but overlooked him during his rookie season of 2012 (only Topps caught him in the 2012 Bowman release). A severe set of circumstances, with starter Sam Bradford out for the season and backup Shaun Hill out for the second half of Sunday's game, suddenly thrust third stringer Davis into a playing role against the Vikings. By no means did Davis light up the scoreboard or even the stat sheet, but he did pass for a very efficient 70% making a number of NFL quality throws. Did he show coach Jeff Fisher enough to start Week 2 or will Hill's injury force the coaches hand? We'll see. But, if Davis does play well against the Bucs this Sunday, watch those 2012 Bowman cards take off. With only five different cards available right now, they're sure to rise this week, but have the real potential for enormous gains should Davis play well.
Cards to Grab:
2012 Bowman #186A RC ($2)
2012 Bowman #186B SP ($15)
2012 Bowman Gold #186 ($4)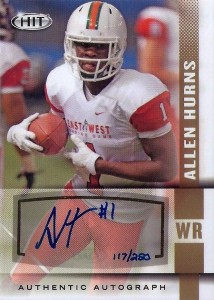 Rookie of the Week:
Allen Hurns, WR, Jaguars
(4 receptions, 110 yards, 2 touchdowns)
The Jacksonville Jaguars dropped a heart breaker to the Philadelphia Eagles, losing 34-17 after taking a 17-0 lead in the first half. The one bright point of their day came in the form of free agent rookie Allen Hurns. Hurns' first two catches in the NFL went for touchdowns: the first for 34 yards and the other for 21 yards. He added two more receptions to give him a total of 110 yards on the day. Not too shabby for an undrafted rookie trying to make a name for himself. Hurns has autographs in just 2014 SAGE HIT and his only Rookie Card, thus far, can be found in 2014 Bowman. The SAGE HIT autograph has already soared with the Gold/250 version jumping from $10 to $60 practically overnight.
Cards to Grab:
2014 Bowman Rainbow Blue/499 #109 ($4)
2014 Bowman Rainbow Red/199 #109 ($5)
2014 SAGE HIT Autographs Gold/250 #A31 ($60)