Monday Morning Collector: NFL Playoffs (Championship Round)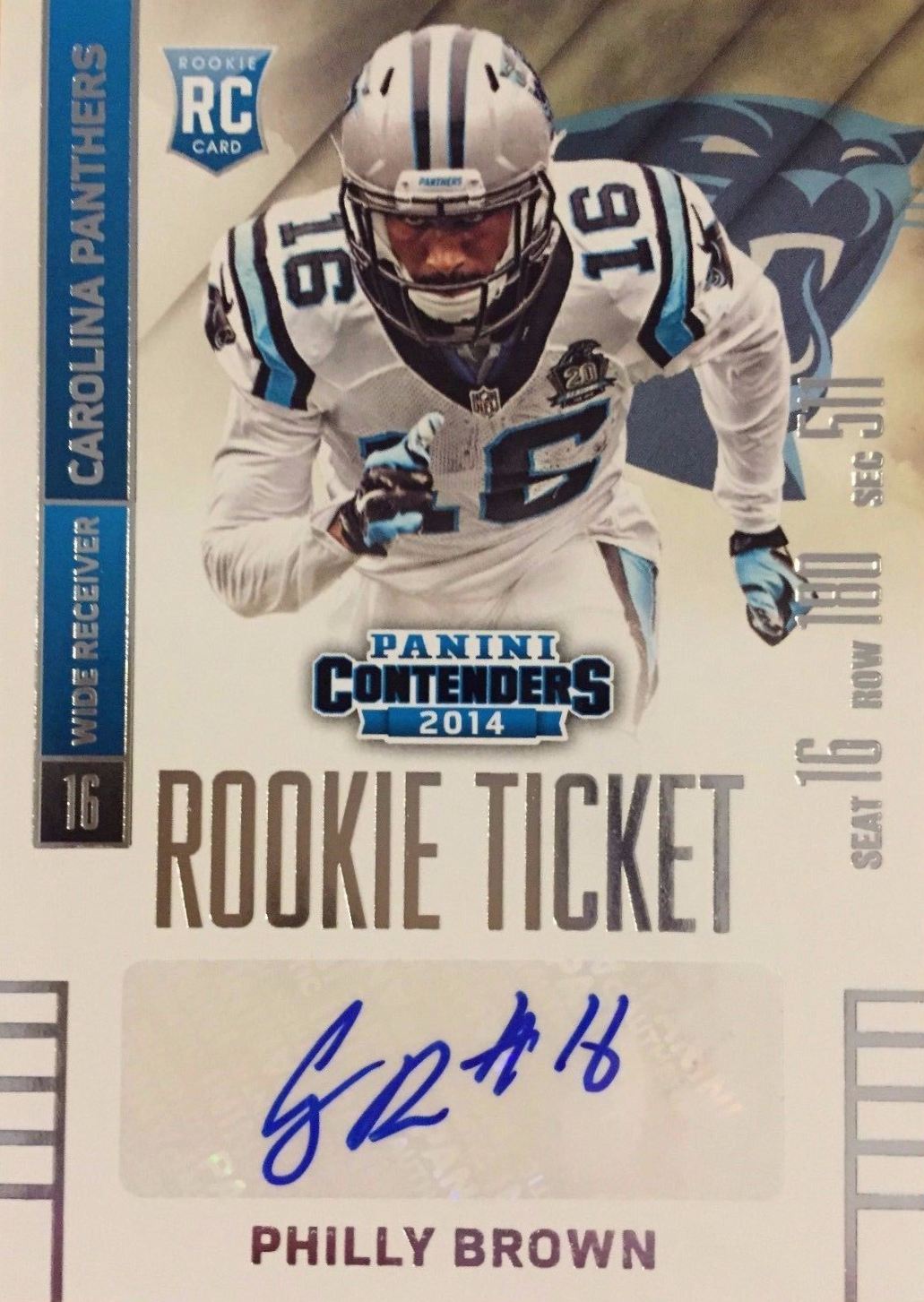 By: Justin Grunert | Football Market Analyst
Every Monday morning throughout the NFL season, we'll select our top players of the week and provide a run down on why collectors should take notice. Here are our selections for the NFL Playoffs Championship Round.
Corey Brown, WR, Panthers
(4 catches, 113 yards receiving, 1 touchdown)
To put star quarterback Cam Newton on the Monday Morning Collector would be too easy. Everyone knows that he is amazing and that his cards are more valuable than most players' in the league. Corey "Philly" Brown, however, isn't as well known. The second year receiver led the team in yards receiving with 113. Most of that came from an 86-yard touchdown in the first quarter. There are very few cards for Brown in the market. He does have a 2009 autograph which is five years before his first rookie card. There is always a hero in the super bowl whose cards sky rocket in value. Last year Chris Matthews came out of nowhere. This year Corey Brown could be that guy if he can have one more game like he did against the Cardinals.
Cards to Grab:
2009 Razor Army All-American #AU21 ($6)
2014 Panini Contenders #200A AU RC ($8)
2014 Panini National Treasures #188 RC/99 ($10)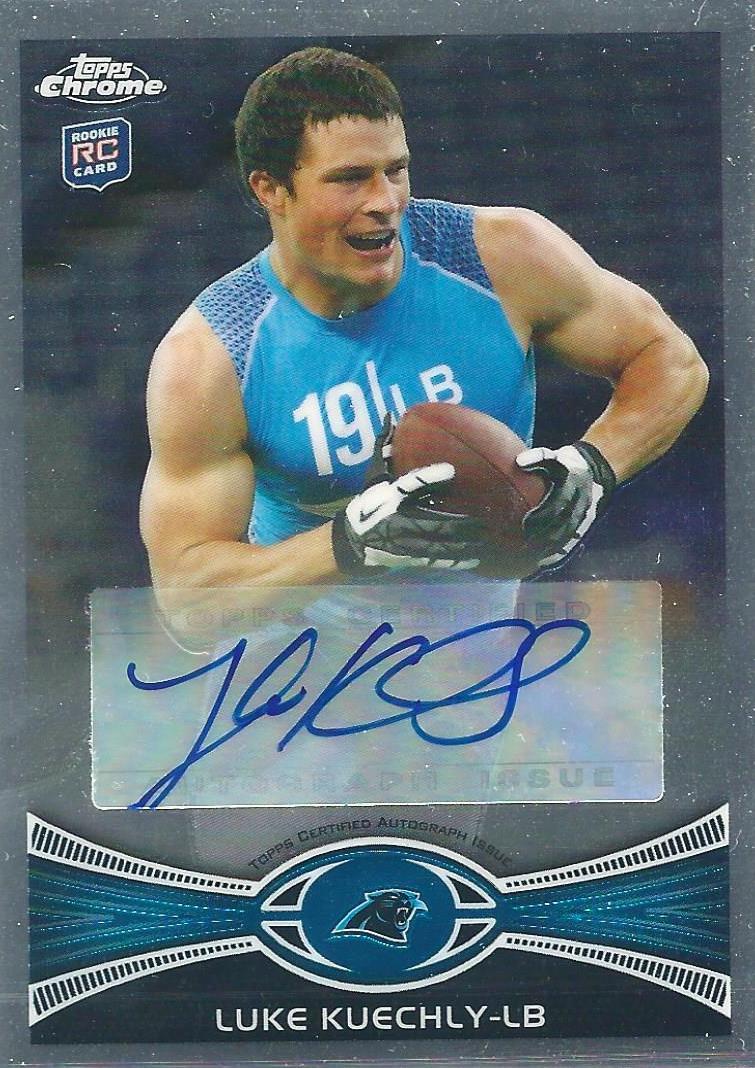 Luke Kuechly, LB, Panthers
(8 tackles, 1 interception, 1 touchdown)
Luke Kuechley was all over the field in Sunday's blowout victory over the Arizona Cardinals. He scored the last touchdown in the game to add an exclamation point to an already out of hand game. He is the first defensive player to have pick sixes in consecutive playoff games in the Super Bowl era. It seemed that every play there was a big defensive play Kuechly's name would come up. He is already a popular player on cardboard. His autographs consistently sell strongly and the way he has been playing it would be surprising if his value went up even more. In two weeks he could have one of the biggest games of his career and also set a new high value for his cards as well. If any defensive player can do it, it's Luke Kuechly.
Cards to grab:
2012 Panini National Treasures #262 AU RC/99 ($80)
2012 Topps Chrome Rookie Autographs #45 ($50)
2012 Upper Deck Rookie Autographs #235 ($30)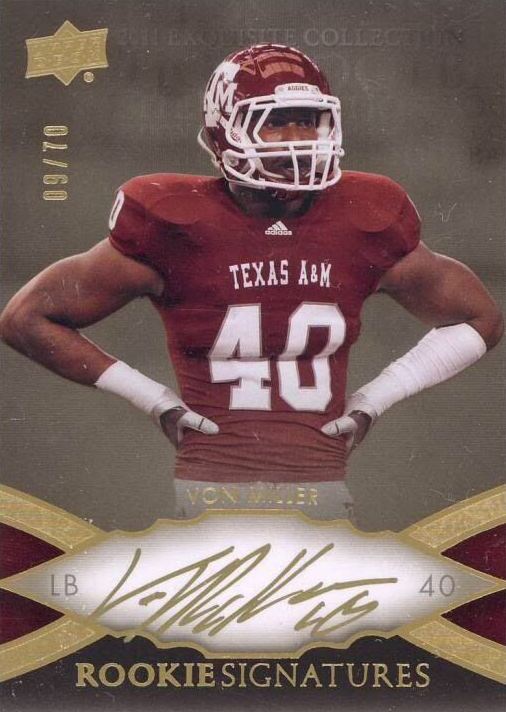 Von Miller, LB, Broncos
(5 tackles, 2.5 sacks, 1 interception)
Usually a team that is quarterbacked by Peyton Manning would be expected to have an amazing offense. While Manning will be the oldest player to ever start a Super Bowl game, he isn't the reason that they got there. It is the Denver defense that smothered Tom Brady in their 20-18 win on Sunday. Von Miller was one of the best players on the field for that game. He also managed to hit Brady four times. Miller and the Broncos look forward to the Super Bowl and Cam Newton in two weeks. He will be a different quarterback than what they have played in the playoffs so far. Von Miller was the Defensive Rookie of the Year in 2011 and has gotten better over the last couple of years. If he can manage to get to Newton like he did with Brady his card value could gain more interest than he has seen in a long time.
Cards to Grab:
2011 Exquisite Collection #63 AU/70 ($50)
2011 Playoff Contenders #220A AU RC ($20)
2011 Topps Five Star #171 JSY AU/65 RC ($30)