"Moments" banners offer striking looks at 42
By Chris Olds | Beckett Baseball Editor
The latest in collectable promotional materials for the forthcoming Jackie Robinson film, 42, have been teased online by Warner Bros. and will start appearing at theaters and perhaps in some of the typical collector outlets soon.
The final "moments" banner was revealed Saturday morning — the latest in a series of eight images that chronicle moments in the story of Robinson, which will come to the big screen on April 12.
One image, for example, shows him signing his contact with Branch Rickey, played by Harrison Ford, watching — a memorable moment that's been captured on more than a few baseball cards in the past. Another shows him with his wife, Rachel. Others show him traveling with the team and talking to the media — all are scenes that are sure to be key components in the film, which stars Chadwick Boseman as baseball's social pioneer.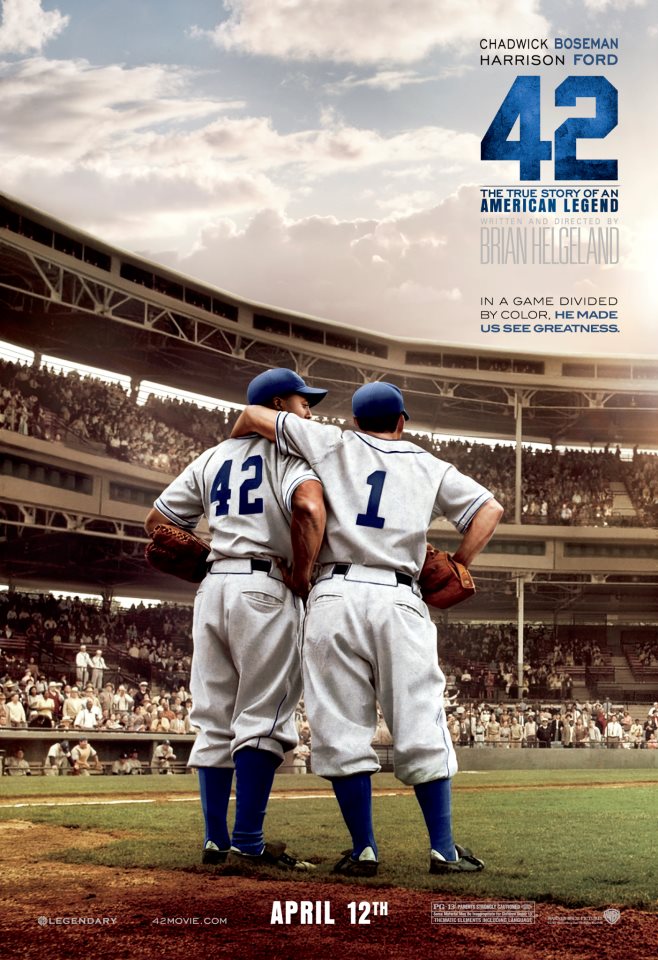 Another memorable moment from the field is one that actually wasn't photographed in real life, and it shows Robinson along with teammate Pee Wee Reese, who came to his side after a botched play. The move helped silence racially motivated heckling and symbolized his acceptance on the team, which was far from a given in the early days.
"I remember Jackie talking about Pee Wee's gesture the day it happened," Rachel Robinson once told The New York Times. "It came as such a relief to him, that a teammate and the captain of the team would go out of his way in such a public fashion to express friendship."
The first one-sheet (standard poster) for the film features Robinson sliding into a base with the photo used vertically (seen in gallery below). It's already been found on eBay since its release and has fetched as much as $20.
According to Anne Chun, a Senior Publicist at Warner Bros., these banners are a bit different than the standard posters. They are 4×6 feet in size, will be used for outdoor displays only and are "not sold anywhere and rarely printed out beyond their placements."
Chris Olds is the editor of Beckett Baseball magazine. Have a comment, question or idea? Send an email to him at colds@beckett.com. Follow him on Twitter by clicking here.
—
Look for more on 42 and other sports-related entertainment collectibles in the upcoming Sports Movies Issue of Beckett Sports Card Monthly, which begins shipping to hobby shops on April 3.