MMC Draft Edition: Marcus Mariota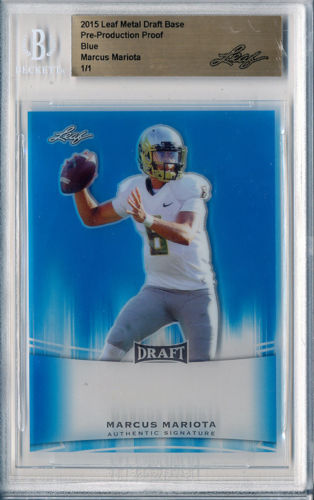 By: Justin Grunert | Beckett Football Analyst
With the 2015 NFL Draft coming up on April 30, Monday Morning Collector will take a look at some of the top potential draft picks are their possible impact on the hobby.
Marcus Mariota is one of the top quarterbacks in the 2015 NFL Draft and, therefore, will be a highly collected rookie no matter which team drafts him. There are a number of pre-draft expert projections about where he may land. The top three teams mentioned most are the Rams, Bears, and Eagles. No matter where he goes, it will have a significant collecting impact.
If the Rams select Mariota:
If Mariota ends up with St. Louis there is a possibility that former number one overall pick Sam Bradford could become the back up or get cut altogether. With Bradford's injuries year after year that is a real possibility and collectors could see his card values drop further. However, don't count out the possibility that Bradford could see a rebirth with a brand new team and that his cards might move to the upside should his new team offer him the clear opportunity to start.
If the Bears take Mariaota:
The next option is Chicago and Jay Cutler's value would be affected greatly if Mariota is drafted. With a new coaching staff in the Windy City, Cutler may already be on his way out anyway. A quarterback taken in the draft would almost guarantee it and that could trigger a huge drop in value for Jay Cutler's cards. Like Bradford though, a fresh start on a new team for Cutler might have the opposite effect on his cards depending on the circumstances.
If the Eagles draft Mariota:
The top team projected to draft Marcus Mariota is the Philadelphia Eagles. They would have to trade up to get their man, but the talk is that is what they will attempt. That move would shake things up for not one, but two quarterback's card values. Nick Foles may have been injured for most of last year but he is still a favorite among some collectors. The other quarterback is surprise comeback quarterback Mark Sanchez who saw his value soar last year when he took over the starting role. Sanchez recently re-signed with the Eagles, so Foles might be used as trade bait to let the Eagles move up in the draft to get Mariota. If Mariota is drafted and wins the starting quarterback job it surely will damage collector demand and card values for Sanchez or Foles. A new opportunity should favor card values for Foles over Sanchez, but it all will depend on the circumstances of the new team and the prospects for them to start.
The best case scenario for collecting value is if Marcus Mariota went to Philadelphia. They are a good team in a competitive division. They also have a fairly large collector base that would love to see a big name quarterback on their team. He would also be back with Chip Kelly who scouted Mariota to play for Oregon. If he can win the starting job in Philadelphia, collectors could see Mariota's value be among some of the highest from this year's draft class.