Card Gallery: The still-elusive 1989 Major League Movie baseball card set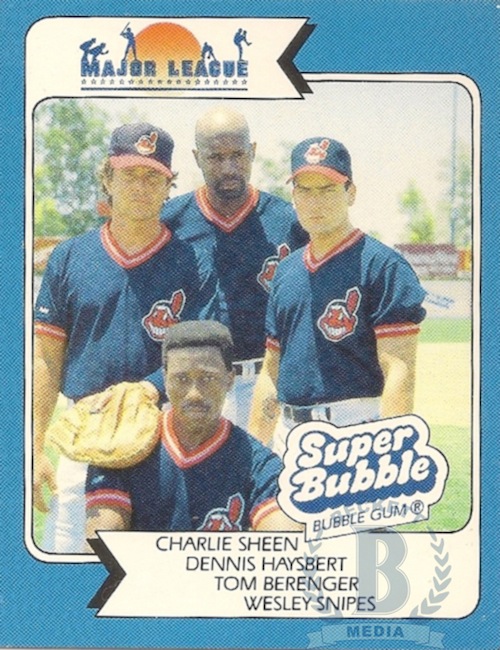 By Chris Olds | Beckett Baseball Editor | Commentary
We're coming down the home stretch in preparations for the Sports Movie Issue of Beckett Sports Card Monthly and we're now at the point where we know what won't be making the cut for print because of real estate.
You know, space.
While its story will briefly be told as part of my admitting I have one big-league obsession, I wanted to ensure that some recently received scans of what remains my biggest baseball card collecting nemesis — the 1989 Major League Movie set — could be seen by many.
It's not an expensive set at all but it's one that I have never seen in-person, let alone had a chance to own. It's a real 11-card set of slightly over-sized photos featuring the stars of David S. Ward's first baseball movie.
How obscure are they?
"I had lunch with [writer and director] David Ward a few years back and brought in a set," said Miles Levy, who represents Corbin Bernsen aka Roger Dorn, "and he didn't even own one."
No wonder I can't find one …
See all 11 cards — and learn a little more about the set — after the jump.
The cards are a blue-bordered 1974 Topps knockoff with a Super Bubble gum logo and what appears to be an early production logo for the film that can also be seen on a few other items. The set was reportedly given to a few thousand fans in attendance during filming  in Milwaukee. (That's right … the baseball scenes weren't filmed in Cleveland.)
It's the only set that is anything close to officially licensed for the film, and it has all the legends in there, Tom Berenger, Dennis Haysbert, Charlie Sheen, Wesley Snipes and so on … all that's missing is Jobu – and there's a story there to be told, too.
I first learned of this set's existence in 2009 – it's been in the Beckett.com database all along — and I still haven't landed one.
I know of four people who say they own the set, but two wouldn't cough it up for this potential buyer and two simply haven't found them. One, a reader named Jason, was kind enough to send the scans that you see here, though, so I can give you a rundown of the cards.
The cards are not numbered — they're blank backs — so here they are in alphabetical order by character.
—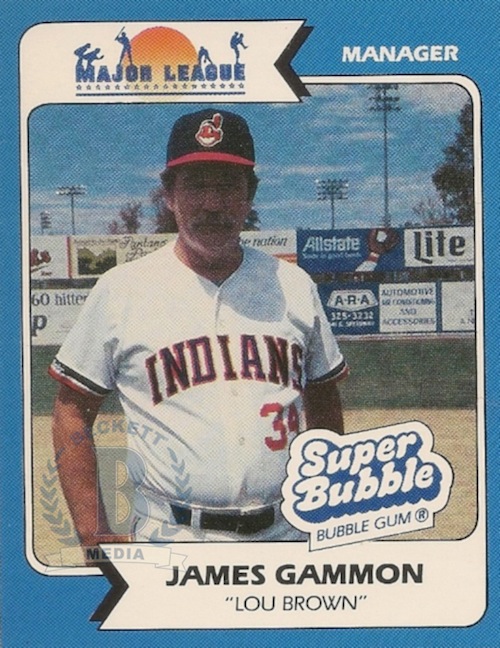 Lou Brown — James Gammon is the only member of the cast who is no longer with us as he died last year at age 70. His gravelly voice made many a line in the film legendary — and we all know what he thought of contracts and sportswriters, which just added to the greatness of this manager.
—
Pedro Cerrano — Sure, Dennis Haysbert has his Fans of the Game cards and even more cardboard as the president in 24. But there's only one Pedro Cerrano — and this is the one real card that shows this slugger in uniform.
—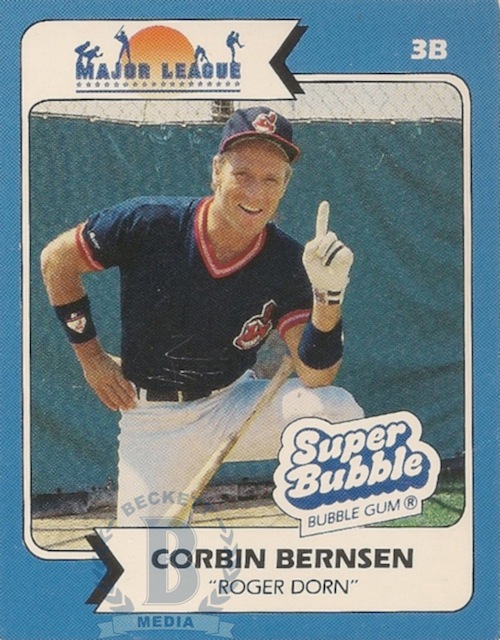 Roger Dorn — You just love to hate Corbin Bernsen's character in the film and there's something about this pose that's, well, just plain Dorn. (The photos in this set have not appeared on any other memorabilia or marketing materials that this fan knows about, either.)
—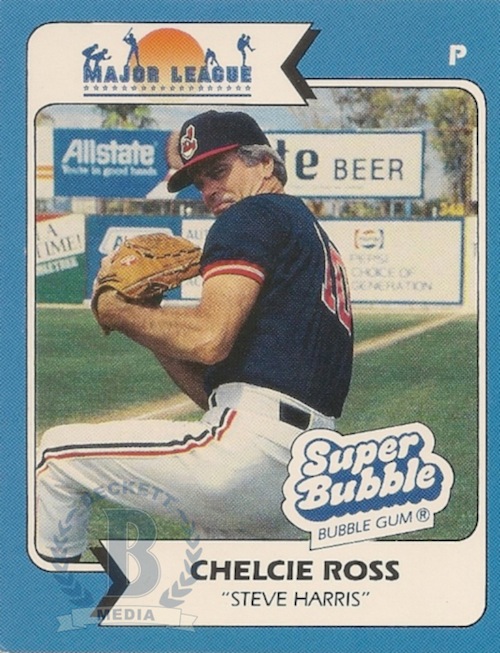 Eddie Harris — How early on were these cards made? Well, Chelcie Ross' memorable Bardahl-, Vagisil- and Jalapeno-abusing veteran never went by the name Steve in the film. It was either a last-minute change or Harry Doyle (who sadly doesn't have a card in this set) had one too many Jacks while calling the action.
—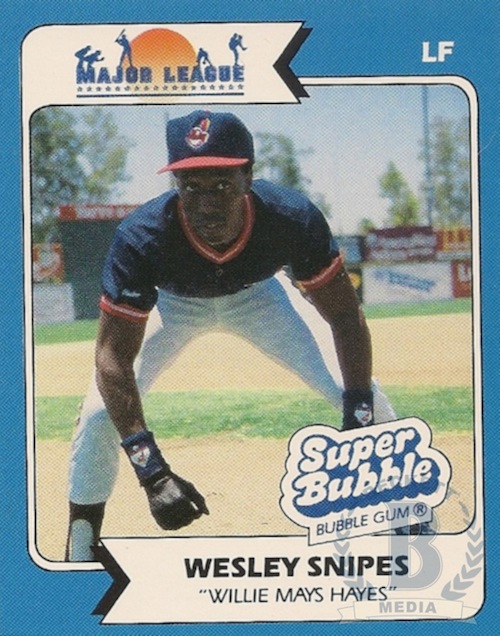 Willie Mays Hayes — Wesley Snipes might not have truly gotten into this role just yet but we'll never know for sure as those memorable cleats have been cropped off of this photo. This card also is from early on as he's firmly a center fielder in the film, not a lefty.
—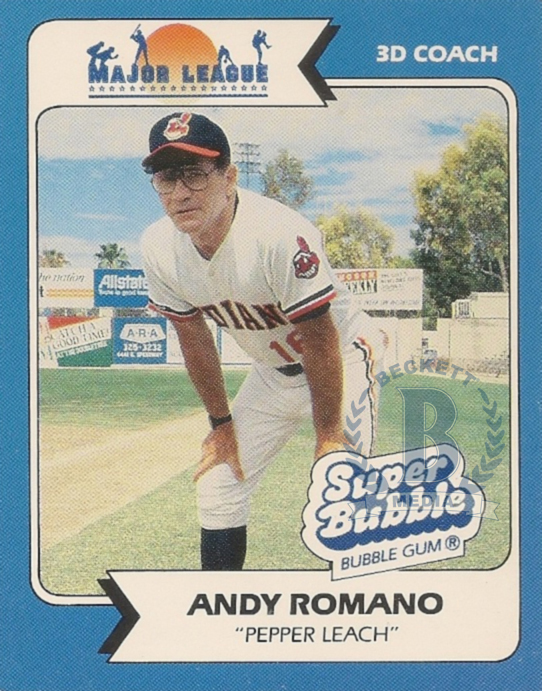 Pepper Leach — Andy Romano's part as pitching coach isn't quite extensive in this film, but that didn't stop him from being on a card. Note the typo on his position — what should have been 3B coach — and the fact that he's standing at first. (We won't mention how, in the final bunt scene, he's not the 3B coach relaying signs, either … )
—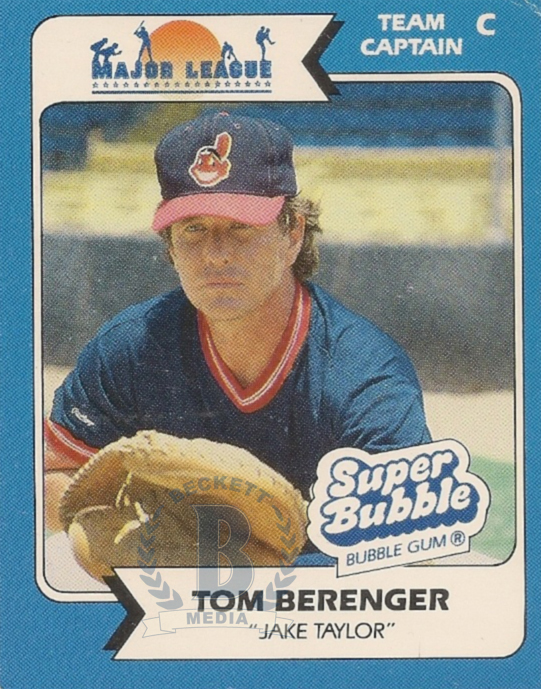 Jake Taylor — Tom Berenger's leading man status isn't quite affirmed here (Rene Russo would need to be nearby) in the photo but he is listed as the team captain  as well as catcher. That's different for a baseball card …
—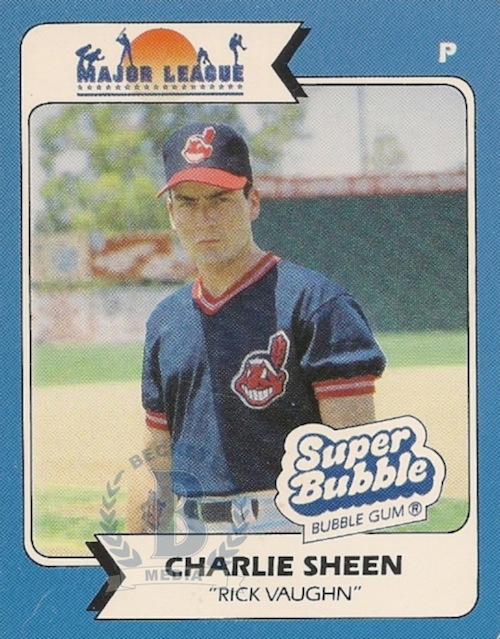 Ricky Vaughn — It's a shame that Charlie Sheen's haircut and glasses weren't seen here — or the nickname "Wild Thing" — as they truly are movie-defining and character-defining aspects that would have led to cardboard perfection. I guess this one left the surprises for the theater.
—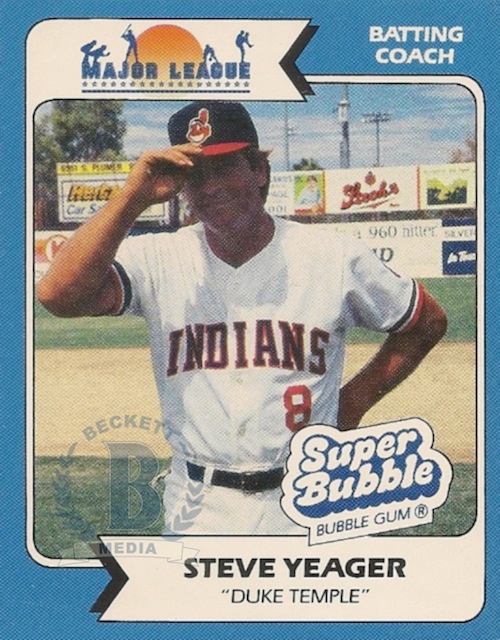 Steve Yeager — The only true Major Leaguer of the bunch was Yeager, a former Los Angeles Dodgers catcher and the 1981 World Series MVP, who worked as a technical advisor on the film while also playing batting coach Duke Temple. He also stood in for Berenger on action scenes that required hits or a believable throw.
—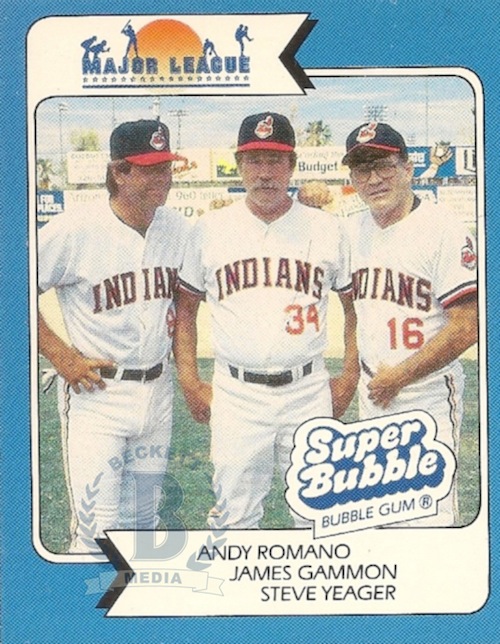 The Manager & Coaches — Rounding out the set are a pair of group-shot cards … one of the coaches and one of the star players (up top). These also are classics  — as if there wasn't enough of that already with a set like this one.
Chris Olds is the editor of Beckett Baseball magazine. Have a comment, question or idea? Send an email to him at colds@beckett.com. Follow him on Twitter by clicking here.