MLB Fan Fest has something for every baseball fan (with photo gallery)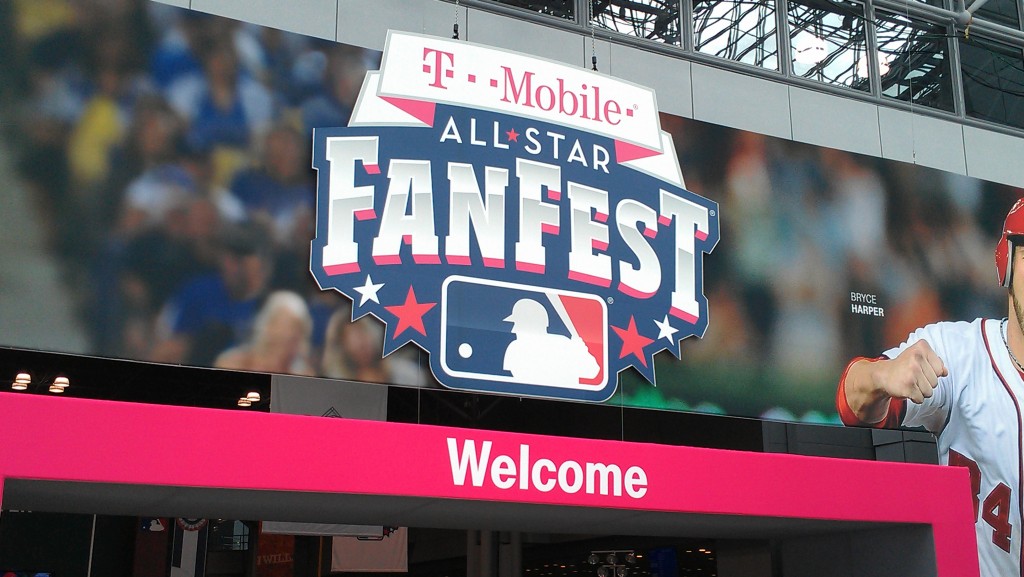 By Susan Lulgjuraj | Beckett Sports Card Monthly Editor
NEW YORK CITY | The baseball world will focus on New York City in the coming days. Tuesday's All-Star Game is being held at Citi Field, the home of the New York Mets.
But, first, a little fun.
Thousands of baseball fans are descending on the Jacob Javits Center in New York City for this year's All-Star FanFest, which opened Friday and runs through Tuesday.
From the outside, the glass building doesn't give away what fans are about to see. Attendees zipped through the glass doors, rushing to visit a mesmerizing group of displays dedicated to America's pastime.
Baseball stars, interactive games and even baseball cards appeared inside.
The Mets were the first thing to greet fans. Not the actual players, but cutout stand-ins of the team.
With the All-Star Game at Citi Field, this New York team got first billing. People took pictures with life-sized members of the current Mets as though they were part of the team photo. Many sidled up to David Wright to make sure their favorite player was in the picture.
Beyond the Mets displays, fans took a moment to reflect on baseball history.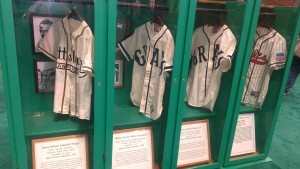 A nearby showcase celebrates the Negro Leagues, with players' jerseys or other game-used equipment displayed inside lockers. Satchel Paige, Jackie Robinson and Pop Lloyd are among the players featured, icons whose accomplishments and struggles remain significant.
As fans continued on, they wondered if they could afford pieces of baseball greatness. Hunt Auctions displayed items from its live auction to be held on July 15, including a massive Warren Spahn collection. Baseballs, bats, jerseys, awards, a motorcycle and odds and ends from Spahn's life were all featured.
Also included were autographed items from players such as Derek Jeter and Daryl Strawberry, and also signed items from former presidents such as Ronald Reagan and Richard Nixon.
But not every display involves items preserved behind glass. The Fan Fest has everything you could imagine to keep you busy for hours.
Batting cages. Speed pitch. Fielding practice. Accuracy tosses. Even a home run derby.
Adults and children lined up for the challenges, pitting father against son, boyfriend versus girlfriend to uncover the better ballplayer. But the bragging rights seemed to be on hold as mostly smiles and high fives were shared.
One of the coolest things about the FanFest is that fans can get autographs of players for free. On Friday, Mets favorites John Franco and Doc Gooden signed autographs. Fergie Jenkins had his caravan in tow with Gaylord Perry and Rollie Fingers signing autographs for charity.
The atmosphere keeps you on your toes as you can't predict who – or what – you'll see as you round the next corner.
Edgardo Alfonzo held a clinic, Ed Kranepool and Art Shamsky had Q&A sessions. It was a dream for Mets fans – and that was just Friday.
Other baseball dignitaries were scheduled to visit the Javits Center in the coming days, including softball favorite Jennie Finch and women who lived the movie "A League of Their Own."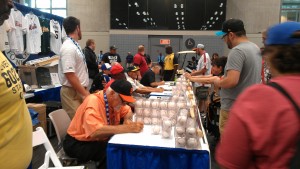 Former members of the Negro Leagues signed autographs too, reminding fans how hard yesterday's players fought to be treated as equals. Fans clammored to meet baseball greats such as Juan Marichal, Ozzie Smith and Cal Ripken Jr., as well as future stars such as Jesse Biddle and Byron Buxton.
The FanFest delivers everything it promises, including interactive games, autograph opportunities and baseball cards and memorabilia for collectors. The Fan Fest is a good time for any baseball fan – especially if you root for the Mets.
Susan Lulgjuraj is an editor of Beckett Sports Card Monthly. You can email her here with questions, comments or ideas. Follow her on Twitter here. Follow Beckett Media on Facebook and Twitter.