Mistakenly Labeled Event-Worn Tags Included in 2016 National Treasures Football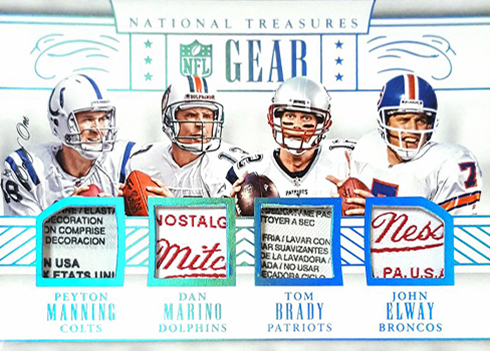 By Ryan Cracknell | Hobby Editor
National Treasures is known for having lots of memorabilia cards, particularly patches and other premium pieces. And that's what collectors expect from a product that's several hundred dollars a box. Like their other products, Panini does mix game-used and event-worn swatches in National Treasures. However, they're labeled as such.
Panini has recognized an error on three cards, all one-of-ones, in 2016 National Treasures Football that included both game-used and player-worn memorabilia but the disclaimer mentions they're only gamers.
The issue was spotted by collectors on an NFL Gear Quads Laundry Tags card of Peyton Manning, Dan Marino, Tom Brady and John Elway jerseys. The problem is that the Marino and Elway tags clearly come from Mitchell & Ness.
We checked with Mitchell & Ness to see if the tags could have come from jerseys worn in a game. A company official said they weren't sure exactly what the tags were from but that it wasn't possible they were from a game-used jersey.
Panini acknowledged as much in a post on their blog, noting the card's disclaimer that says they're from game-used materials is incorrect. Here's an excerpt:
We are disappointed the error occurred, but it was truly an honest mistake with no intention of trying to mislead our customers. All other parallel levels of these cards do contain game-worn material, and this mistake occurred because the Laundry Tag reservations from the player-worn jerseys were missed when routing the cards for approval. Obviously, this is something that we will be more diligent about in the future.
Not only did Panini acknowledge this card's error but two additional NFL Gear Quads Laundry Tags cards that haven't surfaced on the secondary market yet, for three total:
Peyton Manning/Dan Marino/Tom Brady/John Elway – Marino and Elway tags are player-worn
Eric Dickerson/Adrian Peterson/Jamal Lewis/Barry Sanders – Sanders tag is player-worn
Peyton Manning/Brett Favre/Dan Marino/Drew Brees – Marino tag is player-worn
Panini has offered to rebuild the three cards in question with a corrected disclaimer. They can be sent to:
Panini America, Inc.
ATTN: Customer Service/NFL Quads Replacement
5325 FAA Blvd., #100
Irving, TX  75061-3601
A similar situation occurred a couple of years ago with 2014 Panini Flawless Football. In this set, the first for the brand in the sport, a total of 168 cards affected.
Comments? Questions? Contact Ryan Cracknell on Twitter @tradercracks.