'Miracle on Ice' team draws a crowd more than 30 years later
HASBROUCK HEIGHTS, N.J. – The USA Hockey jerseys were a dead giveaway.
Or perhaps it was the photos and paintings, hockey pucks and sticks that let people know something special was going on at the Hilton in Hasbrouck Heights, N.J.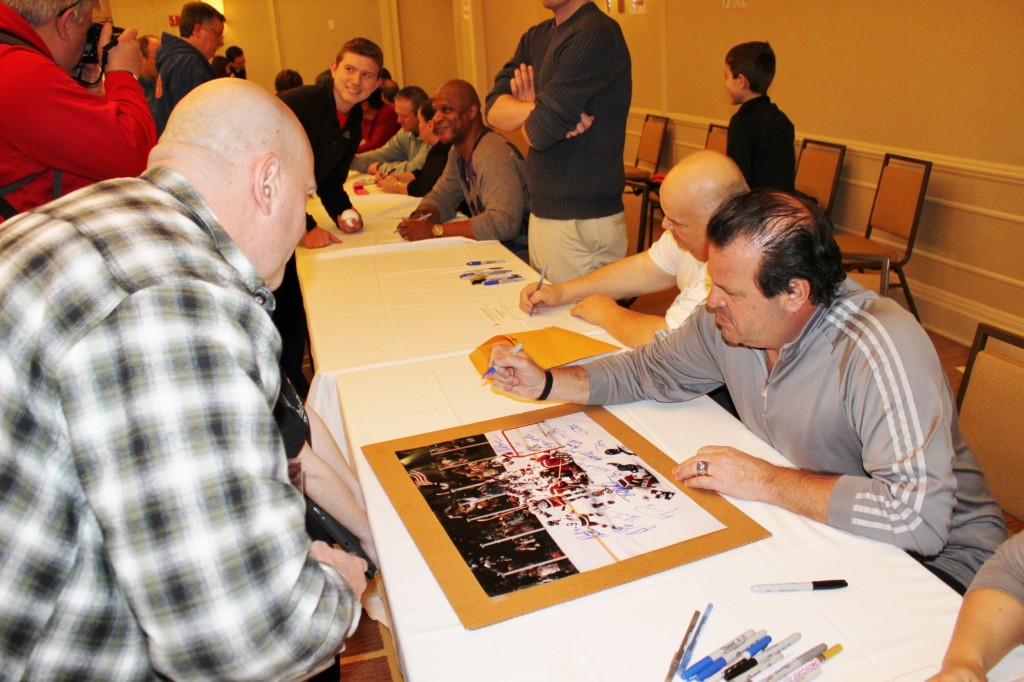 For the third time in recent months, the 1980 United States men's hockey team – the group known for "The Miracle on Ice" – reunited for a public signing, something that previously hadn't happened for many, many years.
"It's been like a reunion the last three months," said former forward Mark Wells. "We never imagined people would be talking about 1980. It was something we didn't think would last."
The 1980 gold-medal winning team was on hand as part of That 80's Show run by MAB Celebrity-Services. The show featured the hockey team and the 1986 New York Mets World Series champions.
Some of the team's biggest names, such as Mike Eruzione, Jim Craig and Ken Morrow, attended the show the weekend of Jan. 12-13. More than 100 people bought tickets for just Eruzione's signature.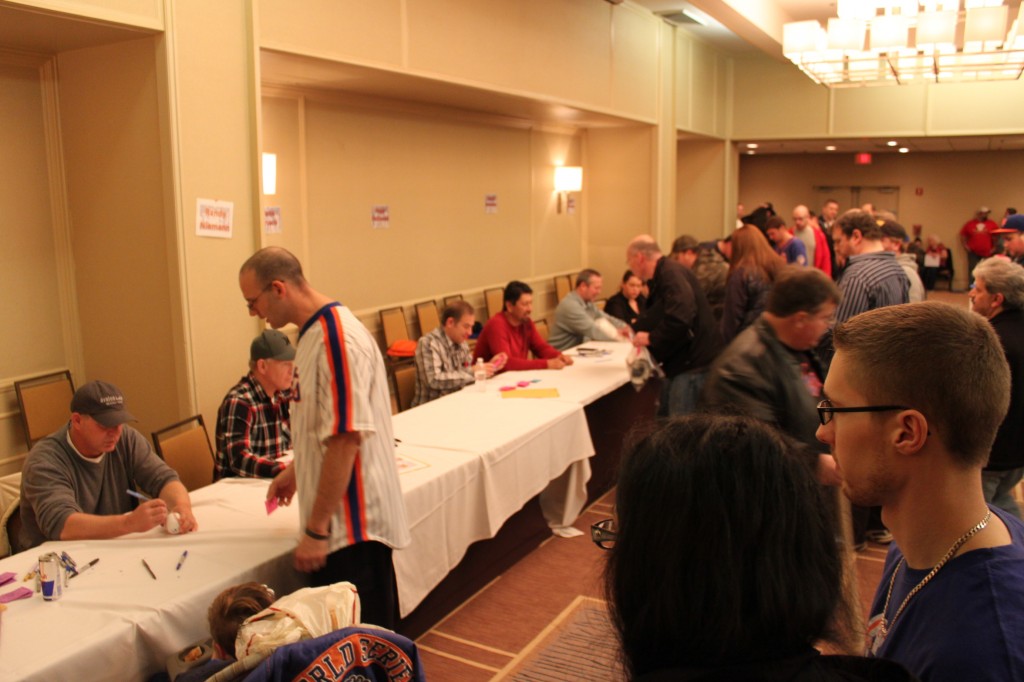 Mollie Ann Bracigliano, co-owner of MAB Celebrity-Services, first assembled the group for a public signing at November's Chicago Sun-Times show. Another signing followed in Minnesota (the 1980 team's Olympic training facility was located there) and now in New Jersey.
With the Winter Olympics around the corner, it seemed like the perfect moment to bring together the team that united a country 34 years ago.
"No one has ever really done it before because it takes a lot to pull it off," Bracigliano said. "It takes a lot of patience and a really good team behind you to put something like this together."
Bracigliano has six full-time employees and others who help at signings. Putting together the signing required coordination, scheduling and money – bringing in nearly 20 players from across the country, not including the Mets players.
All this after the show had to be re-scheduled because of a snowstorm that hit the northeast in mid-December, when the event was originally scheduled.
"They like to get together," Bracigliano said. "They just want to be together."
Fans of all ages attended the signing, including some born long after those 1980s Olympics. The team transcends time, a group of college players who banded together to beat the powerhouse USSR in the medal round, a thrilling 4-3 victory that remains one of the top athletic moments in United States history.
The U.S. never had a lead against the USSR until Eruzione scored with 10 minutes left in the game. Goalie Jim Craig managed to keep the Soviet team from scoring again. As the seconds ticked off the clock, announcer Al Michaels delivered one of sport's most famous calls.
"…11 seconds, you've got 10 seconds, the countdown going on right now! Morrow, up to Silk. Five seconds left in the game. Do you believe in miracles?! YES!
The U.S. team went on to beat Finland in the gold medal game, but it's that sensational win against the Soviet Union that resonates.
"At the time we were just a bunch of kids playing hockey," Wells said. "We didn't know it was going to be like this. We didn't know that 34 years later people would still want to get our autographs. It's like we have been an inspiration. I never expected that."
While fans have held onto numerous items celebrating the team, from cards to cereal boxes to team photos, Wells doesn't have much from those Olympics, only a 4×6 photo from the historic game. He gave his gloves and other equipment to his childhood best friend, and sold his gold medal to pay for treatment from a back injury.
Fans who gathered in the hotel's conference center likely have more "Miracle on Ice" memorabilia than Wells has in his own collection.
One man brought a replica Olympic torch for Eruzione to sign. Others had jerseys that read "Miracle" with the No. 80 on the back.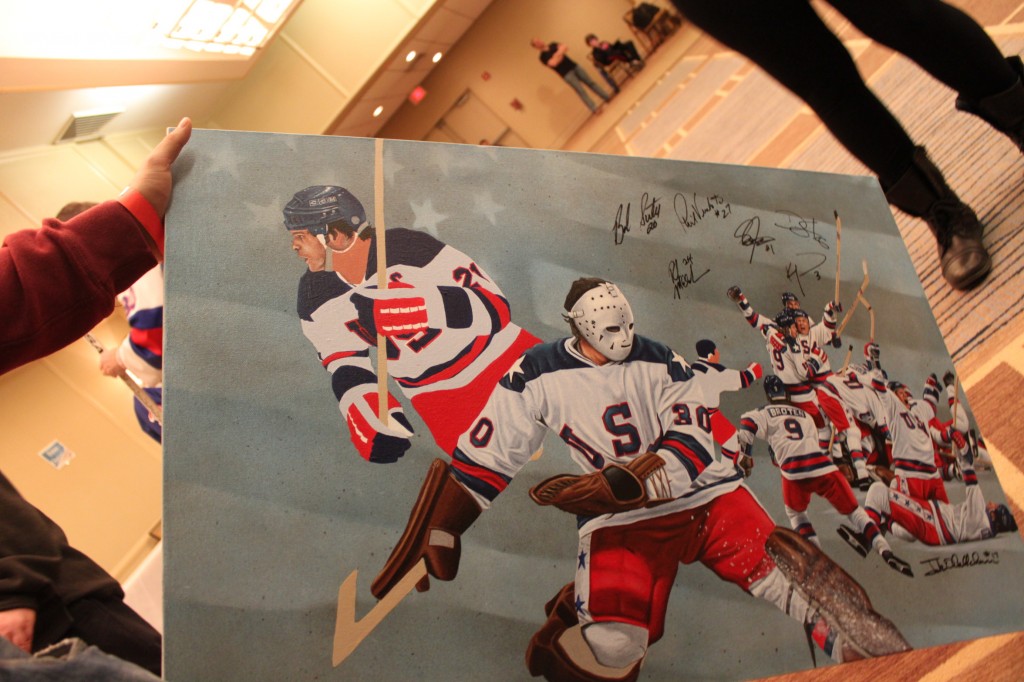 Mark Kannell got a one-of-a-kind item signed by all 16 former hockey players who were at the show, a scene he painted depicting the 1980 team. The 25-year-old had already spent 40 to 50 hours working on the painting, but he still had a little bit more work to do. However, he couldn't miss the chance to get it signed.
"It's one of the greatest moments in sports history," Kannell, of Florham Park, NJ, said. "I can do other people like Eli (Manning), but something like this can appeal to anyone."
Even to the players. Kannell brought his painting up to Phil Verchota, a forward on the 1980 team, who took a moment to appreciate the artwork before adding his signature.
"That's awesome," Verchota told Kannell.
Autographs were the major draw, but not every fan waited several hours at the Hilton for signatures. Chris Connelly simply wanted to get his photo taken with the players. He and his friend Lee Carruthers drove from Wantagh, N.Y., about an hour away.
Connelly has taken more than 3,000 photos with various celebrities, the photos arranged in albums.
"He's a big fan," Carruthers said of her friend. "When else are you going to get a chance to see them all like this in one place? Plus, it's an Olympic year."
It helped that Ken Morrow was also signing at the show. Both Connelly and Carruthers are big New York Islanders fans. Morrow is a Hall of Fame player who won four Stanley Cups with the Islanders.
Carruthers overheard Morrow describing how he displays his keepsakes. He has the Olympic gold medal surrounded by the four Stanley Cups with two on each side.
"I got a picture with him," Carruthers said with a smile. "These guys are so down-to-Earth and so nice. They act just like regular people."