'Miracle on Ice' jersey and stick to be sold through Heritage Auctions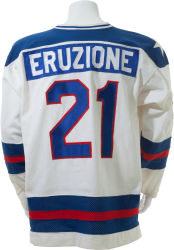 By Susan Lulgjuraj | Beckett Hockey Editor
Michael Eruzione's goal against the Soviet Union in the 1980 Olympics is probably one of the greatest American sports moments – a wrister that sailed into the back of the net, the winning goal in the "Miracle on Ice" game.
The U.S. went on to beat Finland in the championship game and took home the gold medal in Lake Placid, N.Y. A moment that stands as one of the best.
Now, Eruzione, captain of that legendary team, plans to sell 22 of his keepsakes from that Olympic run including two jerseys, the stick he scored the game-winning goal with against the Soviet Union through Heritage Auctions in February, the company announced today.
"I'm auctioning these pieces off because I want to take care of my family, my charity and to turn them over to history," Eruzione said in a release. "They hold no nostalgia for me. I went to Lake Place Placid for one thing: to get a gold medal. I achieved that and it will never leave my possession. If my jersey can end up in a museum, or with a collector, a team or a corporation that will care for it and display the right way, then I will be happy."
Heritage expects the white jersey to bring in more than $1 million as the centerpiece of the collection.
Other members of that 1980 Olympic team have sold pieces of memorabilia from that game. Mark Wells' gold medal sold for $310,000 through Heritage Auctions in 2010. Wells sold it years before that for much less because he needed money to help treat a genetic disease that affected his spinal cord.
Ken Morrow sold his U.S. jersey he wore against the Soviet Union for $104,000 February 2012 through Classic Auctions.
Some of the auction items include the stick he used to score the winning goal against the Soviet Union, the jersey from the Soviet game, the jersey from the Finland game, a cowboy hat, a warm-up suit he wore on the podium, gloves, shoulder pads and opening ceremony outfit.
"As sports fans, we all have our teams and we all root for those teams to beat the other guys, whether it's Dallas, L.A., New York or any other American city," said Chris Ivy, Heritage's Director of Sports Auctions, "but when it came to this Olympics and this team, they really were our team and these players — none more so than Eruzione — were our players. When Eruzione scored the go ahead goal, and the Americans held off a furious Soviet attack for the last 10 minutes of the game, every one of us was living and dying with every second."
Susan Lulgjuraj is an editor of Beckett Hockey. You can email her here with questions, comments or ideas. Follow her on Twitter here. Follow Beckett Media on Facebook.