Milan Lucic, Adam Henrique and other NHL stars collected hockey cards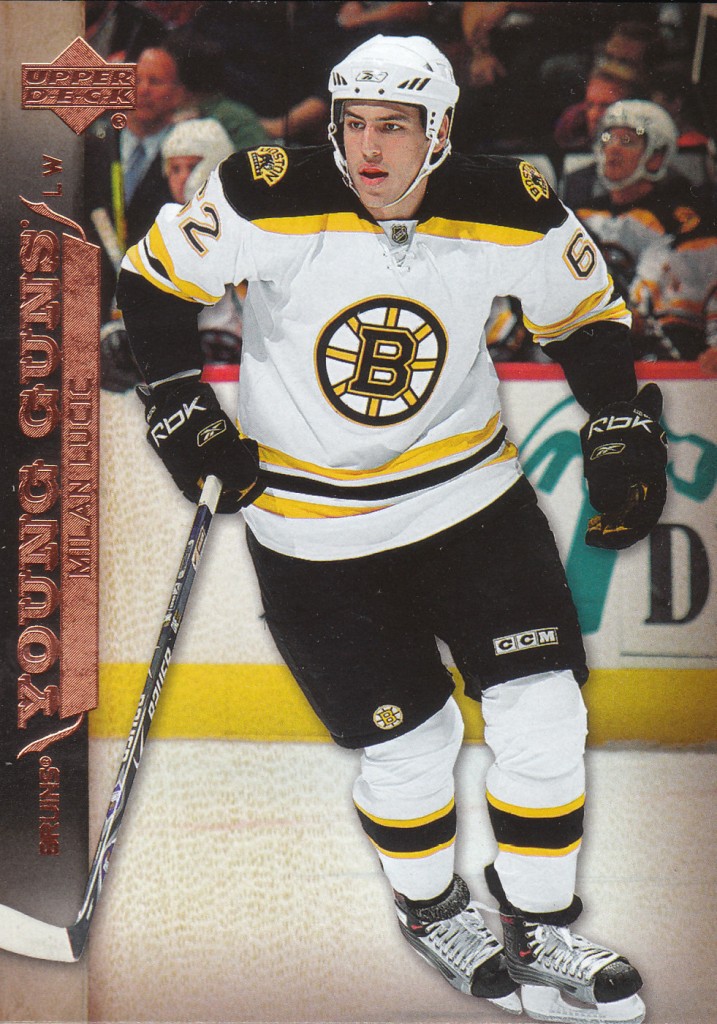 By Mike Ashmore | Contributing Editor
Hockey collectors can come from anywhere. Some start as children, others get into the hobby as adults. They can be lawyers, doctors and sometimes even NHL stars.
Many players collected cards before their days in the NHL and they spoke to Beckett about their collections, past and present.
The first time
New Jersey Devils forward Adam Henrique was an unexpected breakout star of the 2011-12 rookie class, and found himself featured on cards to be a rewarding experience.
"It was a pretty cool feeling," said Henrique, who grew up collecting Steve Yzerman memorabilia. "Growing up, everybody collects hockey cards. To see me on there, it's a cool feeling. People want you to autograph stuff all the time, it's cool. It's an honor to play here. The NHL is the best league in the world, and I don't take that for granted. I try to come here every night and just do what I need to do to help the team win. Everything that comes with that is just a bonus."
Boston's Milan Lucic recalled his first card as if it were in front of him, even down to the specific jersey he was wearing and the gear he had on in the photo.
"I still have 100 of them at home, just because it's your first Rookie Card, and those are things that down the road, later in life, you can kind of fall back on and you can look at it as something that's pretty cool to have," he said.
But for a true star player like Islanders standout John Tavares, his cardboard dreams were fulfilled earlier than most. His junior cards were highly coveted, and helped the first overall pick get used to the thrill of seeing himself on NHL cards, starting with his 2009-10 rookie campaign.
"When you start in junior hockey and you get all these cards, people ask you to sign them and it's pretty cool and a little bit shocking," he said. "You experience it growing up, collecting everyone's card, and all of a sudden you've got your own card and everyone's collecting you. It's an honor, really. You're very appreciative."
But for a less heralded player, like Jason Zucker, who was a member of the most recent rookie class, the excitement hasn't seemed to wear off just yet for the Minnesota Wild forward.
"It was cool," he recalled. "It was awesome to be able to get that and be able to see that. As a kid, you dream of playing in the NHL, and for people to have your cards and all that stuff. It just makes the experience all that much more exciting. It was something I really, really enjoyed."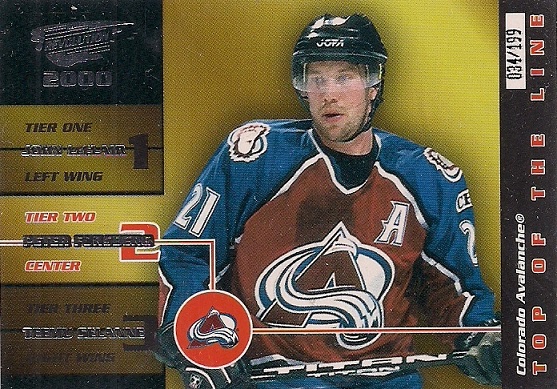 Childhood collecting
For nearly every player, the thrill of seeing themselves on cards now comes from collecting their heroes growing up. And that collecting wasn't even limited to North America, says Swedish-born Washington Capitals center Nicklas Backstrom.
"I collected a lot," he said. "I had cards from many years, it was fun to do. I was a big Peter Forsberg fan, he was the best player when I grew up. But you knew all the other kinds of players, all the big ones; Lemieux and Gretzky and those guys too."
"I definitely had a collection," added Lucic. "It was the same Upper Deck stuff. I had a couple (Jagr) cards, Recchi, Gretzky, that whole 90's era that I grew up watching. That was a great era, and it's nice to see a lot of those guys go into the Hall of Fame now, and those are the guys that I have hockey cards of. I had two brothers, so I remember us fighting over who got to have who."
Unfortunately for Lucic, his childhood home was torn down and remade in the mid-1990's, and he fears his card collection may not have survived the construction. But Henrique's cards are still in mint condition, and not only did he recall the days of busting packs in his youth, he also now views his old collection as a new opportunity given his unique position.
"I think I still have a big box of hockey cards in my closet…you just tried to get as many packs as your mom would buy you," recalled the Calder Trophy finalist.
"But it would be cool now to go back and look through them and see what's in there and see if you're still playing against guys that are in there. I guess now, if there are those old cards and you're still playing against those guys, it would be neat to try to get them autographed."
Perhaps a certain future Hall of Fame teammate, Adam?
"There probably is," he said through a laugh when asked about Martin Brodeur. "And that's what would be neat. If there's one in there from when he was pretty young, I'll bring one in and it would be pretty funny."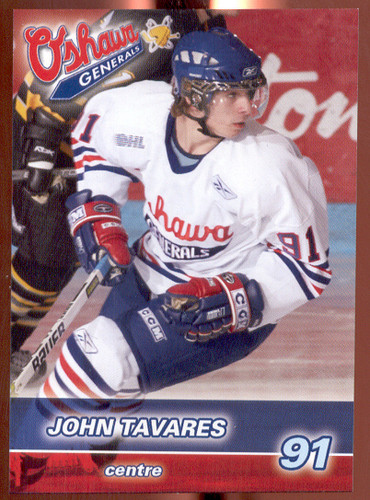 Players as collectors
Just because a hockey career starts doesn't mean the collecting ends. Far from it, actually. If anything, players who were once broke little kids that spent the last dollar of their allowance on a pack of cards like everyone else now have the means to have expansive memorabilia collections.
But you might be surprised to learn that not only do they collect items of prominent athletes from around the sports world, they also cherish their own gear as well.
"I have a few goal pucks from juniors and from here," Tavares said. "I have a few sticks, some gloves, some jerseys too. There are always things that you can keep from great memories you've had in the game and things you've experienced; or teams you've played on or players you've played with. All that stuff is cool to have."
Even Henrique has a nice collection of his own memorabilia after just two seasons in the league.
"They always get the first goal puck for you, and they plaque it, which is nice," he said. "My first game, the team did the game sheet framed up, and that's actually really neat. I have a couple sticks, I try to hang on to some sticks here and there."
But Lucic likely has the most complete collection. He had a memorabilia room built into his new home, and along with the Stanley Cup-clinching game-worn Game 7 jersey complete with skates and gloves and various jerseys from his junior and pro career, the personable Vancouver native boasts an absolute treasure trove of memorabilia that took him several minutes to describe.
"I have a Joe Sakic stick, a Jarome Iginla stick and a Todd Bertuzzi stick; being from Vancouver, I watched those three guys play, they were my favorite players growing up," Lucic said.
"I have a Bobby Orr stick that I got from an auction, I've got the Bobby Orr picture of him flying through the air, I've got a Bobby Orr signed jersey. My old roommate from junior, he played with Chris Chelios when he was with the Wolves, so I've got him to get a signed jersey for me; one of his Blackhawks jerseys actually. I have an Edmonton (Wayne) Gretzky signed jersey. I have a Michael Jordan signed jersey. Now I have a Tom Brady jersey signed, I have a (Rob) Gronkowski jersey signed too. I have a Garth Brooks signed guitar, Aerosmith signed guitar. I have a Ray Bourque signed picture with him and Phil Esposito, with the jersey (exchange); I have them both on that."
But not everyone is a collector. However, after hearing about the acquisitions of his fellow NHL stars, Backstrom says he may change his ways.
"I haven't really collected as much as I should," he said. "I think, right now, I'm just playing the game and focusing on that. When you quit playing, you're going to look back and you're going to want those things. But I don't collect that much right now, I'll be honest with you. But maybe I'll start now."
Current cardboard
However, just because Backstrom doesn't collect — well, not yet anyway — doesn't mean he's not aware of the cards he's currently pictured on. Every player is asked to sign countless cards not only direct from card companies, but also from collectors throughout the season.
"I like the (cards) that are a little thicker, more exclusive," Backstrom said. "I like them. I couldn't really tell you which one. But the thicker ones, I like those the most. I think (jersey cards are) pretty neat."
Lucic agreed with Backstrom that jersey and patch cards were his favorite, and went into detail about his first experiences with memorabilia cards.
"I remember at the draft, I think it was, when I had to take a picture with the jersey on and they took it and that was the one that was getting cut up and put into the cards," he said. "The cards are thick now with the pieces of jersey and it makes the card a lot more valuable and much more cool. That's really awesome. I remember my rookie year, I ended up signing 4,500 of them. The most I signed was like 1,500 in one day, and I remember my hand being pretty sore from trying to fit (my autograph) into that little space. It was definitely a tough day."
But for some players, cards can commemorate a special day in their careers, as is the case for Henrique, who scored the game-winning overtime goal in Game 6 of the Eastern Conference Finals to defeat New York and send the Devils to the Stanley Cup Finals. Even though he has the puck that entered the net and the stick he used to put it there, that collection wouldn't be complete without a little cardboard to go with it.
"I saw the Ranger goal (card), I don't know how long that's been out," he said. "But I've seen that one, and that's always enjoyable."
—
Mike Ashmore is the national hockey writer for The Trentonian, as well as the national alumni feature writer for ECHL.com. He has 11 years experience covering professional sports…but he collects, too. Follow Mike on Twitter or email him here.