Mike Trout's Beckett Sports Card Monthly Art Issue cover available as a limited edition print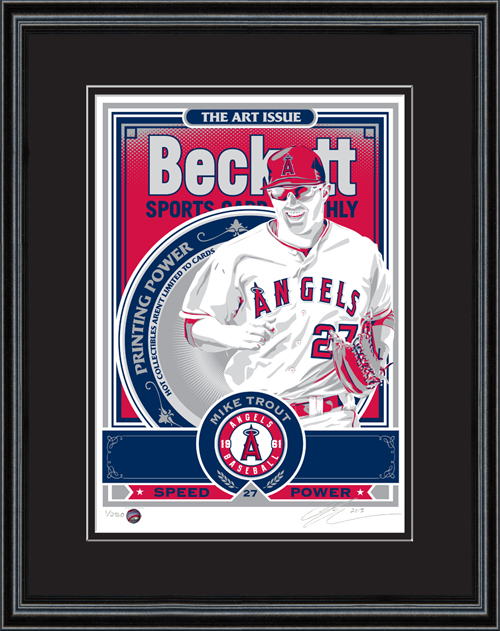 By Chris Olds | Beckett Sports Card Monthly Editor
This year's Art Issue of Beckett Sports Card Monthly heads to the printer today and arrives in hobby shops soon, but that doesn't mean you have to wait for Mike Trout's latest cover.
In fact, you can buy a limited edition screen print of the June 2013 cover right now.
The annual issue looking at art's place in the hobby is graced by an MLB-approved print by SportsPropaganda.com artist Chris Speakman, whose style has been found in past baseball and MMA card sets as well as in his popular creations. This piece will be limited to just 250 hand-signed and serial-numbered prints — each hand-screened.
The 17- x 21-inch pieces signed by Speakman are just $64.90 — or $114.90 framed — and can be purchased here.
A smaller quantity of different — and much, much rarer — proof prints will be available through Beckett Media at the National Sports Collectors Convention later this year.
The third Art Issue of BSCM will have a bit different feel than the typical Beckett magazine, and it might be the most-interesting one to date if you're a collector thanks to some collaboration between our editorial, advertising and marketing gurus as well as the efforts of a few artists known in the hobby.
The front cover? Well, you know all about that. (Click here for a Trout checklist or OPG.)
The two inside covers, which are all artwork in the style of Beckett magazines from 20-plus years ago, can be yours, too, as either originals or lithographs. We have showcased a couple of pieces on those pages instead of the latest in advertisements. You can see them — and read more about them — in the issue.
Rather than revisit some of the most-memorable art-inspired card sets once again — see our previous two Art Issues for that — in the upcoming issue we opted to shine the light on a dozen artists of varying styles. Meanwhile, we also take looks at some of the notable brands and the people that help bring your collectibles to life for both sports and some non-sports entities, too.
Look for the magazine in hobby shops and selected newsstand outlets in May.
Chris Olds is the editor of Beckett Sports Card Monthly magazine. Have a comment, question or idea? Send an email to him at colds@beckett.com. Follow him on Twitter by clicking here.