Mike Trout leads off the 2016 Topps Series 1 Baseball checklist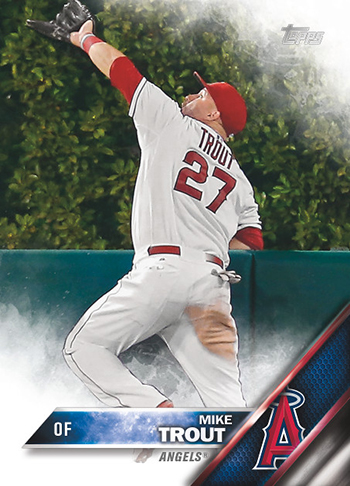 By Ryan Cracknell | Hobby Editor
The 2016 Topps Baseball checklist starts with Mike Trout and ends with Chase Utley (at least until Series 2 comes out).
Following an online vote, the Angels outfielder was picked to lead off the flagship release.
This marks the second time that Trout has been the first card in what's largely considered the most important baseball release of the year. He was #1 for 2014 Topps Baseball as well.
2016 marks the 65th year for the flagship set since it debuted as a traditional product in 1952. 1951 Topps Baseball is generally considered to be a little different as it was intended to be a game.
The image on the card comes from a late-September game when Trout and the Angels were playing the Seattle Mariners. The 2012 Rookie of the Year is shown climbing the outfield wall and taking away a home run from Jesus Montero. It proved to be an important play too as Los Angeles went on to win by a 3-2 score.
"It's awesome. I appreciate the support from fans across MLB," said Trout in a release from the card maker. "It's pretty special to be the No. 1 card for Topps."
The 2016 Topps Series 1 Baseball base set has 350 cards. Because #7 remains retired in honor of Mickey Mantle, Utley is actually #351.
2016 Topps Series 1 Baseball is scheduled to release on February 3.
Comments? Questions? Contact Ryan Cracknell on Twitter @tradercracks.