Mickey Mantle's 1960 Yankees contract heads to auction to benefit hurricane relief efforts
The Mick will help New York and New Jersey rebuild after Hurricane Sandy.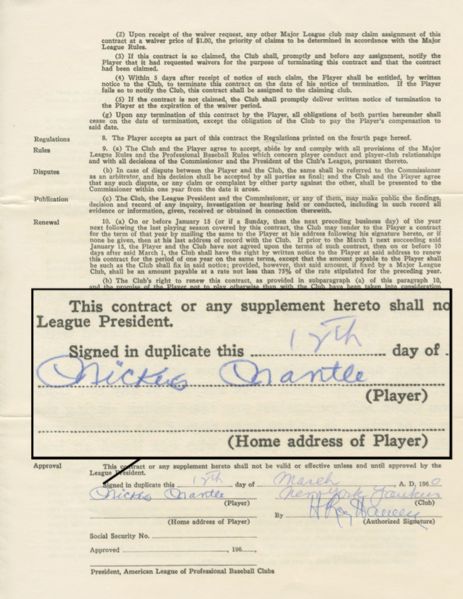 Mickey Mantle's 1960 contract that guaranteed him $60,000 with the New York Yankees will hit the auction block via Steiner Sports on Wednesday after it was donated by Mantle's sons, David and Danny, with the proceeds to be split among New York and New Jersey.
Bidding opens at $25,000 and runs until June 2. (Click here to view the auction.)
"My mom [Merlyn] deserves all the credit for saving my father's contracts in a file cabinet to preserve them," said Danny Mantle in a prepared statement. "The 1960 contract is in near perfect condition and looks brand new. We watch all those people living in tents, and decided to take the contract and put it to good use to raise some money for the victims."
The Hurricane Sandy New Jersey Relief Fund is chaired by Mary Pat Christie, wife of New Jersey Governor Chris Christie, and she offered her thanks to the Mantle Family in a letter in advance of a news conference announcing the contract auction today at the Yogi Berra Museum and Learning Center.
"I would like thank Danny and David Mantle, and the Mantle Family for this generous contribution to the Fund," she wrote. "I also would like to thank Steiner Sports, Brandon Steiner and Brett Schissler for making the auction happen. Thank you to Dave Kaplan from the Berra Museum for hosting today. And a special thank you to Joe Pepitone for showing his support."
According to Christie's letter, the fund has raised more than $34 million.
Also up for auction are several other Yankees items, including a World Series ring, team-signed balls and a piece from another New York icon, Brooklyn Dodgers star Jackie Robinson, whose game-used glove from the 1955 and 1956 World Series is on the block along with a Robinson bat believed to be used during his final season.
For more information or to view other auctions, click here.