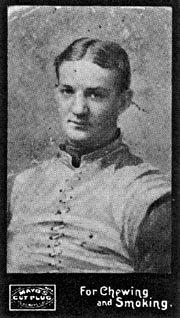 By Susan Lulgjuraj | Contributing Editor
Attics and basements, old storage units and safe deposit boxes. These are the kind of places collectors store things away, sometimes even forgotten about.
Many people have found treasures in strange places, most recently a Michigan family who unearthed a rare find when going through an old farmhouse after a recent family death. They found many old items, but one thing caught their eye: a slew of vintage football and boxing trading cards, according to a report from WSBT-TV.
The family held on to the cards and got in touch with a local card shop. It was a good thing they didn't trash the collection.
"We get a lot of calls from a lot of people saying they've got something, and usually it's not what you expect," said Lou Brown, President of Legends Sports & Games in Kentwood, Mich.
The family found what Brown called the "Holy Grail of football cards."
It was a 1894 Mayo #35 Anonymous.
The person on the card is Harvard's John Dunlop. The name was left off the card and is often referred to as Anonymous in price guide and historical records.
Depending on condition of the card, the 1894 Mayo could fetch between $10,000 to $18,000.
The 1894 Mayo set contains 35 of the top Ivy League college football players. But the Dunlop is the only one without a name on it and also a card that is rarely seen, but now one has turned up in Michigan. For more information on Dunlop, check out the recent Vintage Issue of Beckett Sports Card Monthly.
"For whatever reason his name was left off the card and it was made in lot less quantities than the others, which in themselves are rare, it is considered the rarest football card in existence," Brown said.
In fact, some say it's rarer than the famed T206 Honus Wagner card.
The collection has been consigned to Brown's shop in Kentwood, according to the report. In addition to the rare football card, there are 35 other cards in the collection, mostly boxers.
For a video report on the story, click on the link.
Susan Lulgjuraj is a contributing editor for Beckett Media. You can email Susan here. Follow her on Twitter here.