Michael Sam's first trading cards hit the market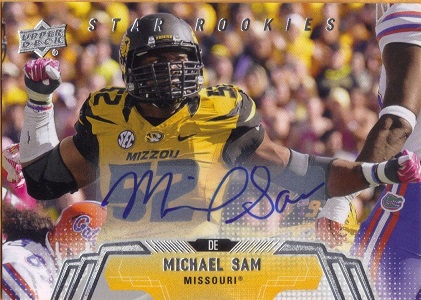 By Susan Lulgjuraj | Beckett Football Editor
Michael Sam's first autographs have hit the secondary market.
His autographs from Press, Sage and Upper Deck are slowly making their way on to eBay. These cards aren't commanding Johnny Manziel autograph type of numbers, but Sam's cards are selling decently – for a mid- to late-round defensive prospect.
For the most part, autographs have sold between $15 and $40 with the low-numbered parallels selling much better.
Sam was a late addition to a number of checklists, but when the Missouri defensive end announced he was gay, he became a name many card companies found necessary to add to their sets. Perhaps it was about supporting Sam or maybe they wanted to capture the media attention that surrounded Sam.
Either way, Sam has been fairly popular on cards. He has 48 cards listed in the Beckett database with 21 of them being autographs. So far, he appears in three of the four pre-draft companies with an assured appearance in Topps and Panini when the NFL-licensed products are released in a couple of months.
Notable Michael Sam cards
2014 Press Pass Autographs #MS Michael Sam EXCH
2014 Press Pass Gameday Gallery Autograph

2014 Upper Deck Star Rookies Autograph

2014 SAGE HIT Artistry Autographs #AA8 Michael Sam

2014 SAGE HIT #82 Michael Sam NL

2014 SAGE HIT #132 Michael Sam
Susan Lulgjuraj is an editor at Beckett Media. You can email her here with questions, comments or ideas. Follow her on Twitter here. Follow Beckett Media on Facebook and Twitter.