Mets rookie Jacob DeGrom gets his first autograph — via Topps Finest rookie redemptions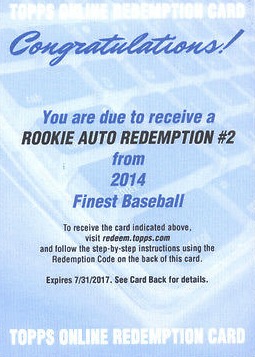 By Chris Olds | Beckett Baseball Editor
New York Mets rookie pitcher Jacob deGrom finally has an autographed card and it can be found in packs of 2014 Topps Finest.
But you won't see his name anywhere on the redemption card as he's presently known as "Rookie Auto Redemption No. 2."
Topps revealed all three of the subjects in this year's set on Thursday morning and the ninth-round draft pick from 2010 isn't even the top pitcher on the list, despite his 8-6, 2.68 ERA-season as a rookie in The Big Apple.
The biggest name on the list is Hall of Famer Sandy Koufax, a nod to the 60th anniversary of his Rookie Card in the 1955 Topps set. He's redemption No. 1. Meanwhile card No. 3 is of Kennys Vargas of the Minnesota Twins, who is hitting .292 with eight homers and 36 RBI this season.
"We wanted to celebrate the 60th anniversary of [Koufax's] Rookie Card by recreating it on modern day Chrome technology," Topps Baseball Brand Manager Zvee Geffen said in a prepared release. "We feel strongly that it will entice all levels of collectors."
Before this announcement, deGrom had just 36 cards in the Beckett.com database (click here for his checklist) with a total value of $875.50, excluding rarities. All of those cards can be found in 2014 Bowman packs.
Chris Olds is the editor of Beckett Baseball and Beckett Sports Card Monthly magazines. Have a comment, question or idea? Send an email to him at colds@beckett.com. Follow him on Twitter by clicking here.