The Mess on Ryan's Desk: 1985 Topps Garbage Pail Kids Series 1 Jay Decay
Visit my desk and it's usually messy. Some of it is papers and sticky notes that need to be dealt with (one day). Most of the mess is stacks of cards yet to be sorted, cataloged and put away. I believe that every card has a story. Sometimes it's the card itself. Other times it's about the person collecting it.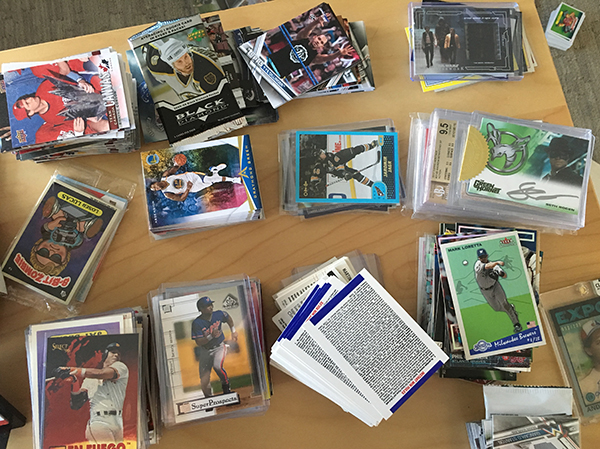 This mess on my desk has a lot to tell. So I'm going to delve in, hopefully once a week, and see what there is. The exercise is a little self indulgent. It's about what I collect. But one of the aims to to help me, as a collector, get a little closer to what I love. I have no apologies for that. The payoff for you, the reader? Maybe you'll see something you think is cool. Perhaps you'll gain an appreciation for a card you've never thought much about. Maybe you'll just get to know a fellow collector a little bit more.
To kick things off, I'm going to delve into one of my favorite projects at the moment.
Going Back to Garbage Pail Kids
One of my long-term collecting goals is to put together a full fun of original Garbage Pail Kids — the 15 series released between 1985 and 1988. I'm done or close to being done on 14 of them. But Series 1 is the challenge. Rather, Series 1 is expensive.
For a little perspective, you can expect to spend more today on an original Adam Bomb in decent shape than a 1985 Topps Mark McGwire. Heck, what I'm spending on most singles is probably comparable to a McGwire these days.
I'm going to be working on my GPK Series 1 set for a few years still. I'm good with that. I have dozens of sets I've been piecing together for more than a decade. To that end, I'm both patient and impatient. I don't mind the long game but I definitely have a habit for delving into new projects before the last one is done.
That said, the GPK project is a priority. One of my main collecting goals for 2016 was to knock ten Series 1 cards off my list. I think I managed to find 25 or so.
Things got kicked into high gear when I landed a gorgeous Adam Bomb, along with his "brother," Blasted Billy, earlier in the year. They're tucked into the appropriate binder and not part of the current mess on my desk. Those two ranked as my second favorite GPKs, trailing only New Wave Dave and his safety pin nose piercing.
Coming in at number three? My latest get — Jay Decay.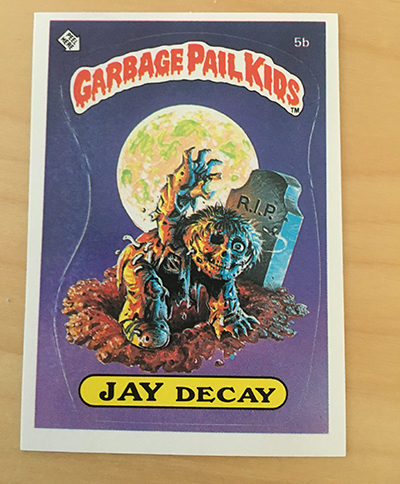 GPK Perfection
This is a card that captures both the cute and the horror that made Garbage Pail Kids such a hit among me and my friends. The horror side also brought out the wrath of mom, which made them even better.
From a visual perspective, this might be the perfect Garbage Pail Kid. It's fun. It's gross, but not too gross. It doesn't opt for the cheap toilet humor. Above all, it's a beautiful piece of art brought to life by John Pound.
Although I didn't get into Garbage Pail Kids until around Series 6, this card is emblematic of why I fell in love with the line in the first place. And why I continue to pursue the Series 1 set rather than hoard 80-or-so 1985 Topps Mark McGwires.
Did you collect Garbage Pail Kids (or still do)? If so, do you have any memories connected with them like trading with friends, getting them confiscated by a mean teacher or using them to decorate your Trapper Keeper? Feel free to share in the comments below or drop me a line on Twitter.