MeiGray President explains NHL patch card from locked out season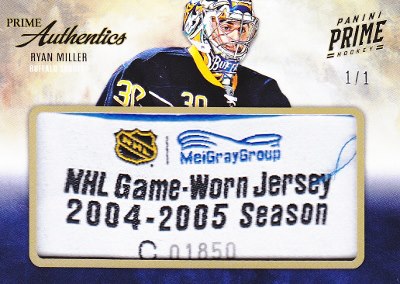 By Susan Lulgjuraj | Beckett Hockey Editor
Sometimes a card is pulled that could surprise collectors. We're not talking about the monster hit kind of surprise – although this card falls into that category – but a card that gets collectors wondering what's going on here.
Clouts N' Chara Sports Cards, a popular card shop that does breaks on blog.tv, opened a box of 2011-12 Panini Prime and pulled a Ryan Miller 1/1 patch card.
The patch featured a MeiGray Group game-worn authenticity patch with a serial number from the 2004-05 season.
Many hockey collectors immediately saw a problem.
There was no 2004-05 season because of a lockout.
We asked Barry Meisel, the President and COO of MeiGray to explain what happened.
"In order to authenticate thousands of jerseys, we have to do it months in advance," Meisel said. "When the lockout was announced, we locked them up and kept the jerseys. The jerseys were fine and we weren't going to pull off 5,000 tags."
MeiGray added a small square tag next to the main rectangular patch that read "2005-06 season."
Those serial numbers remained with the jerseys that were used the next season.
"There is no shirt with this tag (the 2004-05 season tag)," Meisel said, "without this tag (2005-06 square tag)."
Susan Lulgjuraj is an editor of Beckett Hockey. You can email her here with questions, comments or ideas. Follow her on Twitter here.