Meet Jared Kelley, the New Topps Living Set Baseball Artist
After 376 cards, baseball's Topps Living Set has shifted from a solo project to a dynamic duo. Artist Jared Kelley has joined the set and will split duties with Mayumi Seto.
Topps and Seto launched the project in 2018 with three different cards per week in a set that has no defined completion point. That shifted to two cards per week where it still stands. Seto will continue to do one card each week with Kelly doing the other.
"I immediately loved the concept of the Living Set. And when I saw Mayumi Seto's fantastic art, I understood why collectors specifically liked the MLB Living Set," Kelley said.
Kelley's first card, #377 in the set, features Yankees pitcher Gerrit Cole.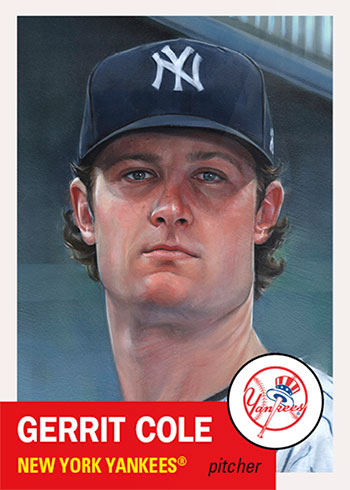 Similar to Seto, he takes a photorealistic approach giving a lifelike interpretation.
"The level of detail in her work is mind-blowing," Kelley said. "One of my biggest concerns when debating whether or not to commit to this undertaking was whether I would be able to meet the high artistic expectations of the collectors thanks to Mayumi's talent. I am grateful that she will be working on this set alongside me this upcoming year."
Kelley worked a tribute to Seto into his Living Set debut. The background is the same as the one Seto used for Aaron Judge, the first card in the project.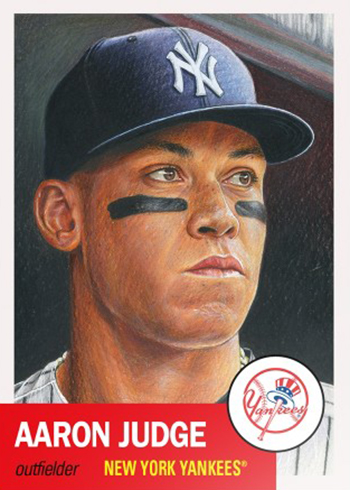 "I hope to produce art each week that compliments and hopefully enhances Mayumi's work," Kelley said. "It's daunting to say the least, since a portrait can take me up to 20 hours to complete and deadlines do not budge."
He's no stranger to the hobby having created art in the past for multiple card companies. However, a couple of years ago a growing family and career change for Kelley meant that he had to step back.
He was recently brought back in, creating 18 art cards for the upcoming 2021 Sportkings Volume 2.
"It had been roughly two years since I had accepted any new commissions, but I was eager to contribute something, even if just a few cards," said Kelley. "I was extremely hesitant to commit to too much due to my IT career demands. Ultimately, I agreed to paint 18 art cards for the 2021 Sportkings product. Although there was a lot of rust to shake off, artistically speaking, I have to say that the 18 art cards produced for the 2021 Sportkings product are the best art cards I've had the honor of creating. I wish I could have kept them for myself."
Kelley is looking forward to contributing to the Living Set.
"The nicest part for me, as an artist, is that this is the first time in the hobby that a company will reproduce my work. Historically, I've only painted one-of-one art cards for companies, as seen in Upper Deck's Goodwin Champions Masterpieces or In The Game's various products," he noted. "Since my work will be reproduced, I'm able to paint on a larger scale than a 2.5″ by 3.5″ trading card which means my work can be more detailed. After painting over 1,000 art cards to date, there is no question that the larger scale is preferable. The original size of my Living Set portraits is approximately 8″ by 10″."
New MLB Living Set cards are released each Wednesday on Topps' website. Cards are available for one week.