Matt Wieters Cards Finally Coming to Topps Packs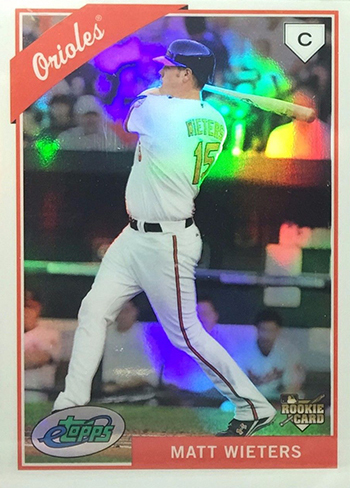 By Ryan Cracknell | Hobby Editor
If you're looking for Topps baseball cards of Matt Wieters in a Baltimore Orioles uniform, you're pretty much out of luck. Other than a couple of oddball offerings and online exclusives, he has nothing. But that's about to change. Soon you'll be able to find cards of the Baltimore catcher in packs of Topps cards for the first time.
Licensing is a tricky thing. Sports cards are a lot more complicated that putting a picture on the front and some stats on the back. Multiple layers of deals exist, all of which have their own nuances. For the majority of card makers, when they land a license with a players' union, it allows them to use all of the athletes in a group deal. Topps does things a little bit differently for baseball. While they have the MLBPA license to go alongside their MLB exclusive, they still have individual deals with players.
Usually, it's pretty straight forward. But sometimes, deals can't be reached. That's why the early part of Alex Rodriguez's career has everything but Topps. It's also why there are a couple of gaps in Ichiro's cardboard timeline with the company.
And then there's Matt Wieters.
For whatever reason, Matt Wieters has never had such a deal. At least until now. While Topps hasn't announced which product will be their first to have the Baltimore catcher in packs, the two sides finally agreed.
They hinted at it with a tweet for a June 30th 2016 Topps Now Baseball card and its ensuing tweet:
The @orioles tie the home run mark for June. Oh and he's new to Topps cards … https://t.co/tpN4j99mUZ pic.twitter.com/JvfMDNDfY6

— Topps Company (@toppscards) June 30, 2016
Wieters is one of six Orioles on the card that commemorates their June home run record.
We did confirm that this wasn't a one-off or some sort of separate deal. Topps and Wieters are now working together.
While a lack of a deal with Topps has limited the number of Matt Wieters cards out there, he still has some. Panini has included him regularly thanks to their MLBPA license. Upper Deck also did back in his early MLB days and even further back when he was with USA Baseball. While still a prospect, Wieters was also one of a handful of young players to sign autograph deals with Razor, the company that later took over the Leaf name.
Even Topps has a couple of Wieters cards with their online programs. The most notable is a 2009 eTopps card.
Comments? Questions? Contact Ryan Cracknell on Twitter @tradercracks.