Marshall Faulk's autograph: It's in the game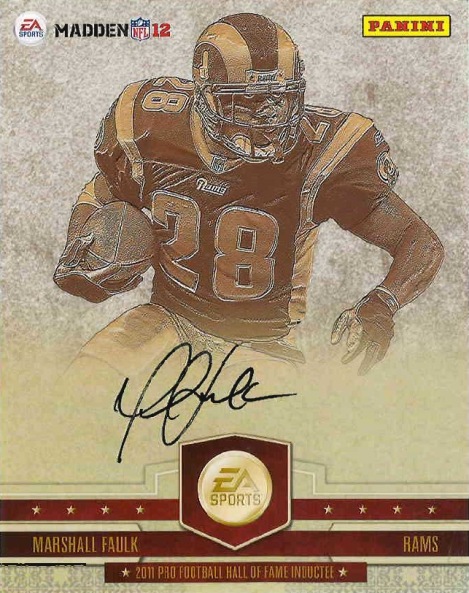 By Andrew Tolentino | Football Editor | Commentary
In an era of video games, smart phones and other full-blown digital distractions for would-be collectors, Panini America has partnered with EA SPORTS to encourage a little crossover action.
The trading card manufacturer unveiled today an attractive cardboard bonus that could fall in the hands of a naturally captive audience. While fans ultimately chose Peyton Hillis as their Madden 12 cover subject, Marshall Faulk — and his randomly inserted autograph cards — will appear in the game's  Hall of Fame Edition.
According to Panini, Faulk will be lending his on-card penmanship to four different versions (these and more after the jump) to be packaged in the late-summer release.
"The crossover appeal between our community and football collectibles is incredibly high. Madden fans and card collectors share many similar traits," noted Anthony Stevenson, EA SPORTS Director of Marketing. They are both highly passionate about their favorite players, teams and NFL football as a whole. They are both highly competitive. Whether it be seeking out that rare card or taking down their rival in Madden – they'll do whatever it takes."
The cross-promotional effort doesn't stop with Faulk's ink inside Madden 12 Hall of Fame Edition. The digital outreach also includes an opportunity for two gamers (one  Xbox 360 and one  Playstation 3 player) to pull a randomly inserted Golden Ticket redemption card to exchange for an 18-karat Faulk.
The partnership also pushes the virtual card envelope through Madden Ultimate Team Platinum Packs — an array of digital trading cards featuring 13 Hall of Famers and previous Madden cover subjects.
Whether this effort converts gamers into hobbyists, or hobbyists into gamers or sports fans into gaming hobbyists is yet to be determined. In any case, this is an important moment in product piggybacking for the trading card industry — a natural opportunity to appeal to a natural audience.