Mars Attacks Kickstarter surpasses $100,000 mark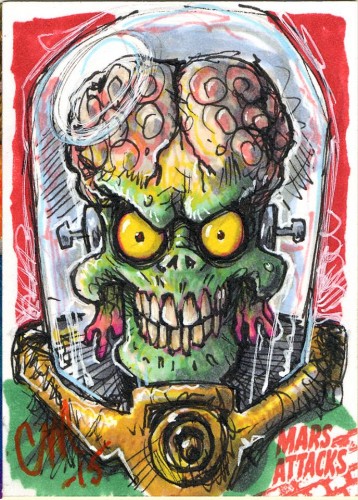 By Stephen Laroche | Beckett Media
When Topps decided to hold a Kickstarter for its Mars Attacks: Occupation release, some collectors may have questioned whether or not the company would be able to reach their goal of raising $50,000 in order to create this product.
Those doubts have been quickly erased thanks to support from the brand's fan base.
Hitting the target soon after the opening day of May 5, supporters have generated more than twice that amount since thanks to several stretch goals which undoubtedly motivated them to make a contribution. Among the items added in recent days include the addition of a Dinosaurs Attack vs. Mars Attacks chase subset, a free digital novella, Dinosaurs Attacks sketch cards to certain pledge bundles, foil stamped logos on all hobby boxes, randomly inserted Dinosaurs Attack metal cards, and the ability to purchase do-it-yourself sketch card packs.
What else will backers get as the Kickstarter gains even more support?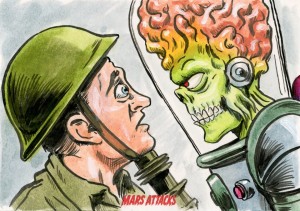 With well over two weeks to go in the promotion, Topps also unveiled several addition stretch goals to offer even further value to backers. At $105,000, each customer ordering $150 or more will get a signed and numbered 11″ x 14″ print and once it hits $110,000, a printed card box is added to some pledge levels.
Any collectors with a base set as part of their package will enjoy nine extra new cards if support moves up to $115,000 and another $5,000 brings all physical orders all four Mars Attacks: Occupation "NSU" promo cards. Finally, a grand total of $130,000 will see Topps add real martian sand to the ink process for their Woodcut Letter-Press Super Rare cards.
For more information on the Mars Attacks: Occupation Kickstarter, visit it online here.
Stephen Laroche is the editor of Beckett Hockey and a contributor to other Beckett Media publications. Have a comment, question or idea? Send an e-mail to him at slaroche@beckett.com. Follow him on Twitter @Stephen_Laroche.