Mars Attacks co-creator Len Brown autograph added to set; Gallery of Martian artists cards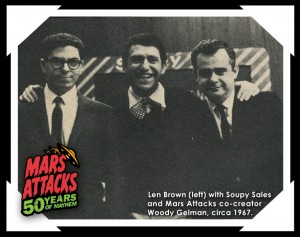 By Susan Lulgjuraj | Contributing Editor
The 50th anniversary of the Mars Attacks will be here shortly. These iconic cards have spawned a movie, toys and many, many nightmares.
It's a story that people have talked about for a generation.
The creation of Mars Attacks Heritage has already been announced, but Topps announced a surprise addition:
Autograph cards from co-creator Len Brown.
"Never would I have imagined that Mars Attacks would be so popular and its fans so passionate 50 years later," Brown said. "I'm delighted to be lending my pen to these cards, and hope fans will enjoy them as much as I enjoyed working on the original series all those years ago."
Brown will sign 550 total cards – 10 foil-stamped parallels of each of the re-issued 55-card base set. These will be randomly inserted into packs and will be hand-numbered.
Brown has had his hand in many Topps products throughout the years. He's shaped Ugly Stickers, Garbage Pail Kids and Wacky Packages, according to Ira Friedman, Topps VP of Global Licensing.
"He spearheaded many legendary sets, collaborating with artists the likes of Basil Wolverton, Jack Davis, Norm Saunders and Art Spiegelman, among many others– and in his spare time created the T.H.U.N.D.E.R. Agents comic book with Wally Wood for Tower Comics," Friedman said in a release. "We're thrilled that Len has agreed to add his signature to our 50th Anniversary card set so that fans can have the chance to own an authentic piece of Mars Attacks history."
Mars Attacks Heritage is scheduled to come out this summer. Along with the re-issued cards, Topps is adding 25 unseen cards to the storyline.
In addition, Topps is adding randomly-inserted 1/1 sketch cards from a number of artists. The Martians are depicted in dark, scary portraits or light and funny poses.
Check out a full gallery of sketch cards below.
Susan Lulgjuraj is a contributing editor for Beckett Media. You can email Susan here. Follow her on Twitter here.