Mark Warsop Named Inaugural Industry Summit Decade of Excellence Leadership Award Recipient
When you click on links to various merchants on this site, like eBay, and make a purchase, this can result in this site earning a commission.
A lot has changed in the hobby over the last decade. Mark Warsop, Panini America CEO, has been at the forefront of a lot of the evolution and growth that the industry has seen in that time. In honor of his accomplishments and vision, he has been named the recipient of the Industry Summit Decade of Excellence Leadership Award. It is the first year for the honor, which will only be handed out at the start of each decade.
"We wanted to create a special award for this year's Summit and when we decided on the Decade of Excellence Leadership concept, it was a short conversation. Mark Warsop was the clear choice based on Panini's growth and success the last ten years," said Beckett Media's Ted Barker.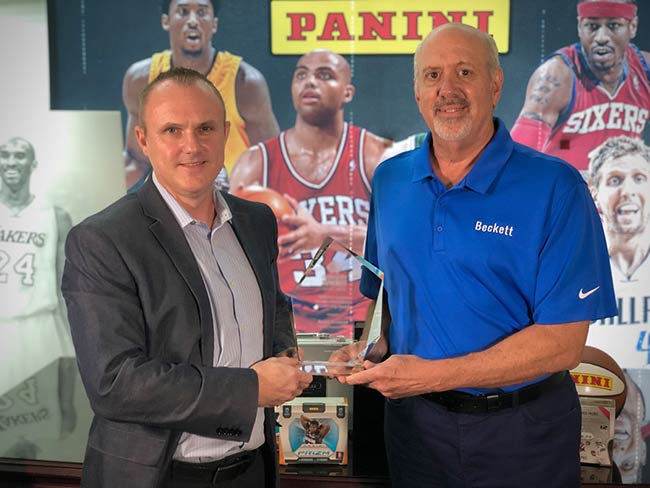 Warsop grew up in the collecting world. His father worked for WHSmith, the exclusive distributor of Panini products in the UK at the time, and would bring home a few boxes of soccer products here and there. Warsop would then take them to school and wheel and deal with his classmates. From there, he started travelling to soccer stadiums, representing Panini at swap events.
It was his first job at Merlin Publishing that really kickstarted things, though. It was a beginning in more ways than one.
"My first assignment, I remember it very well, was packing Tiny Toons and Polly Pocket in the warehouse," Warsop remembered in an interview with Barker while accepting the award.
The launch of Merlin's Premier League collection in 1994 transformed the young company. Just as the company grew, Warsop quickly ascended the ranks to become a marketing manager. His role in the company expanded further in 1995 after Topps acquired Merlin as they were looking to expand into Europe. He was not only the company's marketing manager in the UK but was responsible for sports product development as well. With that he was overseeing the entire Premier League business throughout Europe.
Warsop moved over to Panini in 2001 where he was eager to work with a couple of entertainment properties, Harry Potter and Disney. He remained the marketing director until 2009 when Panini acquired Donruss' assets.
Heading up Panini's expansion into North America brought some major changes for Warsop personally. He and his young family were moving halfway across the world to Texas. But it didn't take him to warm up to his new home.
"We've made more friends here in a short period of time than you would make in a lifetime in the UK," Warsop said. "Everyone is just more willing to come up to each other and say hi and talk to each other in line."
Warsop was responsible for some major changes for Panini, who had landed the exclusive NBA license. The company had been looking to start fresh, but when Donruss became available, it was seen as an opportunity to build momentum faster.
"We were incredibly fortunate that the Donruss business became available. We acquired those assets, but more importantly the team of people that had the skillset to jumpstart the business," Warsop recalled. "It's very clear now that had we not managed to acquire those assets of Donruss we would have never had the trajectory that we've got today."
One of the reasons for Panini's growth in the last decade has been soccer. In a short amount of time, the sport has gone from largely overlooked among card collectors to something mainstream. Warsop applied many of his learnings from working within the sport in Europe and applied them to the American market.
And it all started with stickers.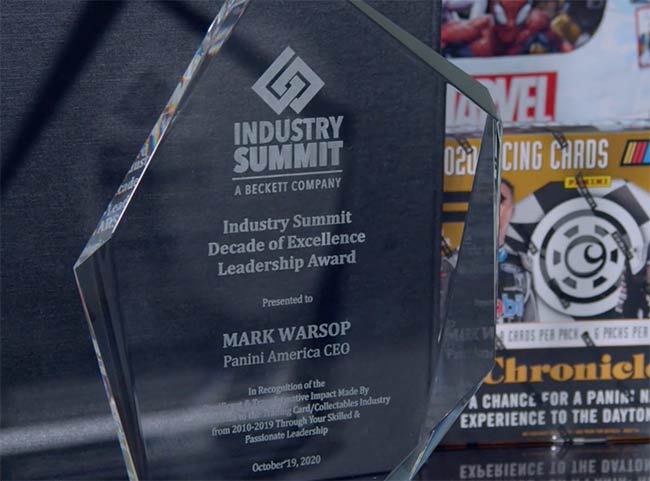 "Kids are kids," Warsop said. "The sticker business was already a phenomenon globally. We knew we just had to reach the right audience. We knew with that sticker collection, it's a different target market. We knew we just had to find them and make them aware of the product and educate them on how the product works."
And that's what they did. Panini got albums into the hands of young collectors, which got them into building the set. After strong growth with the 2010 World Cup sticker collection, things exploded four years later. Not only did demand for the stickers surge but the sport was gaining more acceptance within the hobby market. And that growth continues today.
"Soccer is growing faster in the US than in any other country in the world," Warsop noted. "It's already incredibly established everywhere else. So we knew that it was probably one of the single opportunities we had for rapid growth."
Panini has also used marketing and social media to reach new audiences. This has led to strong growth, particularly in the last five years.
"With that introduction of social and that sort of hobby mentality, what we're trying to do — this is probably the most powerful form of marketing now — is we're trying to replicate the old town hall, hobby meetings and trade fairs and swapping. You can get to people instantly," he said.
"Our move has been more towards social media marketing. Everyone expects it to be now, now, now so that's the easiest way to communicate with people. Things are changing just so much quicker now. You need that daily interaction with collectors."
On the product side, Warsop and his team have been driving a major change in the hobby over the past few years. And in some ways, it's taking things back a couple of decades.
Although the industry is growing, there are some challenges involved with creating modern products. Specifically, it's acquiring all the necessary autographs and memorabilia. Not only can it be challenging to scale, card makers are surrendering a certain level of control when they rely too much on them.
"There's no guarantees on the amount of memorabilia they can get and whether an athlete is going to sign on time," Warsop said. "There's a threshold on availability so you have to try to find other methods to pull the collector in."
That has led to a renewed focus on parallels and other inserts. The Prizm brand has been a strong success story in this regard, creating growth and opportunities for not only that line but others like Optic and Select.
"It really built that parallel business that then allowed us to introduce other parallels into brands that aren't associated with Prizm," he observed.
The other big change in recent years is how leagues and licenses have gone increasingly exclusive and signing deals for longer periods of time. When Panini America began operations, their lone exclusive license was for basketball. Now they have long-term deals for the NFL and NFLPA, college with the CLC, NASCAR and more.
Warsop believes that the stability these bring have helped push the industry to its current heights.
"It makes no sense for two companies to be competing for the same property," he explained. "We're competing against ourselves. We know that if we launch a product for $100 we know that we have to deliver a product that's over $100. And there's no escape because if you don't do it, everyone knows on day one, the minute of the first box break. So you don't need a competitor to deliver value.
"When you have an exclusive licensee, you can space the program accordingly. You can get all of the athletes on board because you're not competing with another company on some of the exclusives. You're not overpaying for autographs. You're paying a fair price. So then you can build a product and deliver that kind of value."
Warsop's philosophy on exclusives extends further, saying that they help his company push their own boundaries.
"Strategically, if you're in a non-exclusive environment you're more reluctant to invest in new brands and new technologies because you have a certain number of releases and you have to put your best feet forward," he said. "Whereas, when you have an exclusive, you can try new things. You can take risks to grow the hobby in a way you wouldn't be able to do with a non-exclusive."
All of this brings the hobby to today. 2020 has been a strange year but it has been one where the trading card industry as a whole has seen tremendous growth. And that's after several years of sustained increases already. Warsop's dual focus on marketing and product development are paying off.
And while few would have predicted the pandemic as a further launching point, it has been because a lot of the earlier efforts.
"We want them to be seen as an entertainment product. We want them to be enjoyed, for people to open them, reminisce, make it a family activity. With what's happened with COVID, I think people have remembered what it was like to be a kid an open a packet and enjoy the hobby," Warsop said. "When we sit back and look at it, it fills us with joy knowing that our product brought that level of entertainment to people that were stuck at home."
By being part of a global company, Panini America was able to navigate the challenges of creating product amidst the pandemic relatively seamlessly. Because COVID hit Europe before North America, the company had already gone through some of the organizational things needed to keep going. So when things did shut down in March, the company was ready with plans in place for staff to be continuing to work from home.
As for what the future of the sports card industry hold, Warsop sees growth well into the future.
"We're going to do it sensibly and thoughtfully in terms of SKUs we build," he said.
It's built into his philosophy of growth for the industry. Rather than overproducing a popular product, Warsop would rather introduce new lines to not only compliment existing brands, but expand into new areas with new technologies.
Not only does he see this lead to growth, but it will also help protect the industry.
"I don't think we're going to see the bubble break in the same way that we did in the '90s because we're just not doing that overproduction of any one card set," he explained. "Everything's numbered and we're not going to break the numbering system. National Treasures is a prime example. You can't increase the volume of National Treasures as much as you'd like to because you can't change the numbering system. You have to come up with a new National Treasures, which is where Immaculate came. Now we need a new one, which is where Flawless came.
"As long as you retain and keep that stability and you don't overproduce on those brands then I think we're going to continue to grow and we'll keep bringing in new collectors."
The 2020 Industry Summit continues through Wednesday, October 21.