March Madness: Baseball Stars from the World of College Basketball – Beckett Pricing Insider
The spring has sprung. When it comes to sports, it's one of the most exciting times of the year. Baseball is just around the corner. It also means it's time for March Madness and the NCAA Men's Basketball Tournament.
I recently did a write-up about Michael Jordan and his attempt at a baseball career. While he may be one of the most famous multi-sport athletes, he isn't the only player to try and make his mark in both baseball and basketball.
With the NCAA basketball tournament kicking off, let's highlight basketball cards from a handful of major leaguers who played college hoops.
Jackie Robinson
Not a lot of people realize that the man who broke baseball's color barrier was also a very accomplished athlete in other sports. But it wasn't just baseball and basketball for Robinson. Robinson went to UCLA and became the first athlete in school history to play four sports: baseball, basketball, football and track. Robinson led college football in punt return average in 1939 and 1940. With the track team, he won the 1940 NCAA Championship in long jump.
To no surprise, Robinson was also an elite player on the court. He was the top scorer in the Southern Division of the Pacific Coast Conference in the 1939-40 and 1940-41 seasons. That 1939-40 season was also the first year of the NCAA Tournament with eight teams making it in. That wouldn't have mattered though, UCLA finished 8-17 and 6-20, respectively, so there was no way they were getting in.
Robinson has close to 3,420 cards in the Beckett Database. Less than 200 of those are autographs with the majority of them being one-of-one cut signatures. This one comes from Panini's high-end Flawless product and includes a game-used two-color jersey relic. It sold for $3,700.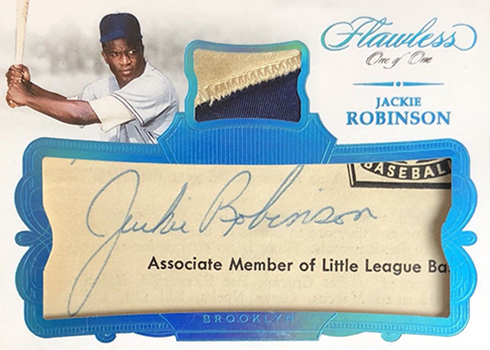 Dave Winfield
The Hall of Fame right fielder who went directly to the San Diego Padres and never played a game in the minors is also the only person to have been drafted in three sports. Along with the Padres, Winfield was also drafted by both the Atlanta Hawks and Utah Stars in basketball. Even though he never played in college, the Minnesota Vikings selected Winfield in 1973.
Winfield starred for the Minnesota Golden Gophers in both baseball and basketball. On the baseball field, he was not just the team's best hitter but was also one of their best pitchers. In his senior year Winfield hit .385 with 33 RBIs in 130 at-bats. On the mound, he was 9-1 with a 2.74 ERA and 109 Ks in 82 innings pitched. He  would help to lead Minnesota to the semifinals of the 1973 College Baseball World Series.
Winfield also stood out on the basketball court as a power forward. He helped the Gophers win the 1972 Big Ten Conference Championship and got them into the NCAA Tournament. Unfortunately, Winfield struggled in the tournament, scoring just six points in two games.
Just over 3,000 cards make up the Dave Winfield list in the Beckett Database. Of those, his 1974 Topps Rookie Card is the most famous. Raw copies can be had for around $20 but this one, graded a BVG 9, went for $310.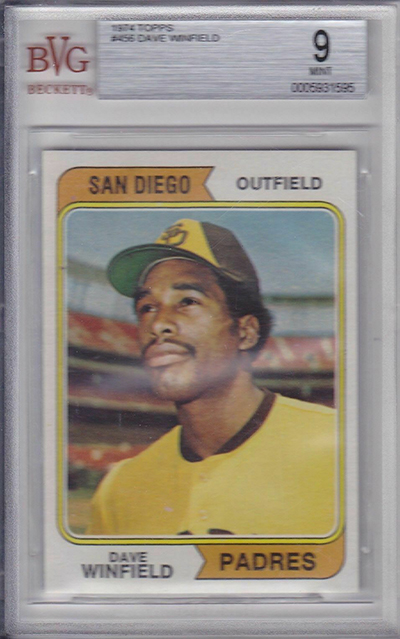 Tony Gwynn
One of the best contact hitters in baseball history, Tony Gwynn also played four years of basketball at San Diego State. It's hard to imagine, but of high school he only received offers from colleges to play basketball and none for baseball. Gwynn wanted to play both sports so he chose San Diego State because their basketball coach was the only coach who would let him do so.
In basketball, Gwynn excelled as a skilled playmaker who would set school records for assists in a game, assists in a season and assists in a career. Twice Gwynn was named to the 2nd Team All-WAC in basketball. He was drafted in the tenth round of the NBA draft by the San Diego Clippers on the same day the Padres selected him in the third round of the MLB draft.
Tony Gwynn has a lot of cards. How many? Just under 10,000 in the Beckett Database. But not all of them are only in the baseball. Over the past few years, both Panini and Upper Deck have made some Tony Gwynn basketball cards highlighting his time in college. This card, which is numbered to 10, has Gwynn's autograph along with a relic from a game-used jersey. It sold for just over $100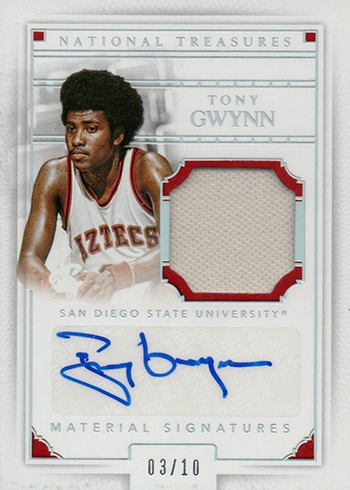 Kenny Lofton
Arguably the best basketball player on this list, many people would be surprised to know the six-time All-Star didn't go to college for baseball. Kenny Lofton actually went to the University of Arizona on a basketball scholarship. He played all four years with the basketball team and wouldn't join the baseball team until he tried out his junior year. Lofton played in just five games that year and had one at bat. But because of his speed, scouts could see his potential and he was selected in the 17th round of the 1988 MLB Draft by Houston. Lofton played in the Astros' minor league system over the summer while returning to Arizona to play basketball and finish his degree.
At Arizona, Lofton was the backup point guard behind Steve Kerr and would help Arizona make it to the Final Four in 1988. The next year, he was the starter and led the Wildcats to the Sweet Sixteen. Lofton wrote this article for The Players' Tribune where he goes into detail about Arizona's run to the Final Four and how playing basketball helped him become a better baseball player.
The Card: 1990-91 Arizona Collegiate Collection Kenny Lofton #121
Lofton has just over 2,600 cards in the Beckett Database. Similar to Gwynn, not all of those are baseball. This basketball card for Lofton comes from Collegiate Collection, who made a bunch of multi-sport set for various schools in the late 1980s and early '90s. By far the least expensive on this list, this one will only put you back a few bucks.