Marc-Andre Fleury mask features ITG cards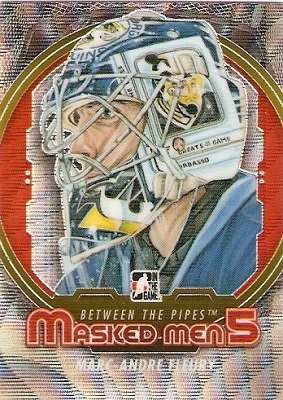 By Jon Waldman | Contributing Editor
Collectors will remember the buzz that popped up during the NHL lockout – Marc-Andre Fleury was to sport a new mask for the upcoming season. The new faceshield would be unique as it featured sendups of Between the Pipes hockey cards from years past.
On the side panels of the new goalie headwear were artistic renderings of Tom Barrasso and Michel Dion's cards from the 2010-11 Between the Pipes series.
The mask's inspiration was simple enough.
"I wanted to pay tribute to the goalies that had come through (Pittsburgh)," Fleury said.
The show was enough to inspire card-on-art-on-card production by In The Game, who included the mask in the recently released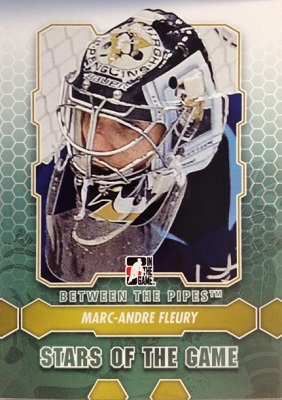 2012-13 Between The Pipes series. The cage was included in Masked Men 5, a limited insert.
The appearance is thanks to Fleury's continued relationship with In The Game, which has been in place since the 2004-05 Heroes and Prospects set. Fleury has been a continual subject in ITG's series despite the company not having NHLPA licensing.
Dr. Brian Price, president of In The Game, noted the two sides have always had a strong relationship, as has Fleury's demand from his fans.
"He's a great guy to work with, a great player and very collectable. Three good reasons to keep our relationship going," Dr. Price said.
The rendering came from good fortune for Fleury, who indeed would wear the unique cage during the abbreviated NHL season. Regardless of the limited schedule, Fleury was arguably at his best this past campaign, one that saw his Pittsburgh Penguins battle injuries to Sidney Crosby and Evgeni Malkin, and the departure of Jordan Staal.
During the regular season, Fleury went 23-8-0 with a 2.39 goals against average and .916 save percentage while also chipping in a couple assists. The win mark, tied for fourth in the league (but second in actual number) put Fleury at 249 for his career and easily within reach of the lauded 300 mark, a benchmark for netminders.
All this from a player who many speculated wouldn't make a lasting impression in Pittsburgh, after spending time in the AHL for at least part of his first two pro hockey seasons. The 2003 first overall pick also spent a conditioning stint with the affiliate Wilkes-Barre Scranton Penguins in 2007-08 as he returned from injury. In between, he put together two 40-win seasons to go along with three 30-win campaigns and, of course, the coveted Stanley Cup ring.
These accomplishments have helped Fleury become one of the in-demand goalies for collectors, particularly those that focus on the netminders, something that Fleury did himself in his childhood.
"When I was younger, I only collected goalie hockey cards, that was all I had," Fleury said.