Make your own auto combos in 2011 Exquisite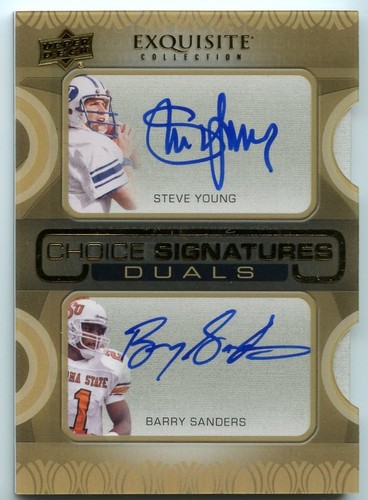 By Susan Lulgjuraj | Beckett Football Editor
When getting a dual autograph sometimes a collector wishes different players could have been paired together. Perhaps even hoping to have two favorite players on one card that share no real bonds.
With a new autograph set in 2011 Exquisite Football, collectors can actually make the dual and quad autographs they want by mixing and matching special cards – of course, within the scope of the checklist.
Upper Deck took its removable autograph slot cards to another level by with Choice Signatures, slot cards on one larger card. Some of the original pairs include Jake Locker/Blaine Gabbert, Eddie George/Gale Sayers and Andy Dalton/Colin Kaepernick.
But what if you want Locker and Dalton on one card instead?
That's simple. Remove the slot cards with the on-card autograph and replace it with a player that you want.
"We've heard from consumers, collectors why did you put this combination together?" Upper Deck product manager Greg Kohn said in a video on YouTube. "Now, we're giving you the opportunity to put any combination together you want. … You have the option of building any type of autograph card you choose. Anything you desire."
Upper Deck only has a college license, so all the players appear in their college uniforms. But that hasn't stopped collectors from grabbing these cards.
On Wednesday, a Barry Sanders/Steve Young combo of Choice Signatures sold for $400 on eBay.
There is a redemption card in this set that lists the players as TBA. As soon as Upper Deck updates that information, we'll add the information to this blog.
Some of other players with Choice Signature cards that appear on the checklist (which is subject to change) include Adrian Peterson, Aaron Rodgers, Bo Jackson, Cam Newton, Drew Brees, Dan Marino, John Elway, Jerry Rice and Troy Aikman.
If you could pick, what combo of players what you put on a card?
[youtube]http://www.youtube.com/watch?v=OlVxpnwAaF4&list=UU_Qe9tkMCsqbwsryg1NOzEA&index=1&feature=plcp[/youtube]
Susan Lulgjuraj is the editor of Beckett Football magazine. You can email Susan here with ideas, comments and questions. Follow her on Twitter here.