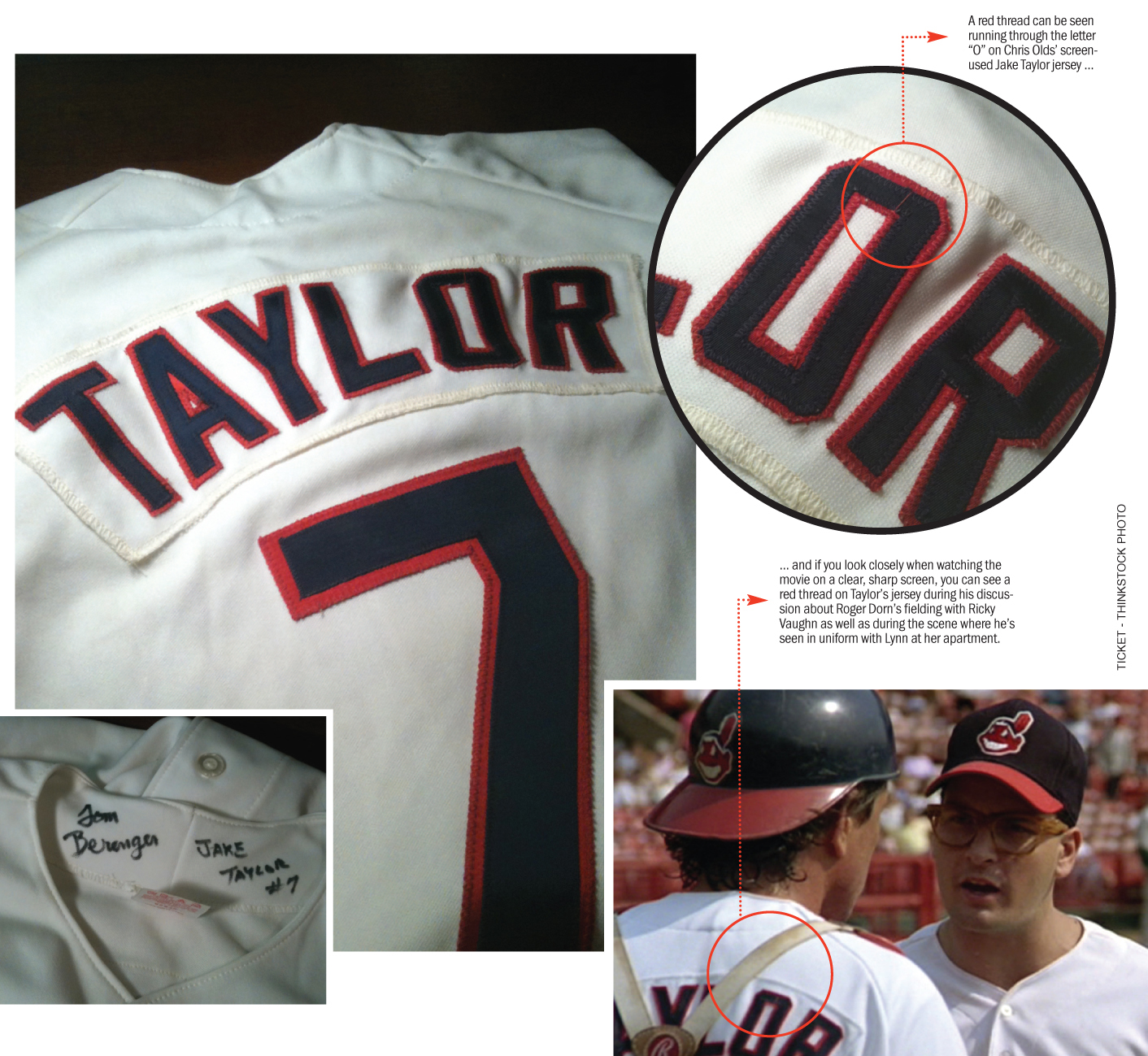 Editor's Note: With the Major League crew officially arriving on Topps cardboard today in 2014 Topps Archives (more on that later), we figured it was time to pull this story from the archives for our online readers — a piece from Beckett Sports Card Monthly's The Sports Movies Issue (No. 319, October 2011). 
—
By Chris Olds | Beckett Baseball Editor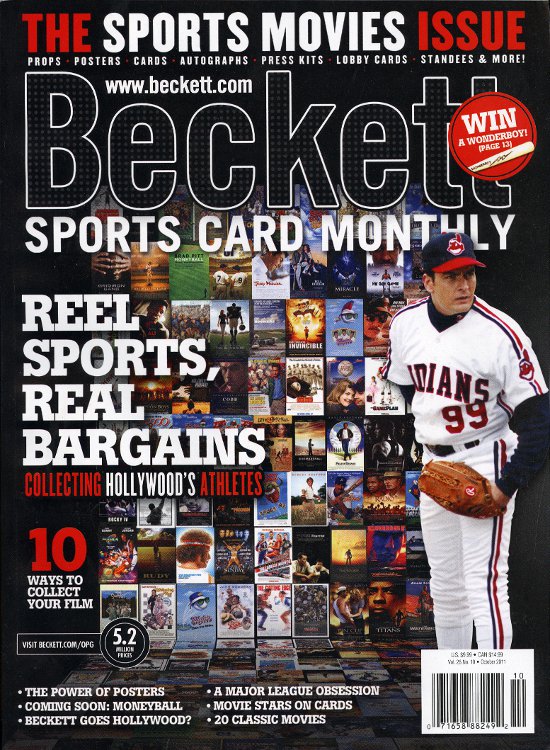 Here's a collecting confession for you: My priciest collectibles purchase of the last few years was the game-used uniform of a washed-up catcher with bad knees who is now 62 years old.
His name? Jake Taylor.
That's right, I own one of the uniforms worn by Tom Berenger in the filming of Major League — this one coming straight from the actor himself via a personal friend, Len Rosa, who is a long-time Civil War and antiques dealer based out of Lady Lake, Fla. Berenger, who lives in South Carolina far from the Hollywood scene, is a Civil War buff, and the two met when Rosa had a shop in Gettysburg, Pa.
My purchase included his jersey, pants, belt and stirrup socks — yep, socks from 1988 — that I had to take as a group or not at all. Here's how it happened …
Discovery & Negotiation
During one late-night eBay search in April 2009, I found an autographed photo of Berenger from the film with the notation in the auction listing that the seller was a personal friend. I contacted him to see what else he might have … out of pure curiosity.
"I have the uniform he wore in Major League which includes the jersey, pants and socks," read the reply from Rosa. "I also have the catcher's mask he used, chest protector, spikes, and Jake Taylor model bat. Any interest in the grouping?"
Those last five words, I figured, meant it was a package deal — aka too pricey for me. I replied asking whether I could get photos of the items to do my homework and from there the discussions dissolved. It wasn't until a few months later that I revisited the dealer and items because one of them popped up individually on eBay.  (I think it was a signed Indians cap from Major League II.)
On Aug. 18, 2009, I received images of the items that had the potential to be mine — basic phone-quality photos that would let me verify basic things like patches, striping, manufacturers, etc., that I could use to verify the items via what is seen in the film.
I indicated that I was interested in the bat — I collect game-used bats — though I knew that it wasn't a model used on-screen. It was a Rawlings bat, meanwhile bats used in the movie all were Louisville Sluggers (except Pedro Cerrano's).
"The bat is really neat because they have burned Jake Taylor in the appropriate place on the barrel," read a reply from Rosa. "He used it extensively during the workouts they had for the film, so it looks like a real major league game-used bat, which he also autographed for me."
When it got down to brass tacks — talking prices — my interest in the bat prompted a rather high price tag while the full uniform wouldn't cost me much more. While I would have loved to own it all — without question — I opted for the uniform, which cost me less than a case of basic Topps baseball cards.
It was in the mail on Aug. 20 and in my hands not long thereafter.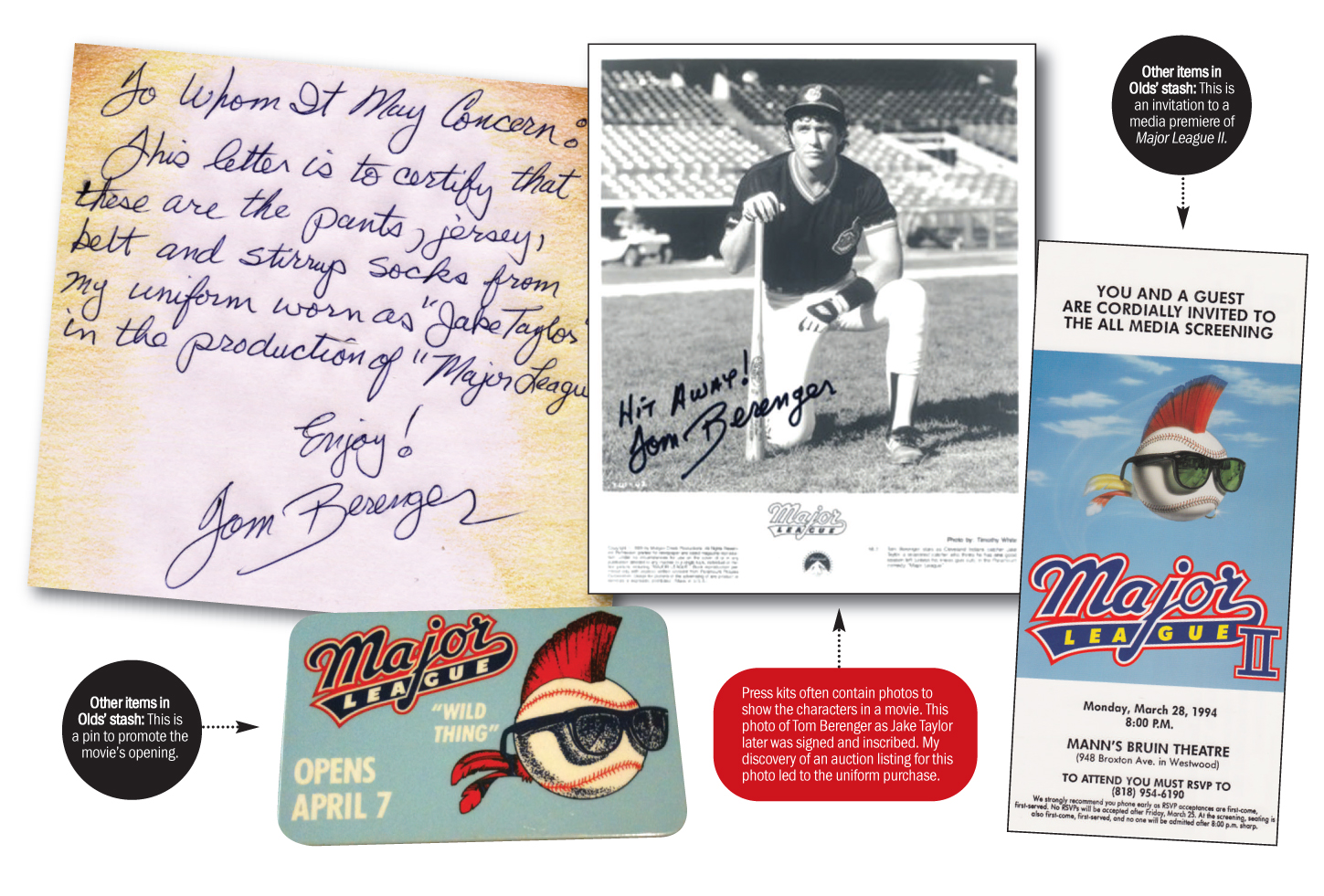 Additional Authenticity
The uniforms for the first Major League film were made by Rawlings and were a style different from those used in Major League II, which were manufactured by Athletes In Sport. My uniform included a hand-written letter from Berenger (on an admittedly unusual style of paper) noting all the details and included an autograph with a "Jake Taylor" inscription in the collar of the jersey as well as the waistband of the pants. The pants, which included the belt still in its loops and plenty of dirt and tears from filming, have not been washed after their final use.
After I received the uniform, I took plenty of photos for bragging rights among my friends while also looking for unusual tears, stains or other quirks that I could use to match the items to a scene. While I knew that Rosa had been in business for more than 30 years, I wanted more proof of my item's origin. I wanted to photo-match it to specific moments in Major League history.
According to the movie's commentary track, the actors had just two sets of uniforms, so odds were pretty good that I could find a scene to match. And I did. The pants couldn't have been easier as there was a tear and repair on the right knee — likely from the end of the film where he falls after crossing first base. (Filming was not done chronologically, so the rest of the dirt markings do not match the scene, but I can't imagine too many scenes where the catcher wasn't wearing his leg guards that might cause tears.)
The jersey, however, was another story as it was clean. But while taking photos of the patches, I noticed a strand of red thread running through the "O" in "Taylor" on the nameplate. I got out my DVD — and image-capture software — and watched the film a few times looking for scenes showing the back of the jersey. (You can see it above. Click on the image for a much closer look.) When those scenes popped up, I snapped as many screenshots as possible and examined the results. In two memorable scenes — one being a discussion on the mound with Ricky Vaughn about Roger Dorn's fielding efforts, and the other being Taylor's apartment rendezvous with Lynn — you can see a red thread running through the letter.
For one last layer of authentication, I had my signed photograph purchased from Rosa authenticated by James Spence when he was on-site at Beckett HQ. I mentioned that I got it from Rosa, which prompted a brief discussion and absolute relief for any small iota of questions I had about my big buy. It turns out Spence and Rosa have spent time together on many occasions. After hearing that news, I ran home and dug up my letter from Berenger and got it authenticated, too. Today, both rest in a BGS slab authenticated by Spence, once again verifying the legitimacy of my uniform.
But that's not all I've tracked down for my favorite movie …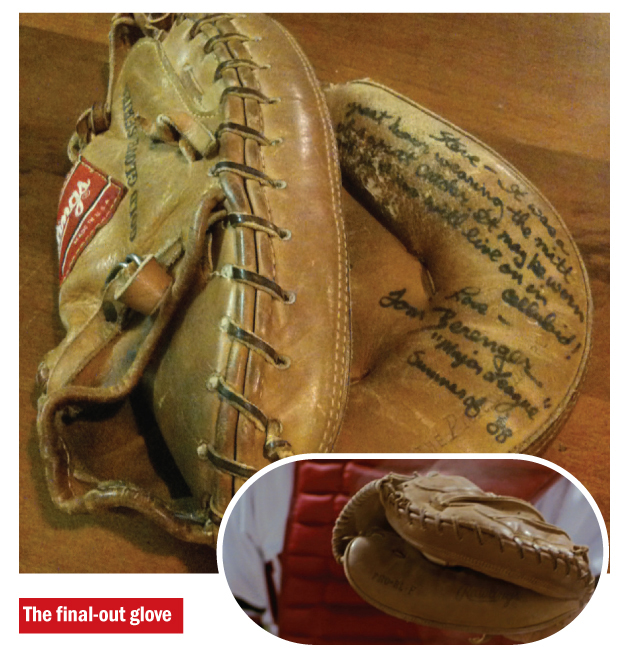 The final-out glove
While the full uniform is my centerpiece, I also own Berenger's glove that caught the final pitch from Ricky Vaughn striking out Clu Haywood. It was a glove originally used by Steve Yeager, which carries a long inscription from Berenger to Yeager with the handwriting perfectly matching that from my letter. I picked it up in late 2009 — from a different dealer — for less than the price of a typical high-end box of cards. To me, it's just as priceless.
—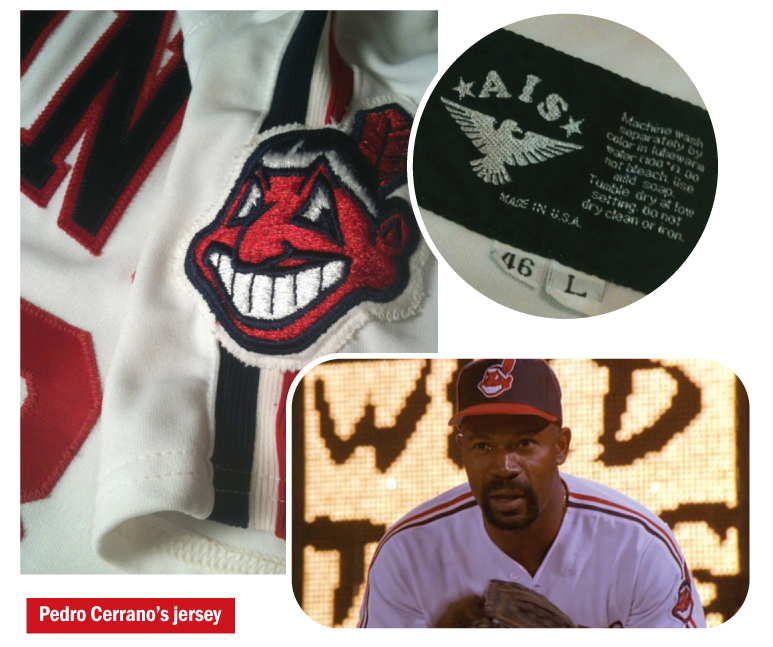 Pedro Cerrano's jersey
This one is not quite as ironclad for its authentication — I did my homework on it before buying and everything looks good, but I wasn't able to photo-match this Pedro Cerrano jersey to a specific scene from Major League II. It was made by Athletes In Sport, came from a dealer specializing in props and has some odd features matching those in the film that wouldn't have been used on MLB Indians jerseys. The patches and stitching also match the authentic Vaughn jersey found in the Sportsrobe company archives. (Note: I suspect that the Vaughn jersey Topps acquired for use in its upcoming Relics of Sheen will have the same quirks and tagging.)
—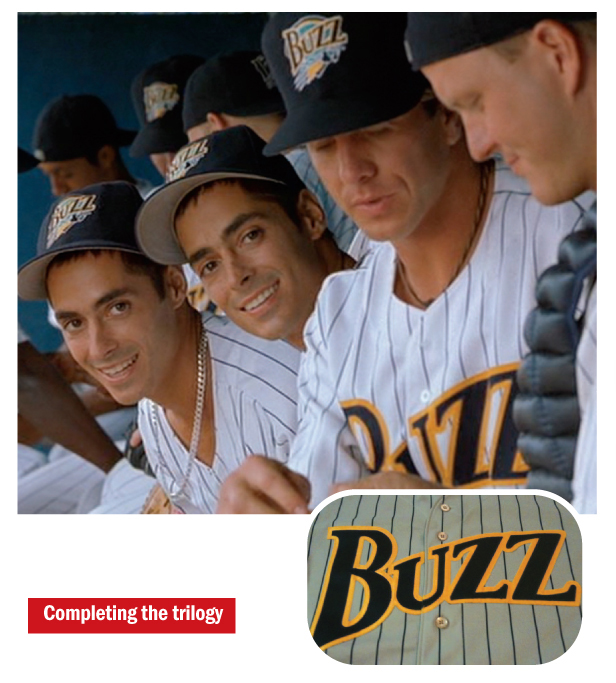 Completing the trilogy
The third film, Major League: Back to the Minors, is rather forgettable, but I own a jersey worn by either Tom or Tim DiFilippo, who both played "Juan One." Those guys are so small that the seller thought it was a batboy jersey from the filming, but it matches their uniform number and has a J-1 notation on its tag. It has no authenticity letter, but I didn't care for the price. It was that cheap and there's little incentive to fake anything from this film.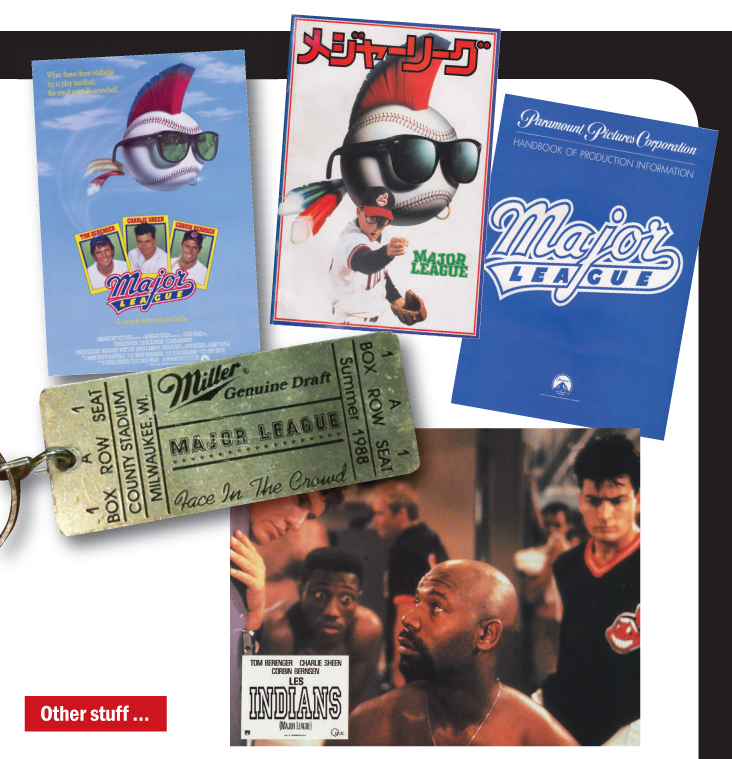 Other stuff …
As we covered elsewhere [in the issue], there are posters, autographs, press kits, photos, posters, lobby cards and more out there for movies — and this one is no exception. I have plenty — but clearly not all — of the items out there for the films and am always hunting. Why? Because that's what we collectors do! What's in a press kit? Visit Beckett.com via tinyurl.com/BSCMpresskit for more.
Chris Olds is the editor of Beckett Baseball and Beckett Sports Card Monthly magazines. Have a comment, question or idea? Send an email to him at colds@beckett.com. Follow him on Twitter by clicking here.
MORE MAJOR LEAGUE
>> Box Busters on Location: 2014 Topps Archives + Major League autographs create perfect storm
>> First Look: 2014 Topps Archives
>> Olds details what he would do with a Major League set and creates cards, too.
>> A long-awaited Major League mailday
>> BACK ISSUES: Beckett Sports Card Monthly's Sports Movies Issue (2011) and the 2013 issue with 42
>> More Major League from the Beckett archives