Main Event Wrestling Card Sales Heading into WrestleMania – Beckett Pricing Insider
This Sunday at WrestleMania 35, wrestling fans will be treated to the first women's main event. Ronda Rousey, Charlotte Flair and Becky Lynch will all compete in a triple threat match for both the RAW and SmackDown Women's Championships.
It has been a long build up to this point since the women's revolution began in WWE back in 2015. We've witnessed many firsts for the ladies along the way, including: the Royal Rumble match, Elimination Chamber, Money in the Bank ladder match and the new tag team championship.
While the WrestleMania main event won't be the final first, it is a culmination of a sports entertainment movement that has come full circle.
The trading card market has also been included in this circle. As I've reported in the past, the most popular cards in the Topps Now WWE brand have featured the women. With the addition of Ronda Rousey to the roster almost a year ago, this popularity has continued to rise.
Listed below are some of the most recent rare autograph sales of the main event participants:
2019 Topps WWE Transcendent Red #ARRR Ronda Rousey 1/1 – $1,425
Being a one-of-one, cards don't get any more rare than this. The fact that we may not see Ronda in a WWE ring for a while (if the rumors are true) after WrestleMania makes it much more desirable.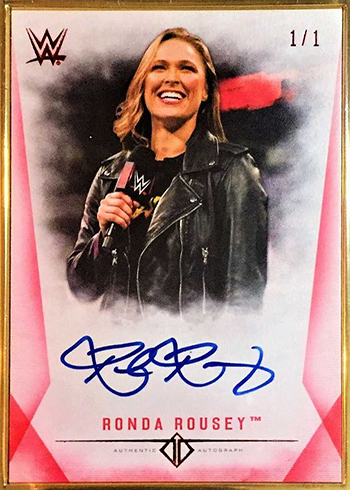 2016 Topps Heritage WWE Diva Kiss Autographs Printing Plates Yellow Charlotte – $300
Only once in a blue moon will you see a printing plate Kiss Autograph card let alone one of Charlotte Flair. By comparison, the eight-time champion's base Kiss Autograph/25 books at a solid $60-$120.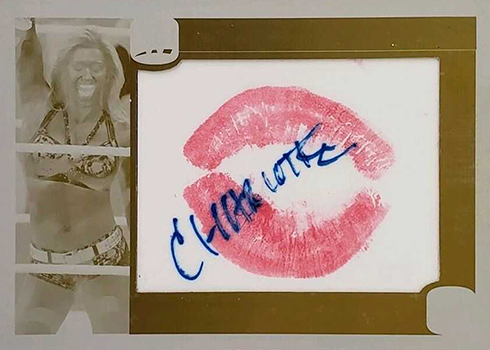 2019 Topps WWE Transcendent Sketches #7 Becky Lynch 1/1 – $602
Sketches in wrestling card products are a rarity. So, to acquire a sketch of the hottest women's wrestler in the most high-end product of the year is a solid acquisition. The original art is done by Rob Schamberger, who has been working with WWE for a number of years. His art has been featured on a variety of products including art prints and with action figures.