Magic The Gathering Preview: Battle for Zendikar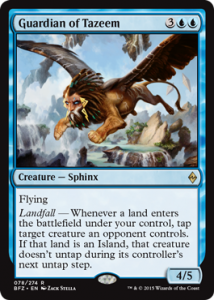 By Ian McDaries | Guest Commentary
The Eldrazi are back, and this time they are ready to win the Battle for Zendikar! This last week Wizards of the Coast has allowed a few spoilers to be let out to the public, and man is the hype real! For this Labor Day weekend I wanted to recap on a few of the major cards coming out in the new Zendikar block.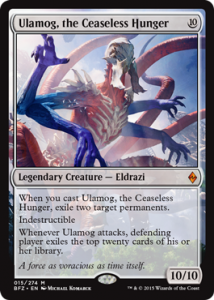 Starting off, Ulamog has returned! Reincarnated as Ulamog, the Ceaseless Hunger, this infamous Eldrazi towers over many cards in Magic at a titanic 10/10 indestructible creature, who instantly generates advantage when he enters play by removing 2 cards from the game (including lands).  His last effect is very scary, and almost makes you laugh when you read it: Whenever he attacks, your opponent has to exile the top 20 cards of their library! Hope you didn't need that quarter of your deck. Another thing to note on the new Ulamog is that he does not have the traditional effects of the previous Eldrazi before him, which shuffles them into the deck if they are placed into the graveyard. This is huge for Reanimate decks in Legacy and Modern formats.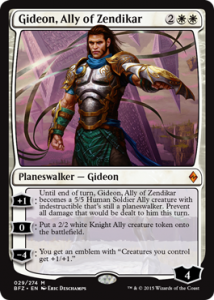 Although this titan is poised to take over Zendikar, there are a few who are willing to stand in its way. Enter Gideon, Ally of Zendikar – This infamous Planeswalker can join the battle as a 5/5 indestructible creature, create a 2/2 White Knight Ally Token, or sacrifice himself to generate an emblem that gives all your creatures +1/1. Overall, Gideon looks like a great Planeswalker who can generate advantage and protect himself.
The final cards to showcase are very special, and have created a lot of anticipation for Battle for Zendikar. They are the full art Fetchlands, Shocklands, and the New Battle for Zendikar dual lands. Check out the art below.
These can be found as a subset within Battle for Zendikar, and are said to be slightly less hard to pull than a foil mythic rare.
Be sure to keep a look out for more spoiler reviews next week. As we get closer to the October 2 release date, more cards are bound to be popping up. Until then have a great Labor Day weekend!