Madison Bumgarner arrives in full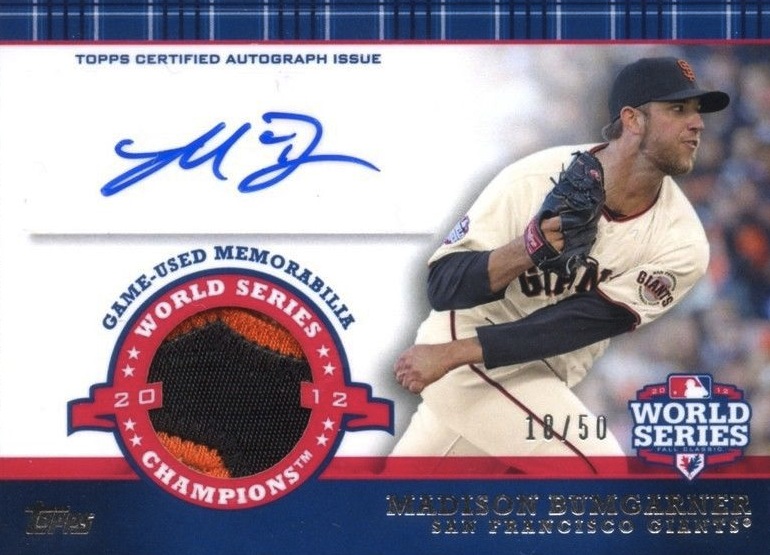 By Chris Olds | Beckett Baseball Editor | Commentary
If there were any questions about who was The Star of this year's World Series, this guy answered it Wednesday night.
If there were any questions about the newest household name in MLB as a result of this year's World Series, this guy answered it.
If there were any questions about who is The Man to collect after this year's World Series, this guy answered it.
His name is Madison Bumgarner.
The San Francisco Giants' 25-year-old left-handed ace pitched five innings of scoreless relief in Game 7 Wednesday night after picking up wins in Game 1 and Game 5, coming into the final game with the lowest career World Series ERA ever with 0.29. In Game 5, he pitched a complete game, allowing four hits, striking out eight and walking none.
After Game 7?  He finished with a 0.25 career ERA — and his third World Series ring awaiting him on Opening Day.
Bumgarner's career record is just 67-49 after six seasons with a 3.06 ERA and 896 strikeouts in 952 innings. More importantly to collectors, he's been a steady signer for card companies since his cardboard debut back in 2007. He's appeared on 1,427 different cards in the Beckett.com database with a total value of more than $13,400 excluding rarities — for now.
Of those cards, he has 324 certified autographs and 253 memorabilia cards. Interestingly, 76.5 percent of all Bumgarner cards are serial-numbered (1,093 cards) — a relatively high number. Topps has had Bumgarner wrapped up for years now, producing 239 of his 324 autographs with the rest coming from TRISTAR (48), Just (24) and Donruss/Playoff (13). He appears on 12 Rookie Cards from  2010 — all are standard cards except for a manufactured patch auto from Finest that typically sells for $50 or less. His other RCs all range from $2 to $6 (or less), allowing for some potential bargains to be had.
Bumgarner's availability as a signer has plenty of sigs as options for collectors with his 2008 Bowman Chrome Prospects Gold Refractors auto limited to just 50 copies checking in at the priciest of those that aren't too rare to track. It typically sells for $600 or less. He also has a 2006 AFLAC auto released in 2008 that has booked for $50 but just might get more attention now.
Just like plenty of his cardboard.
Chris Olds is the editor of Beckett Baseball and Beckett Sports Card Monthly magazines. Have a comment, question or idea? Send an email to him at colds@beckett.com. Follow him on Twitter by clicking here.