5 Key Madison Bumgarner Cards
Coming as a surprise to no one, Madison Bumgarner culminated his outstanding 2014 postseason in fitting fashion – by collecting the 2014 World Series MVP trophy. Bumgarner finished the postseason with 4-1 record with 45 strikeouts and a 1.03 ERA. In the World Series, he was 2-0 with 0.43 ERA and a save in the Series clinching seventh game.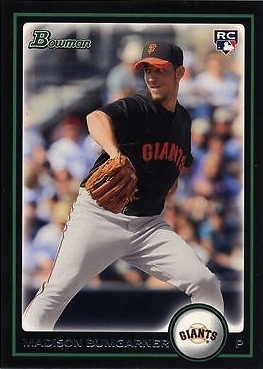 Bumgarner cards have been smoking hot for the last several weeks, as collectors have been clamoring to add some Bumgarner cardboard to their collections. But with nearly 1,500 cards in the Beckett Online Price Guide,  sifting through the secondary market looking for Bumgarner gold can be a daunting task.
Below, you'll find five key Madison Bumgarner cards. Some are autographed, some are not. Some are expensive, some are inexpensive. All are worthy of a spot in your collection.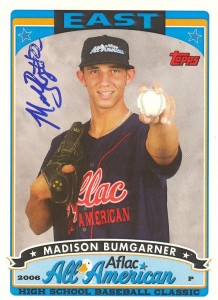 2006 Topps AFLAC Autographs Madison Bumgarner #MB

Released when he was still in high school, the 2006 Topps AFLAC ($80) card is Bumgarner's first. In 2008 Bowman Draft, Topps released this certified autographed version. Though not serial numbered, the 2006 Topps AFLAC Autographs were tough pulls, falling one in every 215 hobby packs. A $50 card just weeks ago, it has skyrocketed to $150 following the World Series.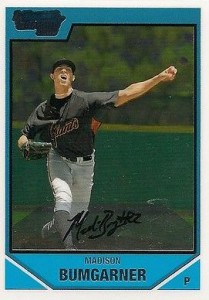 2007 Bowman Chrome Draft Draft Picks Madison Bumgarner #BDPP61
An affordable option for collectors, Bumgarner's first professional cards were released in the 2007 Bowman/Bowman Chrome Draft product. Though not a "true" Rookie Card, it has still been popular with collectors, doubling in value over the last several weeks.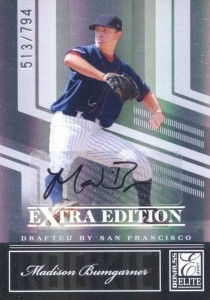 2007 Donruss Elite Extra Edition Madison Bumgarner #117
A week after the 2007 Bowman Chrome Draft product was released, Donruss Elite Extra Edition hit hobby store shelves and featured Bumgarner's first certified autograph cards. Limited to 794 copies, it debuted in the Price Guide at $30. A $50 card entering the postseason, it is now selling on the secondary market in the $40-$80 range.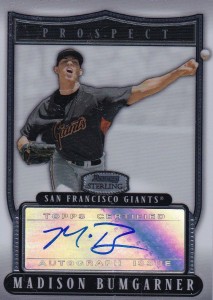 2007 Bowman Sterling Prospects Madison Bumgarner #MBB
Bumgarner's first Bowman certified autograph, this card is plentiful on the secondary market. Still, demand is outweighing supply, as the card has doubled in value over the last two weeks. As to be expected BGS 9.5 copies are selling for a slight premium, though it does look to be an easy 9.5. Of the 286 copies that BGS has graded, an astounding 243 have been deemed worthy of the Gem Mt label, with 25 receiving the prestigious Pristine grade.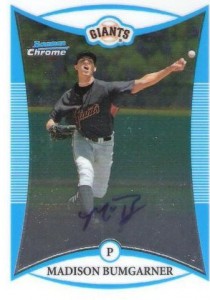 2008 Bowman Chrome Prospects Madison Bumgarner #BCP120
Bumgarner's hottest (and most volatile) card has been his 2008 Bowman Chrome Prospects autograph. Utilizing the same photo as his 2007 Bowman Chrome Prospects card, this card also features a certified autograph. A $25 card when it debuted in the Price Guide, it was selling in the $30-$80 range just weeks ago. The few sales that have occurred since the World Series ended have been all over the map, so it may be best to wait a few days – or even weeks – to let the dust settle a bit before trying to add this card to your collection.