Love of 1980s humor generates new card ideas for artist Joe Simko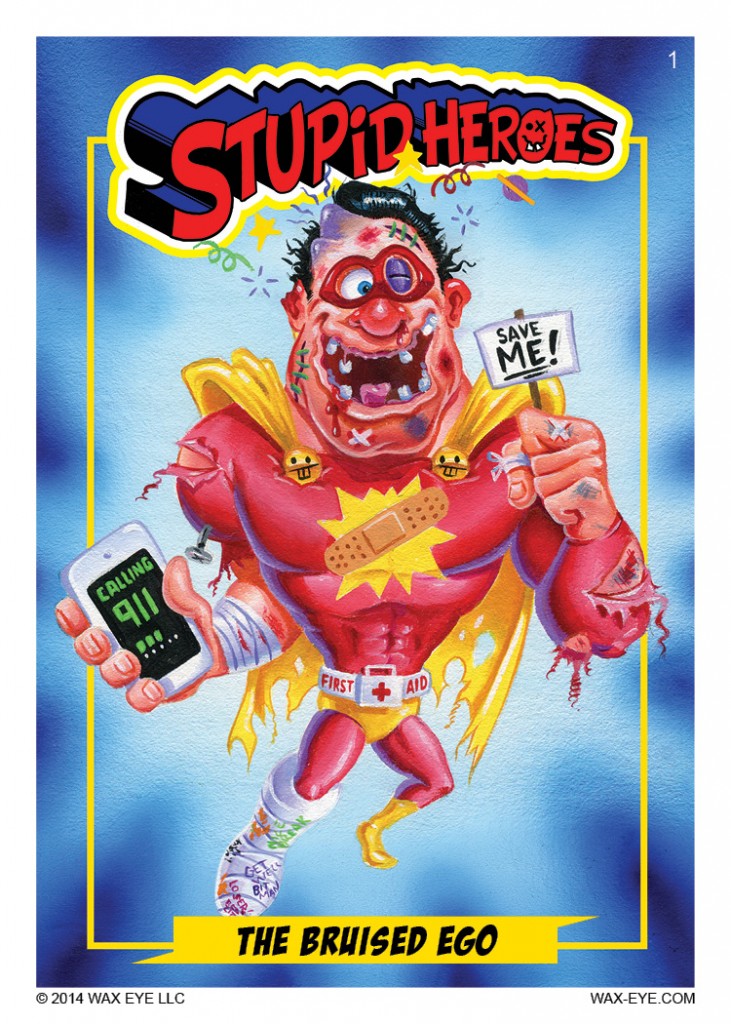 By Susan Lulgjuraj | Beckett Sports Card Monthly Editor
Poking fun at things can be enjoyable. Wacky Packages and Garbage Pail Kids have been doing it for decades, and Wax Eye has joined in the mix.
The illustration card company is bringing its next release to the market with the handy work of Joe Simko, co-owner and Chief Creative Officer. This time the fun will be had with comic book characters in Stupid Heroes.
"Super hero comics aren't just for the comic readers now, it's for the mass populations," Simko said. "Stupid Heroes is a reaction to all these super hero movies. Comics like the Watchmen portrayed them more-human. Pixar's Incredibles portrayed the characters more like normal, family members. Our Stupid Heroes highlights even more of their human characteristics. What's more human than being known for your biggest "flaw"? Example Stupid Heroes characters: Captain Allergy or The Red Zit."
Simko has contributed to Garbage Pail Kids and Wacky Packages for Topps. His love for parodies was started when he just a child growing up in the 1980s reading Mad Magazine and watch Weird Al videos. He also collected early GPK and Wacky Packages stickers.
"My joke-writing mind goes there naturally," Simko said.
It's easy to see when you look at cards from the upcoming Stupid Heroes with characters such as The Bruised Ego who needs to be saved rather than do the saving, or Bitman who has a little problem controlling the bats around him.
Simko's favorite part of these cards is "coming up with the characters' personalities and highlighting their personality disorders to be used as gags."
Wax Eye got its start in 2011 with Cereal Killers, and has had a new release every year since with Cereal Killer Series 2 and digital components. Wax Eye will use many similar elements to promote Stupid Heroes with online additions and potentially adding more series down the line.
The digital component has helped spread the word of Wax Eye and Cereal Killers, which should give Stupid Heroes a boost.
"We have gained a young, digital international audience enthusiastic for Wax Eye trading card art," Simko said. "Anyone with an IOS mobile device gets instant access to the Wax Eye world."
Read more about Wax Eye's Stupid Heroes here.
Susan Lulgjuraj is an editor at Beckett Media. You can email her here with questions, comments or ideas. Follow her on Twitter here. Follow Beckett Media on Facebook and Twitter.