Loud and Clear: 1972 Topps Baseball Cards
The 1972 Topps Baseball set is Muhammad Ali, bold, brash, announcing its greatness from the opening bell, and, oh, so pretty.
It's The Poseidon Adventure, a lavish journey so packed with special effects, stunts and striking design that collectors don't notice the tsunami of high numbers until it's too late. It's Ziggy Stardust, Gary Glitter's "Rock n Roll," and "All The Young Dudes" jamming through an extended glam rock concert. Bang a gong. Get it on.

The '72 set in appearance, a cacophonous combination of the loudest and brightest artistic moments of the late 1960s and early 1970s, is a collection marked by "ests" and mosts. For its time, it was the biggest and among many it remains the most colorful. It includes a number of innovations unknown to collectors at the time, a record number of subsets and to this day represents the most challenging to complete of all mainstream sets from the '70s.
Its distinctive look has solidified its status decades later as an anthem for the 1970s and one of the most memorable sets Topps ever made. Almost no one, except for Brandy (you're a fine girl), enjoyed a better year than Topps in 1972.
That year, Topps put on a show.
The 1972 Topps set contains 787 cards, the largest set that Topps had created to that point. It is separated into six series, the final time Topps would stretch its set through so many stages.
Who knows why Sy Berger and the folks at Topps chose to make a set that large at that point in time. Perhaps it was the growing popularity of football in the early '70s and the declining interest in baseball. Topps needed something to attract kids to baseball and this colorful set certainly refuses to go unnoticed.
After relatively colorless sets to start the 1970s, grey in '70 and black in '71, 1972 looks like something spun out of an LSD hallucination in comparison. There's a reason the set's informal nickname among collectors is "the psychedelic tombstone set," a reference to both the design's outer border and how each picture is presented within an arch.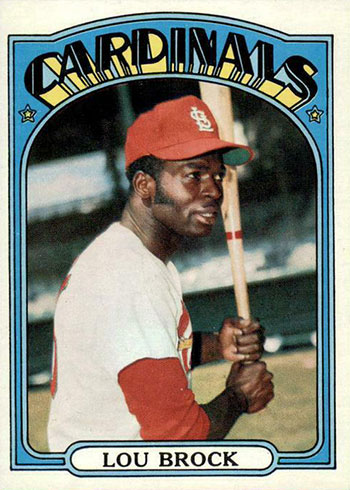 The wide variety of colors used in the borders, from yellow to blue to pink to green, red and orange, shows the influence of famed pop artist Peter Max, whose colorful creations defined the late 1960s (and whose work appeared on trading cards in the late 1990s). But the team name soars as the key element of the design, exclaimed on each card as if it's the title on a movie marquee, in a font often reserved for comic book superheroes.
If the vivacious color of the set doesn't strike you (or the fact Topps scrapped positions on the front for the first time since 1952), the vast size and volume does. The '72 set offers a litany of subsets, from the usual team cards, rookie stars, league leaders and postseason review cards to brand new, groundbreaking series that showcased photos of star players as kids, the first traded set, and — get this — a subset of baseball trophies.
The largest subset of all profiled players of the day "In Action," a relatively new concept for Topps, which had just begun showcasing players in action on individual cards in 1971. Prior to that, action photos were reserved for postseason cards for the most part.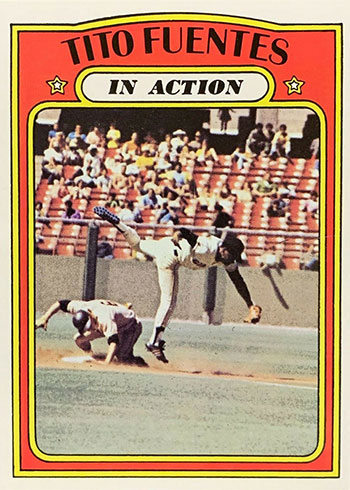 The action cards no doubt thrilled youngsters who were becoming more familiar with their favorite players, roaming the diamond on their televisions, and action cards grew more and more popular over the decades to come.
The '72 set stuffs, appropriately, 72 in-action cards into six series, featuring some of the brightest stars of the time, from Pete Rose to Willie Mays to Hank Aaron but also lesser known players like Paul Schaal, Dick Dietz and George Mitterwald.
Also, since Topps' photographers were still experimenting with capturing action shots at the time, some photos come across as memorably odd today. An off-balance John "Blue Moon" Odom appears to be falling off the mound. Tom Seaver looks like he's doubled over in laughter. Darrell Evans seems to be levitating. Other times, the "In Action" heading is debatable, such as the card of Bob Barton, staring forlornly into the stands.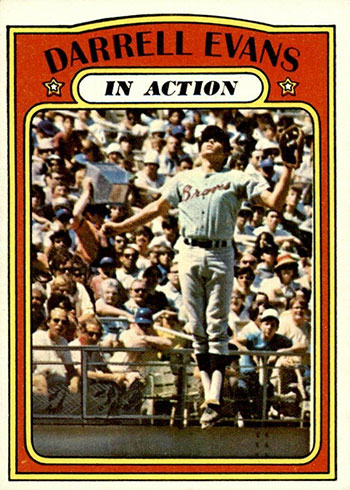 The "Boyhood Photos of the Stars" subsets, issued over two different series, provided never-before-seen black-and-white glimpses of the players as youngsters. Jim Fregosi is shown as a child playing an accordion. Young Wilbur Wood is holding a fish, and Bob Bailey seems to have walked into a scene from Dorothy's Kansas with a black dog and a 1930s-model car in the driveway.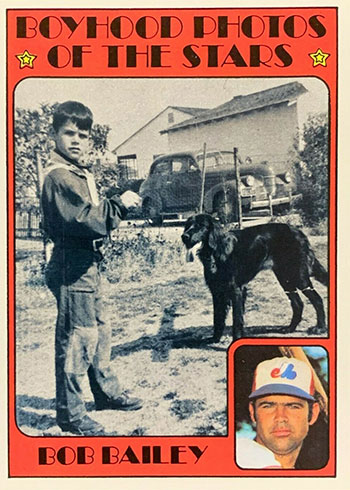 The high-number portion of the set — categorized as cards 657 to 787 — contains the most influential and most bizarre subsets of all of 1972. The six-card trophy subset, from cards 621 to 626, display the most coveted baseball trophies — and nothing else — on a day-glo background. The Traded subset, from cards 751 to 757, is the most challenging of all subsets to find in Near-Mint shape and is the first of its kind, the foundation for future Traded sets, now a yearly occurrence.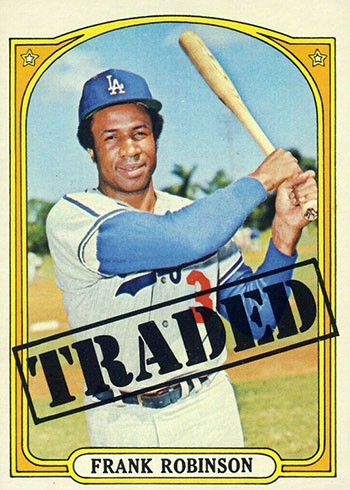 Those high numbers build 1972 Topps Baseball's reputation as the toughest Topps set of the decade to complete as collectors practically come down with nosebleeds trying to find that last card. Cards from that final series command prices three times as much as any other common card in the set. High-rent district stars, such as Rod Carew, Steve Garvey, Dusty Baker and Hoyt Wilhelm, will demand 50 bucks in excellent shape, higher if graded.
For the set collector, 1972 Topps Baseball is filled with cards that make an impact from start to finish. Carlton Fisk's Rookie Card arrives at No. 79 in the set and Nolan Ryan's first card as a California Angel sits at No. 595. Roberto Clemente gently tosses a baseball at No. 309.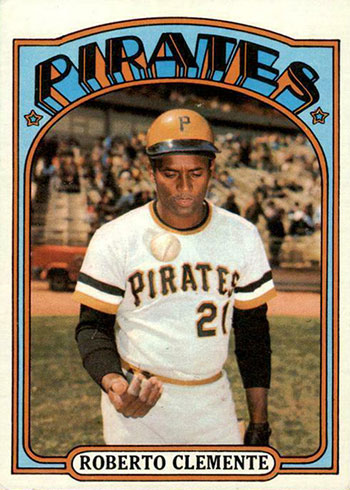 Cult classics add to a set already overflowing with character. Billy Cowan famously poses under the Angels sign so that he appears to be wearing a halo.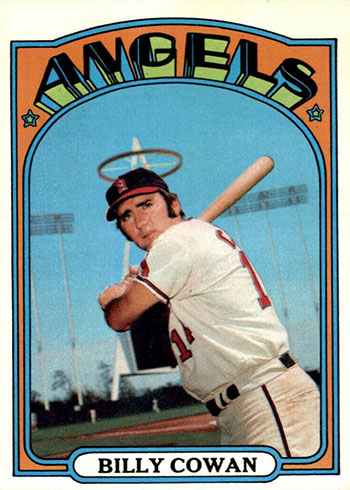 Billy Martin gives card collectors the finger as he casually holds on to a bat.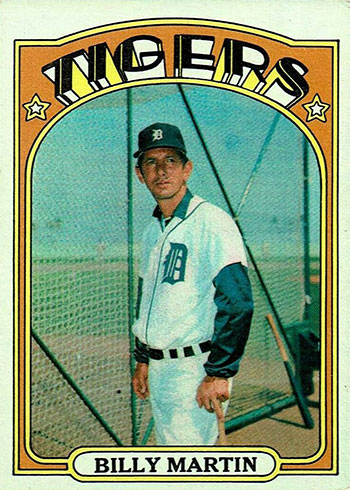 Walter Alston signals to the heavens.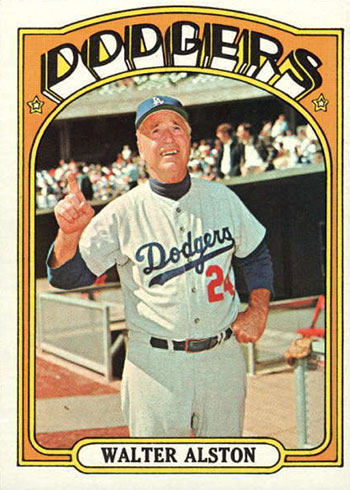 Bobby Pfeil wears a pfaux Red Sox cap while also wearing Phillies pinstripes. All of the Rangers cards show players airbrushed out of their Senators caps at the dawn of the Texas franchise, except for the Rangers team card, which shows every player seated proudly wearing their Senators uniforms.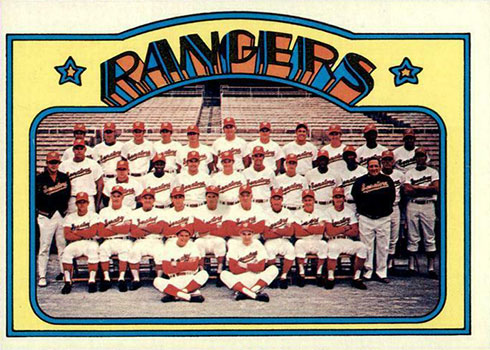 And we haven't even gotten to Jim "Mudcat" Grant's sideburns.
Indeed 1972 Topps captures a moment in time never seen before or since in a way that could only be executed in the '70s.
"I know a place," 1972 Topps Baseball says, humming the Staple Singers. "I'll take you there."