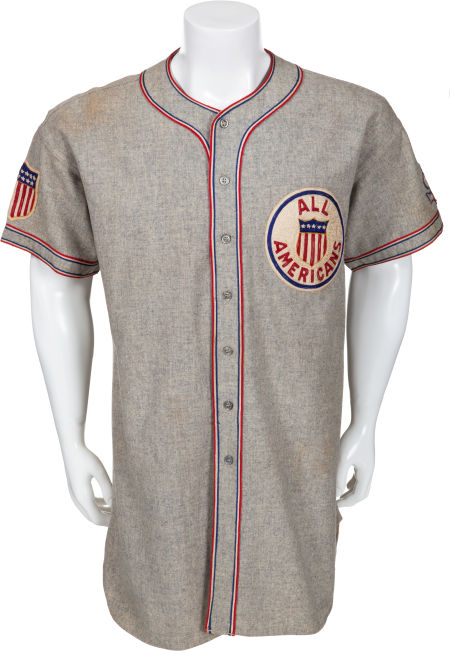 By Chris Olds | Beckett Baseball Editor
Heritage Auctions has plenty in store for its auction taking place on Aug. 4 in conjunction with the National Sports Collectors Convention in Chicago — and the highlights set to hit the auction block include "Shoeless" Joe Jackson's Black Betsy bat and a uniform worn by New York Yankees legend Lou Gehrig during the 1934 Tour of Japan.
The Gehrig alone is expected to bring in more than $300,000 at auction, while the Jackson bat is expected to do the same.
"There are dozens of pieces in this auction that would, individually, be the lead lot on their own in any other auction," said Chris Ivy, Director of Heritage Sports Collectibles in a release. "Needless to say, it's an issue that we're happy to have. This is easily one of the finest groupings of material that the hobby has ever seen."
The Tour of Japan uniform is a recent find for what has been a rare breed of game-used item. Babe Ruth's uniform from the tour — one of only a few found — sold for more than $750,000 in a 2005 auction. It was the highest price ever paid at auction for an exhibition uniform, according to Heritage.

"It wasn't Moe Berg-inspired intelligence gathering that led us to this buried treasure," Ivy said, "but rather a simple telephone call from the son of a serious ex-girlfriend of Gehrig's, who almost became Mrs. Gehrig before Eleanor took the job."
There will be several items once used by Gehrig on the auction block during the event, but only the "Black Betsy" bat of Jackson's will rival the uniform.
"This definitive artifact, Jackson's constant and faithful companion throughout his tumultuous baseball career," Ivy said, "stands as one of the most important collectibles ever made available at auction, in the sporting realm or otherwise."
Countless other treasures will hit the auction block and can be seen by clicking here.
Chris Olds is the editor of Beckett Baseball magazine. Have a comment, question or idea? Send an email to him at colds@beckett.com. Follow him on Twitter by clicking here.