Looking at vintage lacrosse cards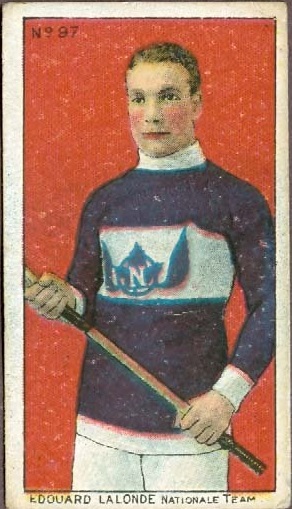 By Susan Lulgjuraj | Beckett Hockey Editor
Canada and hockey go together. It's the national winter sport.
However, that wasn't always the case. For decades, the Canadian national sport was lacrosse — and only lacrosse. Hockey and lacrosse now share that distinction side by side. But Canada has been a hot bed of lacrosse with athletes crossing over between the two sports.
This isn't just a modern phenomenon as lacrosse has been a huge sport in Canada for the last century. It was so popular that lacrosse trading cards were nearly as popular as hockey cards back in the early 1910s.
Some collectors are still discovering these cards even if they have collected hockey their whole lives.
"No one knows a lot about the turn of the century," said Tom Samworth, a vintage hockey card collector. "They are kind of getting a resurgence now. I didn't even know they existed."
Samworth discovered lacrosse cards when he was looking for cards of Newsy Lalonde, who played in the first NHL game in 1917. Lalonde is best known for his hockey days, but he was one of the best lacrosse players of his time.
"They are basically identical to the hockey Imperial Tobacco cards," Samworth said. "I was impressed by them."
These cards are not tough to find, but they're also not plentiful in the marketplace. A quick search on eBay will show at least 100 1912 C61 cards up for auction. A complete set of these cards were recently offered on eBay for $5,000
or best offer. The 1912 C61 set includes cards of Clint Benedict, Joe Cattarinich and Jack Laviolette – all members of the Hockey Hall of Fame.
The C61 black and white set came out around the same time as the C57 hockey black and white set. These cards look nearly identical and share players in common like Benedict and Laviolette.
Here's the catch, and they collectors enjoy these cards as well – the lacrosse cards can be had for less than the hockey ones.
"The value is great," Samworth said. "People are pawning these off on eBay for about a third of the price of the hockey cards."
Lacrosse sets
Set: 1912 C61
This set, produced by Imperial Tobacco, features prominent lacrosse stars of the day. It features 50 black and white cards.
Notable cards:
Newsy Lalonde #11 BV $500-$800
Clint Benedict #19 VS $250-$500
Charlie Querrie #1 BV $150-$400
Mickey Ions #12 BV $100-$200
Joe Cattarinich #33 BV $100-$200
Jack Laviolette #35 BV $100-$200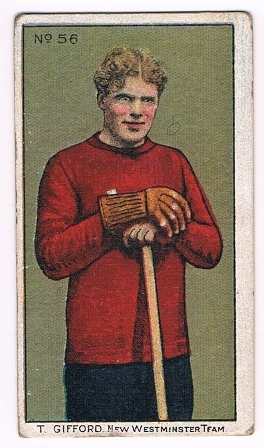 Set: 1911 Imperial Tobacco C59
This color set featured 100 cards of lacrosse players. It was called Leading Players in the Canadian National Game, which appeared on the backs of the cards, in The American Card Catalog. These cards have a more ornate back than the C60 set.
Back of C59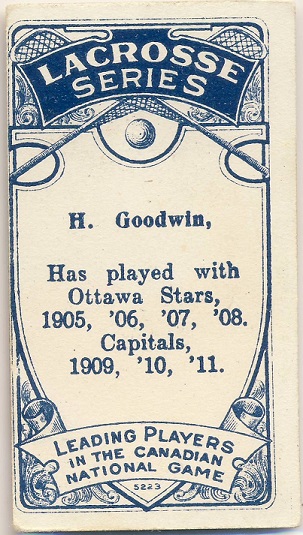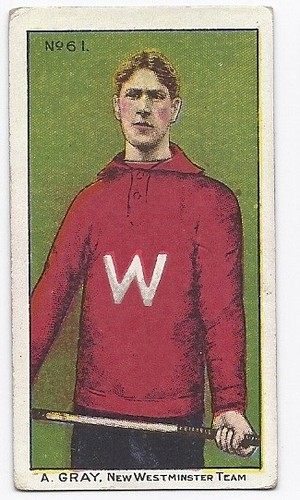 Set: 1910 Imperial Tobacco C60
There were 98 cards in the 1910 C60 set, all in color. The same subjects appear on the C60 and C59 sets, minus the last two cards. The way to tell the difference between the set is by looking at the backs of the cards.
Back of card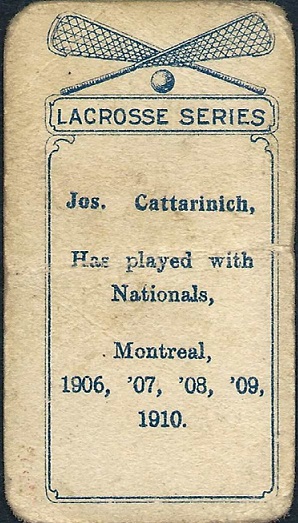 Susan Lulgjuraj is an editor at Beckett Media. You can email her here with questions, comments or ideas. Follow her on Twitter here. Follow Beckett Media on Facebook and Twitter.