Local Legends Shine As Part of Friday's National Auto Lineup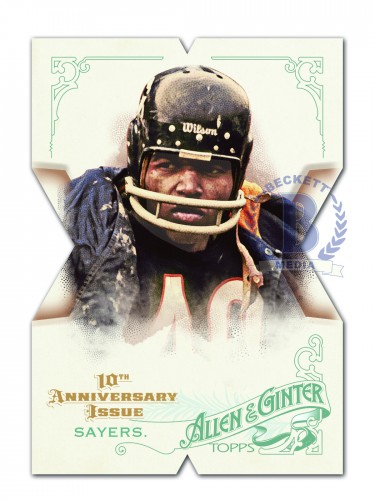 By Stephen Laroche | Beckett Media
There will be many familiar faces making an appearance at the 36th National Sports Collectors Convention in Chicago on Friday and local sports enthusiasts will have an opportunity to reconnect with many of their heroes from the past and present.
Standout shortstop Luis Aparicio, base stealing master Tim Raines and consistent catcher Carlton Fisk will represent the south side and the Chicago White Sox while Cubs fans can catch up for Dennis Eckersley. From the world of football, the incomparable Gale Sayers is set to appear while the past and present for the Chicago Bulls is recognized by Dennis Rodman and Joakim Noah.
What other legendary athletes are signing today at the National? Read on after the jump to find out more.
Those who have purchased VIP packages for the National can take advantage of the chance to add some extra autographs to their collections as two-time World Series champion and former Pittsburgh Pirates catcher Manny Sanguillen, Basketball Hall of Famer Nate "Tiny" Archibald, seven-time Pro Bowler Randy Gradishar, and two-time Super Bowl winner Jim Langer will be signing for those who hand in their tickets.
Loaded up with plenty of Hall of Fame talent, here is the complete rundown of Friday's signers at the TRISTAR Autograph Pavilion:
Jim Bunning     10:45 AM
Luis Aparicio     11:00 AM
Marv Levy     11:00 AM
Frank Robinson     11:00 AM
Dave Winfield     11:00 AM
Rod Carew     11:15 AM
Manny Sanguillen*     11:15 AM
Barry Larkin     11:30 AM
Robin Yount     11:30 AM
Jim Kelly     12:00 PM
Manny Ramirez     12:15 PM
Dennis Rodman     12:30 PM
Lawrence Taylor     12:30 PM
Dennis Eckersley     12:45 PM
Jim Palmer     1:30 PM
Thurman Thomas     1:45 PM
Wade Boggs     2:00 PM
Gale Sayers     2:00 PM
Bruce Smith     2:00 PM
Carlton Fisk     2:15 PM
Frank Kaminsky     2:15 PM
Nate Archibald*     2:30 PM
Jim Rice     2:30 PM
John Riggins     3:00 PM
Randy Gradishar*     3:15 PM
John Havlicek     3:30 PM
Dominique Wilkins     3:30 PM
Jim Langer*     3:45 PM
Bob Gibson     4:00 PM
Tim Raines     4:00 PM
Joakim Noah     4:30 PM
* – VIP signer