Local Card Shop of the Week: Nick's Sports Cards & Memorabilia
When you click on links to various merchants on this site, like eBay, and make a purchase, this can result in this site earning a commission.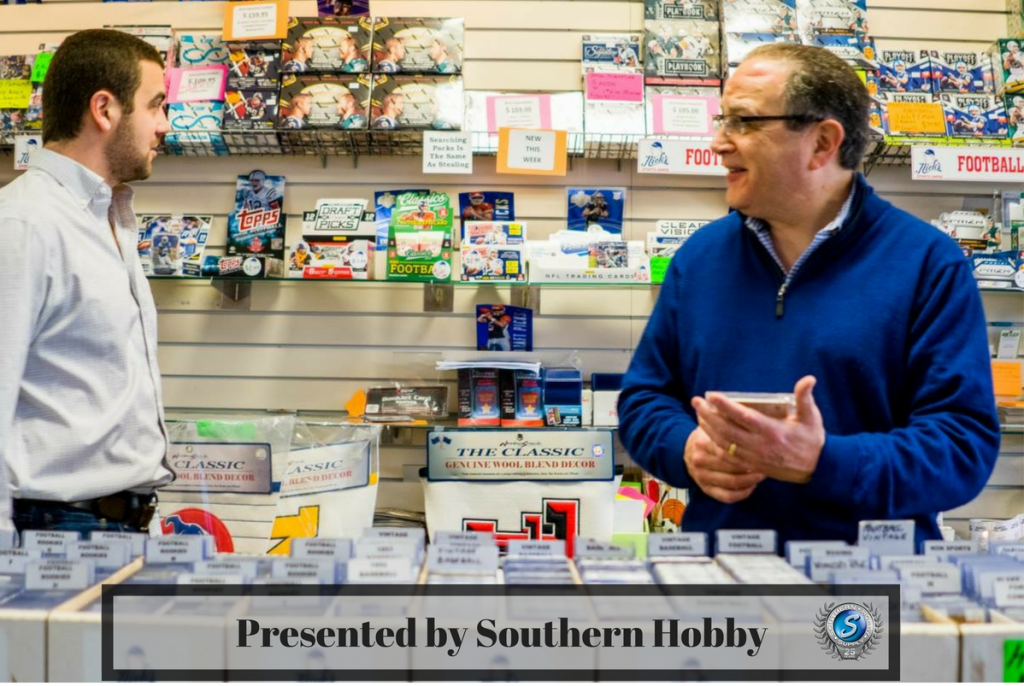 Dean Fuller collected baseball cards as a kid when packs of cards cost a nickel. He grew up in Detroit, Michigan and loved the 1968 World Series Champion Tigers. This remains a big part of his personal collection at home. He is even planning on going back for the 50th anniversary this year. But for now, he has sat down with me for a few minutes to discus how his passion for baseball cards has led him to be the owner of Nick's Sports Cards in Dallas, Tx.
Local Card Shop of the Week is brought to you by Southern Hobby, who has been serving the collecting community for nearly 30 years.
JS – Thanks for taking the time to speak with me Dean. Can you tell us how you got started in the sports card business?
DF – I was a customer at Nick's for over 20 years. Nick would routinely direct me to old vintage cards and that was what I primarily collected. I'd go to Nick's with my sons, Josh and Jake, when they were 8-9 years old. I was Nick's lawyer and one day he called and advised that he was selling the shop and inquired as to what he needed to do legally. I told Nick I was interested and the rest is history, as they say!
JS – When the shop was opened back in 1989, the industry was on the verge of an explosion with new products being introduced and a complete new level of awareness from collectors. Can you tell us a little about what the shop was like then vs here in 2018?
 DF – Nick tells stories of how he and Debbie started out with just a few cards. The shop was way less packed with the type of treasures now available. Now, the shop carries a wide variety of cards, both modern and vintage, and a great selection of memorabilia. Of course, social media didn't exist back then. We have a very strong presence on social media now!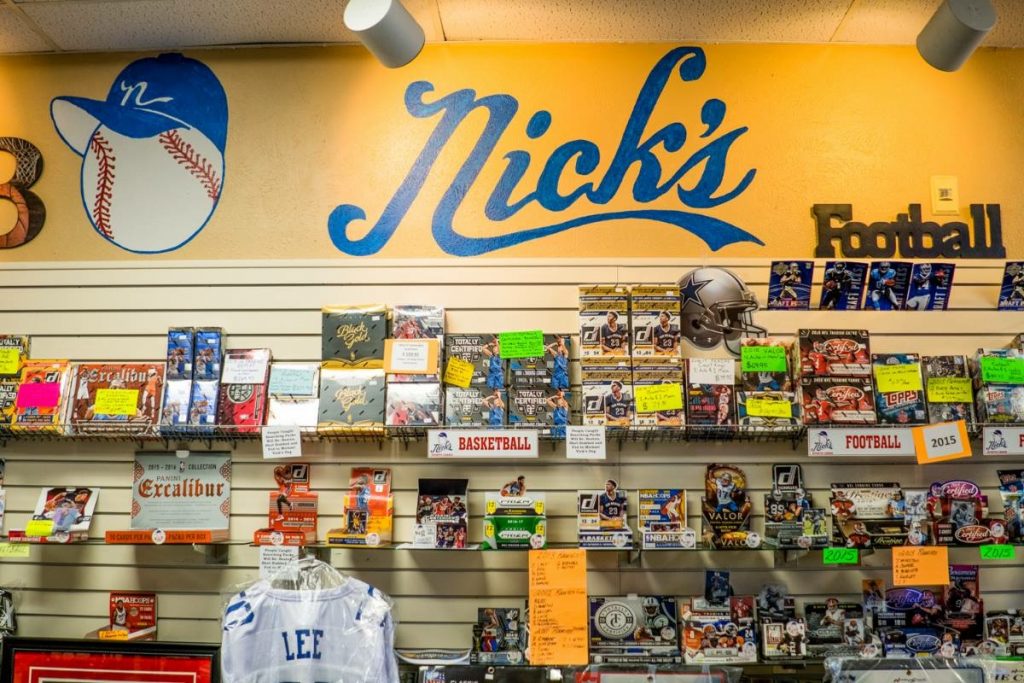 JS – To maintain a successful shop for nearly 30 years, you have certainly had to innovate and adapt with the Hobby through some pretty serious highs and lows. What are some of the things you are doing in the shop now to remain a one stop shop for customers?  
DF – Now, social media is increasingly important. We anticipate moving four doors down in the same shopping center and nearly doubling our space. This will permit us to do more, with athlete signings, breaks, birthday parties, trade nights, etc. The new space will be more "user friendly" with couches, tables, big screen TV's, and entertainment games.
JS – Can you tell us more about "Super Saturday"? I saw some really cool silent auction items that were showcased for the June 30th event!
DF – "Super Saturday" was fun! The Silent Auction had Mantle, Babe Ruth, and other items available. Nick's provided free giveaways and sports trivia questions for prizes as well. We will do more of these and change them up a bit for future "Super Saturdays".
JS – I am also interested to hear more about your "Red Ticket Drawings". How do customers get involved and what are some of the prizes?
DF – The "Red Ticket Drawings" are a great customer perk we offer. For every $100.00 spent (at one time) the customer receives a red ticket for a chance to win an autographed jersey! We do this twice a year- January and July. We have given away LeBron James (UDA) autographed jersey, Aaron Rodgers, Stan Musial, and other big names. We also do "White Tickets" for every $10.00 spent. Weekly, (Fridays about noon) if your ticket number matches the posted tickets in the store, you get a chance to win 3 $25.00 or $50.00 gift cards for use on other purchases.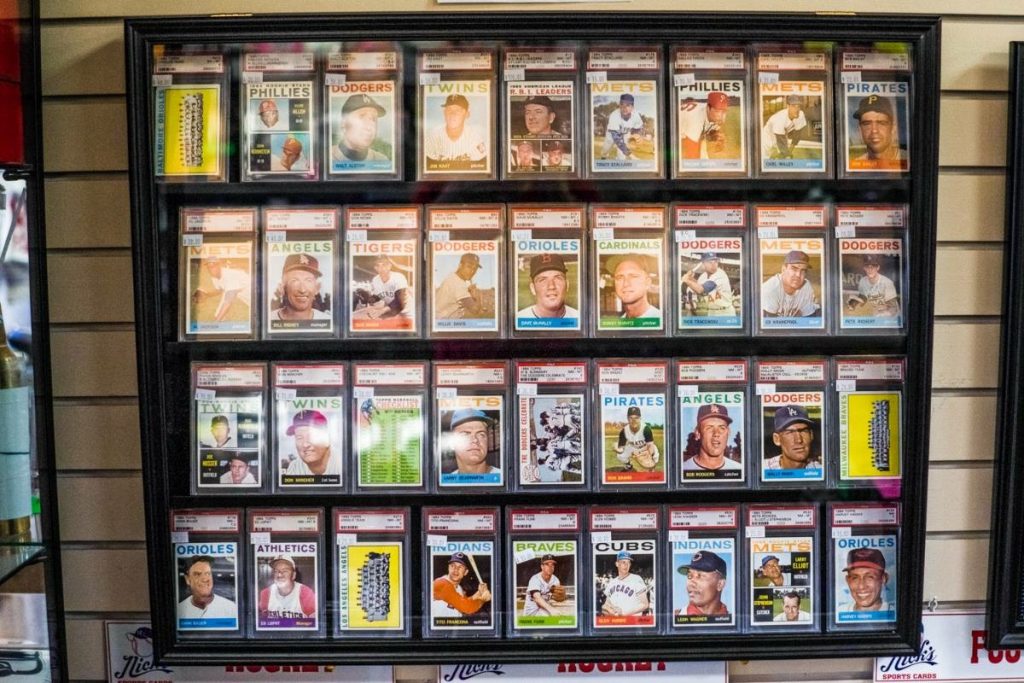 JS – I see on your Facebook page that you post videos of new products, sporting events and other subjects. When it comes to social media, video, etc, how important have you found it to be a part of success in today's hobby?
DF – Social media is increasingly important in the Hobby. I think it allows the store and its customers and potential customers to interact. To see some of the amazing big hits posted – well a picture is worth a thousand words as they say!
JS – Do you see unique collecting habits from those who have been collecting with you for several years vs new collectors entering the Hobby? What do you see among your collectors?
DF – New younger collectors tend to gravitate to modern cards, today's players. They're also increasingly focused on collecting cards of an individual player instead of a team. We get a ton of new kids in and first-timers in the store get a "Pay It Forward" pack, a good deed bag if they agree to do a good deed and shake on it. But, the pack is given to Mom or Dad and when the good deed is performed the kid gets the pack. As to older collectors, they appreciate the history more and mix it up between modern and vintage cards.
JS –Being located in Dallas, you have access to major sports teams in all the major sports. Is there a sport or team that stands out more than others at your store? Being an outsider, I see Cowboys gear everywhere I go. What is it like locally?
DF – The Dallas metroplex is a great place for all sports and support is seen for Cowboys, Mavs, Rangers and Stars! A lot of new residents who moved from out-of-state like to collect their hometown heroes as well. "America's Team" is still very popular!
JS – Who would you rank as the top 5 collected athletes for your store over the last 30 years?
DF – Hard to say! Mantle, Michael Jordan, Landry/Staubach, Nolan Ryan, and the Cowboys "Triplets" of Aikman, Irvin, and Smith are big-time sellers.
JS – What has been the most popular product in the store in 2018? What product are you most looking forward to this year that hasn't been released yet?
DF – Great rookie classes so all sports did well. Top products include National Treasures, Immaculate, and Museum Collection. The 2018 football releases including Origins which always has a big following. The 2018 Diamond Kings with Ohtani were flying outta here!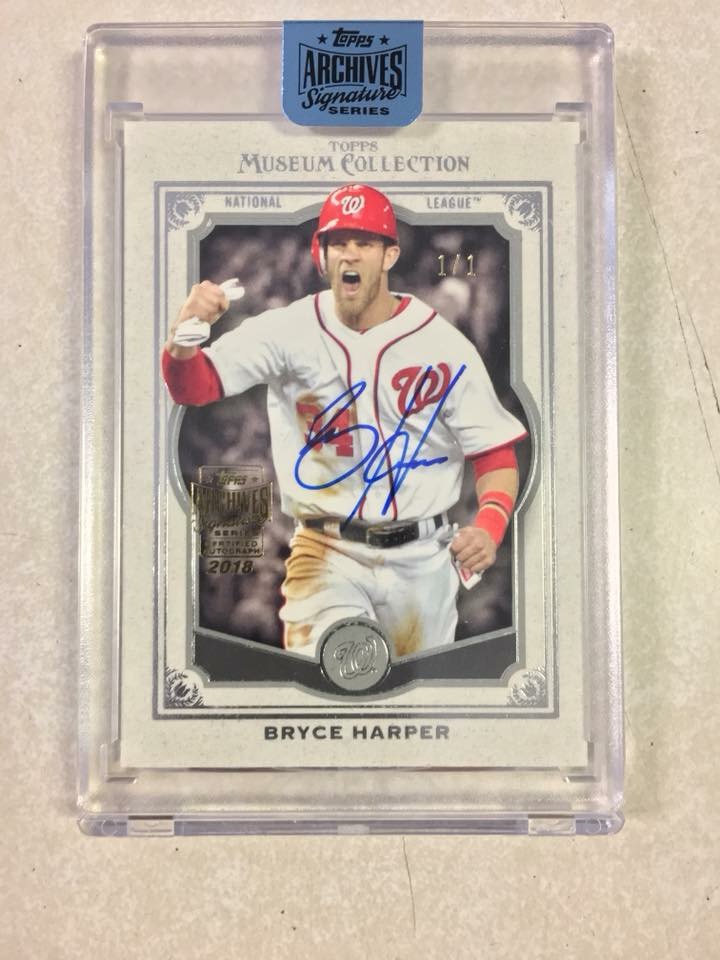 JS – Let's cover hockey for a moment. Hockey doesn't get as much publicity in the Hobby as other sports but I see that you attended the 2018 NHL Draft and you have a nice selection of hockey products. How well does hockey do in your store?
DF – Hockey does extremely well! The "Hockey Guys" may be less in number but are extremely passionate about the sport. The Vegas Golden Knights helped out with their great season. We are an authorized UD "Diamond Dealer".
JS – Can you share with us some of your favorite memorabilia pieces in the store? I'm seeing Mickey Mantle balls, Jordan autographed framed pieces, Cowboys jerseys and much more. Tell us about some of the great pieces you have.  
DF – Awesome stuff! We have a Honus Wagner (very cool) signed score card with COA as with all our pieces of memorabilia. A game-used Dak Prescott jersey just came in. We also have a Derek Jeter game-used batting glove, and a multi-signed old Cowboys helmet w/ guys like Don Meredith, Staubach, Landry, Bob Hayes, Tony Dorsett, just to name a few! Buckle-back baseball gloves and other vintage items in the "Museum," found toward the back of the store.
JS – What have been some of the bigger hits for your customers over the years? Any big successes you'd like to share?  
DF – The biggest was a Babe Ruth cut signature and a Jackie Robinson cut signature pulled on the same day! The Dallas Morning News ran a story on it. This year, the most awesome book was pulled. It was like 5 feet long and had the best mix of player autographs. Current stars, former stars, and HOF; like Bryce Harper, Kris Bryant, Pujols, Jeter, Ortiz, Koufax, Hank Aaron, Ernie Banks, to name a few! It's a pinned tweet on our Twitter page, and we don't plan on taking it down any time soon because it is so unique. We have 1/1's pulled on a regular basis. A Harper 1/1 was recently pulled from Archive Signature series.
JS – What have been some of the biggest changes you've seen from a product perspective since you started collecting? Sets used to be pretty straightforward with basic player checklists and no frills. What are some things you have seen over time that you never thought we would have in the Hobby?
DF – Awesome memorabilia in cards today! Great color patches with a variety of colors. 1/1's, low population numbered cards, printing plates, inserts and prizms. Cards today have a great look and feel that leave you wanting more!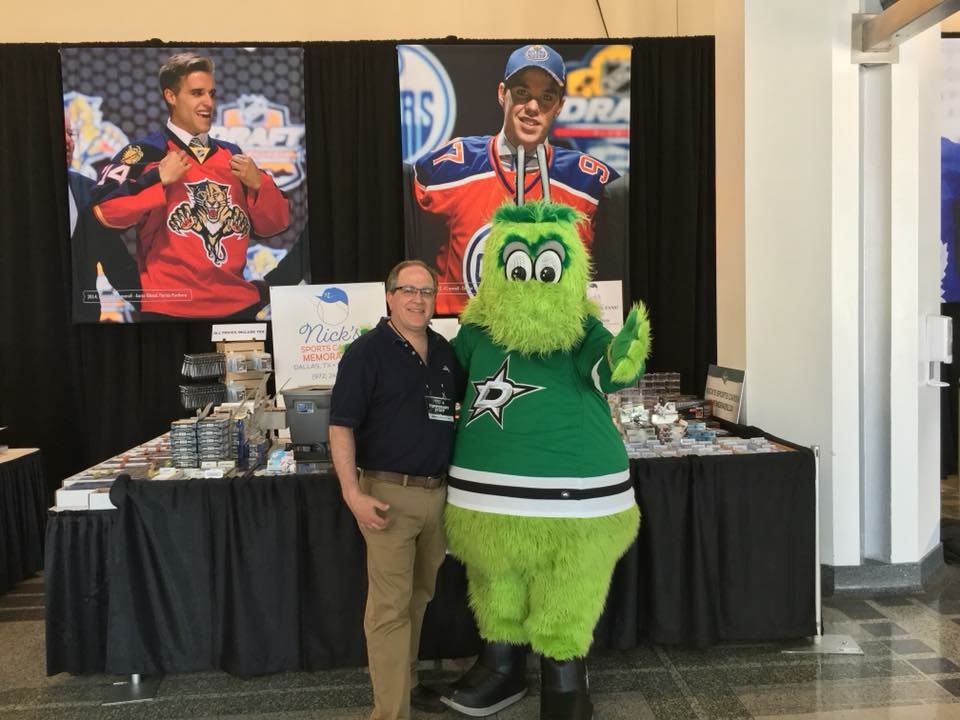 JS – What do you think is going really well within the Hobby right now? The industry now has to cater to brick and mortar, online, breakers, and other aspects of the Hobby. What are the card companies really doing well at the moment?
DF – When you have quality rookies, like Aaron Judge last year and Ohtani this year, the Hobby explodes. Cards today are more engaging for collectors, better looking, and with great hits possible. On-card autographs seem to be a real preference for collectors. Social media probably lets card companies assemble great info and stats on what is working well in the Hobby.
JS – On the contrary, what are some of the things you hear most from your customers that they would like to see done differently? What are some of the biggest headaches for collectors in your opinion?
DF – Redemptions continue to be a source of irritation to the collector when the card takes too long to get or is not available. Customer service issues are often spoken of. The instant gratification of seeing and holding that big hit has more immediate impact—and that's why we're doing so well from a business standpoint.
JS – Do you plan to attend the National Sports Card Convention in Cleveland this year? How many conventions have you been to? What are your plans for this year?
DF – Yes, last year was my first and I'm hooked. I plan to attend every year. I purchased great items for the store: vintage, modern and memorabilia of all sorts!
JS – If you could give one piece of advice to a current or potential shop owner, what would it be?
DF – It's a lot of fun, but hard work. Keep up on social media.
JS – In closing, can you tell us about any upcoming events you may be having in store?
DF – If we end up moving to a new store with more space, we plan on increasing the number of events hosted at the store. Keep an eye open for watch parties, trading nights, breaks. With more functional space, we hope kids will want to have their birthday parties at the store! And of course, Super Saturdays, athlete signings, speaker series, authors, and retired players. Nick's will have it going on! Stay tuned.
Nick's Sports Cards & Memorabilia
Dean Fuller
(972)248-2271
Hours of Operation
Sunday – 12PM:5PM
Monday – Friday – 11AM:7PM
Saturday – 10AM:6PM
Facebook – Nick's Sports Cards & Memorabilia
Twitter – @NicksSportCards