Local Card Shop of the Week: Valley Sports Cards, Memorabilia & Picture Framing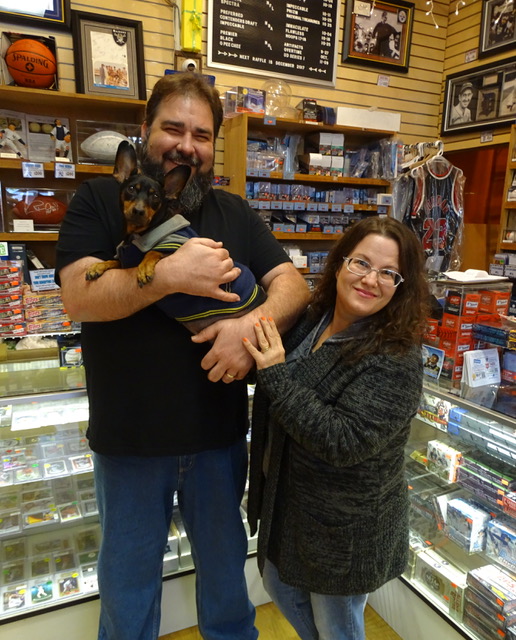 Alex Mortimer grew up in the San Fernando Valley collecting baseball cards. He spent his childhood riding his bike to Valley Sports Cards with his best friend where they would buy and trade their cards while learning about the players and sets from Max Himmelstein, Valley's original owner. After high school, Alex became a professional artist and picture framer and is one of the leading Conservation Specialists in the San Fernando Valley. In 2006, he was named the manager of Valley Sports Cards and he spent that next year learning the LCS business and organizing the inventory. He was approached soon after in 2007 about purchasing the store and he now is the proud owner of the card shop from his youth.
Alex's wife, Lona, grew up in a small town in Nebraska and after a couple of visits to Southern California, and noticing the absence of snow that could be found back home, she made her decision to make her way to California after graduation. After spending some time in Northern California raising her children, she moved back to the San Fernando Valley in 2009. With a background in Office Management and a childhood filled with sports, she has found her home at Valley Sports Cards with her husband Alex. They were happily married in 2011 and now spend their days making Valley Sports Cards a success and a must visit for card collectors in the San Fernando area. I recently caught up with them to discuss their success.
JS – Valley Sports Cards has been open for over 36 years and has been "On the Boulevard Since 1981." It was also the store of your youth so I can only imagine it is a dream come true to eventually own and operate the store. Before we get to your ownership, can you share some of your memories from when you were a kid visiting the store?
VSC – I've been coming to this store since I was 12 years old and I remember what it was like to come through that door with only a few dollars in my pocket, somehow still hoping I could get that fantasy card I always wanted. I can remember what Max looked like from my childhood perspective and how he seemed larger than life with his booming voice and vast knowledge of the hobby. I would scour every corner of the store trying somehow to maximize the small amount of money I was about to spend. Max was always more than fair with me and I never left there with the slightest feeling that I had been taken advantage of in any way. Any time you walked into the store, whatever sporting event was currently on was being watched on that old black and white television in the corner of the store. As a child, the store really felt like this was how things used to be at the local shops. It is my mission to try to maintain this atmosphere every morning when I unlock the door and step into one of the most important pieces of my past and future.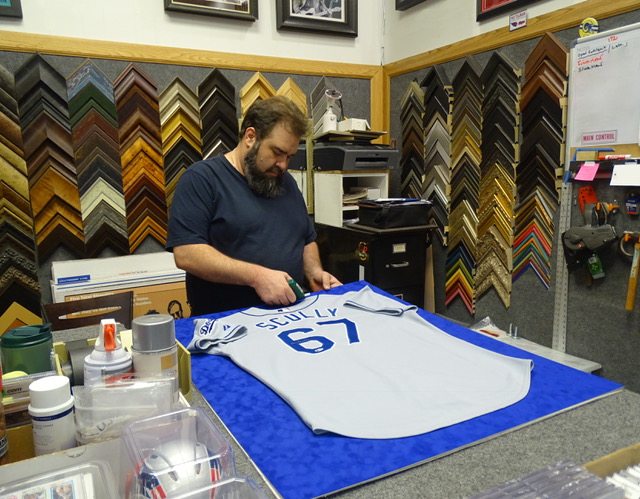 JS – In 2006, you got your foot in the door as a manager at the store. What were you thinking in 2006 when you took over as manager?
VSC – The funny thing is, business ownership had never been part of my consciousness, after years of supporting myself, as an artist and picture framer, I was attending night school to finish my degree in Early Childhood Education. After years of periodically asking for a job I wandered in on a Sunday and found that they were hiring. I was originally hired to help organize the inventory and help customers on a part time basis. The owner recognized my passion for the store and rewarded me with a copy of the store key and the title of Manager. A year and a half passed and I was the first person to find out when the shop went up for sale. I jumped at the chance before anyone could find out that the gem of the San Fernando Valley was available and 9 years later we are still here. It has been an incredible journey.
JS – Now you are the owner and operator of this cardboard landmark in Tarzana, CA. What were some of the things you learned early in ownership that made you realize that this could be both a hobby and a business? 
VSC – That's a tough question. As per the business side, one month into ownership the recession kicked in, which forced me to be creative. I built upon my years of picture framing experience, found 300 ft of storage space that wasn't being utilized, turned it into a workroom and the picture framing aspect of our business was born. At the same time, we now had to compete with the growing world of the internet. For what a challenge, at first, it seemed to the local card shop industry, we figured out a way to incorporate ourselves into the technological age while at the same time maintaining the appearance and feel of an old fashioned Mom and Pop hobby shop. As to the hobby end of the business all it really took was maintaining the passion that got me here to begin with. In the old days, I would spend the majority of my evenings sitting around with my multitudes of boxes of cards, sorting them. Now, I do the same thing, but I have to have it done by tonight because I told Richard that I would have new inventory to show him tomorrow. I'm still just sorting, it's still fun, but now it's my job.
JS – You have a great website and it's very inviting as a customer. What are some of the other ways you have gotten involved with online marketing or social media to help you stay current in 2017?
VSC – We've been happy to embrace social media in all forms. In addition to our website and customer review sites we find that Facebook, Twitter, Instagram and our email newsletters are a great way to keep in touch with collectors on a regular basis. We enjoy chatting with customers, sharing new products, great customer hits, short videos and information about sales and events. We also have a store on eBay: ValleyBaseballCards where you can explore the inventory in our back room and take a few minutes and browse through all the cards that aren't in our cases. We offer consignment services to the collecting community and we're always putting up new inventory.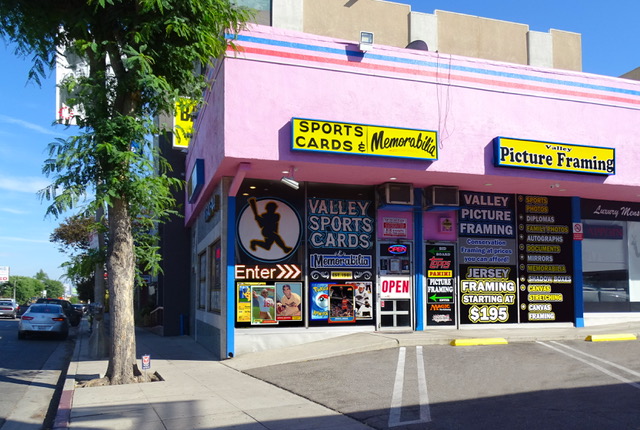 JS – I also noticed two interesting features of your store on the website that I'd like to ask about. Can you tell me about your Saturday Trade Days and Bid Board?
VSC – Sure, let's start with the bid board. The Bid Board is a blend of the online buying / silent auction experience with the intimacy of being able to pick up the card and examine it. It's a reminder of how things used to be and we are happy to bring that to Valley Sports Cards. It's free to join and bid, each customer assigns themselves a bidding number and when the bid board ends on Saturdays we send out an email to the winners. The majority of the cards are on consignment and we encourage customers to bring in cards to put up. The Saturday Trading Day is also a nod to the past as most trading these days seems to be done over the faceless and nameless internet. We think it's important to give our customers a safe place to just talk face to face and swap some cardboard.
JS – It would appear that you are really more than "just" a sports card shop as you offer framing and authenticating locally. Can you tell me a little about each of those at your store?
VSC – Picture Framing is a very important element of our business. The fact that I do all the work myself means that I can work one on one with a customer. The customers are happy knowing that the work is not outsourced and everything is done on site, from cutting and joining the frames to designing and hand cutting beautiful and creative matting. Also, I have been a Conservation Certified Framer for over 25 years so all work is done with the knowledge that I am framing valuable items in such a way that no damage happens to your cherished possessions.
Autograph Authentication has become a major component in collecting. An autograph verified by a recognized third-party expert instills confidence in buyers and provides immediate value to an item on the open market. Simply put, certification helps to remove uncertainty when dealing with autographed items. Valley Sports Cards is proud to offer two Authentication events each month, one with Global Authentication and one with James Spence Authentication 'JSA'. Each customer is welcome to bring their item for submission with the authenticator of their preference and we are happy to offer this service.
JS – I have always been drawn to the California lifestyle, movies, music and etc. However, when it comes to sports, I have always been intrigued by how you share so many sports teams in the same state. What would you say most of your clientele is made up of when it comes to sports and teams?  
VSC – The reality of Los Angeles is, very few people are born here. The majority of our residents come from somewhere else and bring the love of their local team with them. So, while shops in more isolated cities can focus mainly on their local teams, I like to think my inventory has something for everyone.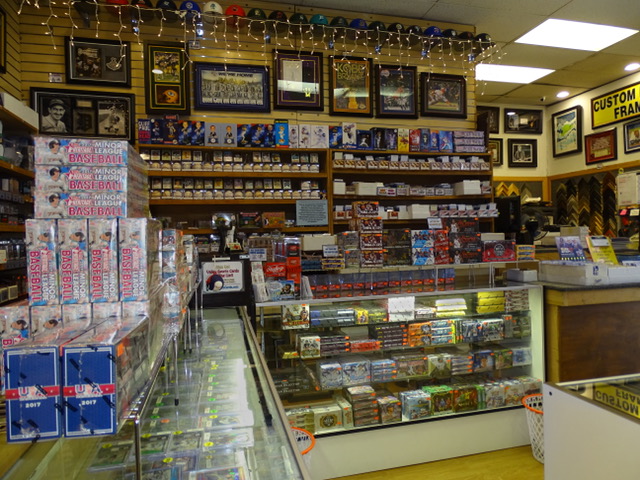 JS – Let's talk about some of the changes in the hobby since you were collecting in 1978 up until now. What has been some of the biggest innovations and changes for you? What are some things you never expected to see in the hobby? 
VSC – The biggest change I see, in general, is a phenomenon I call a 'false sense of plenty', in the old days you were limited to what you could find in your immediate surroundings and within your local trading community. Now if a card has a print run of, let's say, 5 cards you can sit at home on the computer and find all five of them. There are still only 5 of that card but the fact that it is so easy to get now has potential to lower its value. The online community has grown to such a proportion that it's allowed certain aspects of the hobby to become more finite. The hobby has responded by making products beyond our wildest imaginations. The things you can now pull from a box are nothing short of unbelievable. When I was a kid if you pulled 3 Nolan Ryan's from a box that was considered the top of the mountain. Now I can get a One of One Nolan Ryan Autograph mixed with something that he wore. Wow!!
JS – In contrast, what are some of the things you miss most about "the good ole days" of collecting?
VSC – I miss the fun of having pieces of cardboard with my favorite players faces on them, wrapped in rubber bands in my pocket and not caring as to whether they were mangled or not. I would memorize the stats like they were the most important numbers in the world. I miss my old AM transistor radio. I miss that 1964 Mickey Mantle that I sold to Max when I got my first apartment. Little known fact: I actually bought the store to get my cards back.
JS – Give me your assessment on the state of the hobby as a whole in 2017 and where you think we are going in the next few years. What are some things we can do as collectors, card companies and shop owners to make the hobby continue to grow?
 VSC – The child in me still marvels at what I see pulled out of boxes these days, the hobby never ceases to amaze me, every time I think I've seen the best thing in the world the hobby produces something more limited and fantastic. As shop owners I think we have an obligation to provide a safe and fun atmosphere where every aspect of the hobby can be enjoyed. If your focus is value, remember that condition is everything. How many adults do you see that never learned to take care of their stuff? I like that this hobby gives you an opportunity, early in life, to learn that 'If I take care of this particular item, there is a chance that, in the future, its value might increase."
JS – In closing, do you have any shop events you would like to mention? What is happening at Valley Sports Cards over the next few months? 
VSC – Every month we have multiple events, such as group Beckett Grading Submissions, Saturday Trading Days, Autograph Authentication and, most importantly, twice a year we have our big Raffle, where we give away a multitude of valuable memorabilia. If you live in the Los Angeles area and would like to join us for our December Golden Ticket Raffle please subscribe to our newsletter to find out details and dates. You can check out our store and subscribe to our newsletter at ValleySportsCards.com.
Valley Sports Cards, Memorabilia & Picture Framing
Alex and Lona Mortimer
19640 Ventura Blvd
Tarzana, CA 91356
818-705-2255
Hours of Operation
Monday – Closed
Tuesday – Friday 11am:7pm
Saturday – 10am:7pm
Sunday – 11am:4pm
FaceBook – @ValleySportsCardsofLosAngeles
Twitter – @CardboardLord
Instagram – valley_sports_cards_of_tarzana