Local Card Shop of the Week: Sports Cards Plus San Antonio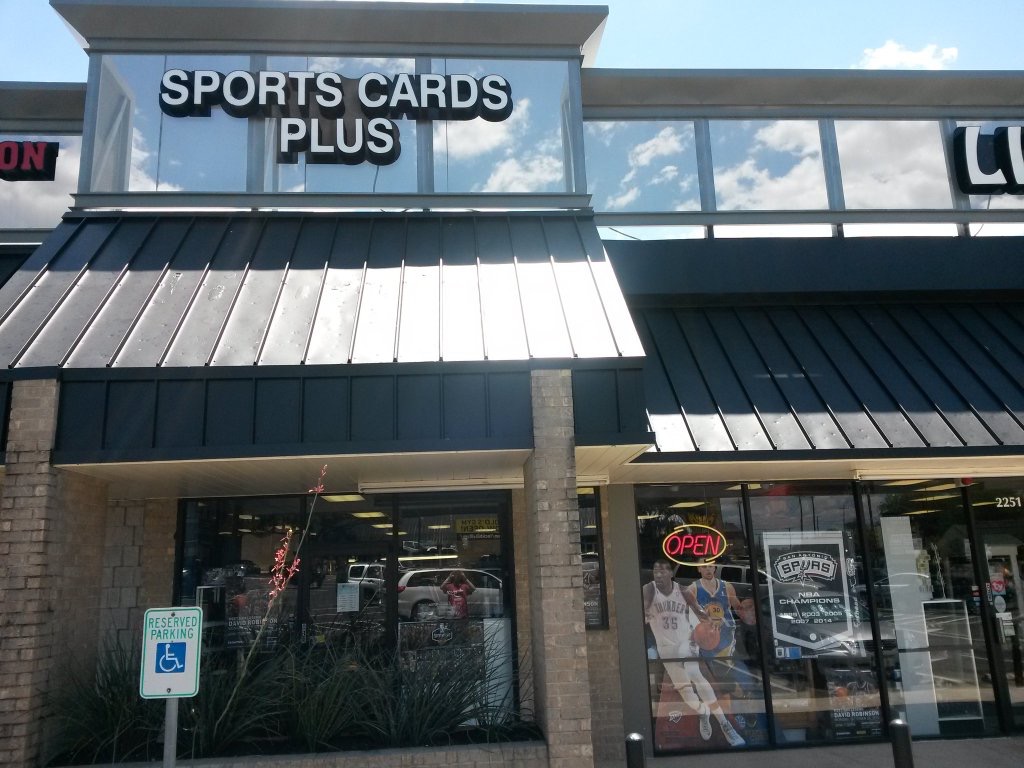 Charlie DiPietro began collecting trading cards in 1957. Sixty years later, he is the owner of Sports Cards Plus, a card shop in San Antonio, TX. He works at the store with his son, Jeff, sharing all the responsibilities while his wife and daughter help when needed. Sports Cards Plus is the true definition of a family business. I recently caught up with the owner of "San Antonio's Largest Selection of Singles, Packs & Boxes" to get his thoughts on The Hobby and find out how he has been so successful for the last 25 years.
JS – Can you tell me a little about when your shop opened and what led you to become a shop owner?
Charlie – We opened Sports Cards Plus in March of 1992. I was a full-time Civil Service Lead Management Analyst. My wife had just retired from the United States Air Force and encouraged me to start a business with her. I retired from my Civil Service career in 2007 and now work full-time doing what I love to do; share my love for collecting with everyone who walks into our store.
I started collecting baseball cards in 1957, at the age of nine, but never could afford to spend much money collecting. In 1982, my oldest son (age 11 at the time) got interested in collecting baseball cards and renewed my love for collecting. Over the next three years, I grew a nice collection of tobacco cards, pre-war and post war cards. n 1985, I started selling at card shows. At that time there were as many as three card shows every weekend in San Antonio. I quickly learned that the vast majority of collectors wanted new hot stars, so I started buying new products to sell at the shows. When we opened our card shop in 1992, there were over 50 card shops in San Antonio with 18 within 3 miles of Sports Cards Plus.
JS – Collecting has changed quite a bit since 1992, when we were in the thick of the "junk wax era". The peaks and valleys we've experienced in the hobby have made people modify how they collect over the years. What do you see different with today's hobby and collector vs. in 1992?
Charlie – Back in the 1980's and early 1990's, collectors made sets. They wanted one of every card. Investors would pick rookies and stars and buy "bricks (as many as 100 of one card)" of their investment favorites. Soon, new card collectors were demanding something different; something truly rare and worth more money. The manufacturers came out with more and more products. They came out with "premium products." In the 1990's, a card numbered to 10,000 was considered rare. Autographs and memorabilia cards didn't commonly hit the hobby until 1998. Now, it is predominately about low numbered autographs and premium memorabilia cards. Everyone wants to pull a "One of One" of their favorite star or rookie.
Back in 1988, I was set up at a card show in Dallas when I was approached by Richard McWilliam with some samples of his upcoming 1989 Upper Deck Baseball. Not being able to see into the future, when Mr. McWilliam told me Upper Deck Baseball would retail for $1.00 per pack, I told him "I don't know if collectors are willing to pay $1.00 per pack." Today, we have Flawless, National Treasures, Exquisite, The Cup, The Mint and Definite.

JS– Since you opened in 1992, the arrival of the internet has also had a major effect on the industry. How have you been able to adapt to online competition and keep your brick and mortar store popular?
Charlie – We are in the entertainment business. We have to make sure our customers feel like they are getting their money's worth for their entertainment dollar. And, no one wants to pay "too much."
Our prices are about as low as anyone on the internet. Overall, our gross profit margin is less than 10 percent.
We constantly have events and contests. (**These include contests where the first collector to pull "X" wins $100, a quarterly drawing for $500, participation in all of the "Free Pack" Manufacturer Promotions and drawings for autographed memorabilia. On Labor Day, a customer won a Deshaun Watson signed Clemson Jersey with Beckett COA.)
We introduce customers to each other. We allow them to trade with each other any time, any day. This builds a collecting community that can't quite be duplicated over the internet. We offer our store as a meeting place where fellow collectors can share in the excitement of "The Big Hit." We call these big hits a "Super Hit." We have so many Super Hits pulled in our store, we call it the "The Super Hit Factory."
We encourage customers to open their boxes and packs in our store by offering free top loaders for their hits (autos and memorabilia). This allows other customers to see what comes out of product boxes and encourages customers to follow one good box with another. It also encourages customers on the fence with a purchase to go ahead and take the plunge.
For expensive products, we offer in-store box group breaks.
We participate in Panini Sneak Peeks, where we are given access to products a few days before release.
We buy back cards from products opened in our store.
JS – Over the years, you must have seen some amazing pulls by your customers. Can you give us some of the most memorable pulls from "The Super Hit Factory" over the last 25 years?
Charlie – We take pictures of "Big Pulls" in our store for posting on our Blog, Facebook and Twitter. Our customers are our biggest asset. When they do good, we do good. I am sure I am missing something but to name a few:
Lebron James National Treasures Logoman
Larry Bird National Treasures Autographed Logoman
Babe Ruth National Treasures Jumbo Swatch Jersey Booklet #d/3
2014-15 Eminence Ty Cobb Autographed Cut 1/1
Leaf Best of Basketball Michael Jordan 1986 Fleer RC BGS 9.5
Leaf Rookie Retro 2000 Bowman Tom Brady RC PSA 10
Leaf Rookie Retro 1952 Topps Willie Mays Autographed RC PSA Authentic
Upper Deck Exquisite Michael Jordan, Larry Bird, Magic Johnson and Dr. J Quad Auto 1/1
Topps Dynasty Roberto Clemente Autographed Cut 1/1
Topps Dynasty Ty Cobb Autographed Cut 1/1
Topps Dynasty Ted Williams Autographed Cut
JS – All of those fit the definition of "Super Hit!" At your store, do you find that the hobby ebbs and flows with the various seasons or do you have a specific sport that stands out? I would imagine that basketball is hard to beat in San Antonio.
Charlie – It is all about the rookies. In 1998, with Peyton Manning and Tim Duncan, both Football and basketball were equally strong. In 2001, with Pujols and Ichiro, baseball was hot. In 2007, with Adrian Peterson & Calvin Johnson, it was football. And 2017 has been all about Aaron Judge and Cody Bellinger. The coming months looks to be the strongest NBA year ever.
JS – As it relates to NBA Cards, you were the winner of the 2015 Panini America NBA $75,000 Hobby Shop Makeover. Can you tell us about how you accomplished that feat? How did the makeover go?
Charlie – I decided to go all out. I held contests for people who opened in our store and left the wrappers for us. I held a drawing; for every $100 in wrappers (price of box purchased) customers got one Drawing Ticket. Third Prize was a factory sealed box of Panini Paramount Basketball, 2nd Prize was a factory sealed box of 2014-15 National Treasures Basketball, and 1st Prize was a factory sealed box of 2014-15 Flawless Basketball.
The makeover was amazing. Panini America and The NBA did an outstanding job. It couldn't have gone better. Panini America and The NBA also ran our Grand Reopening with a David Robinson Autograph Signing.
JS – That sounds really awesome! I'm sure the Admiral was a huge draw! Since that 2015 Hobby Shop Makeover, we have experienced a couple of healthy years for the hobby thanks to big name rookies like Dak Prescott, Ezekiel Elliott, Aaron Judge, Cody Bellinger and others. With products being heavily sought after, what have been the top 5 hottest products in the store over the last 12 months?
Charlie – National Treasures Football, Prizm Football, Select Football, Donruss Optics Baseball, Topps Inception Baseball and Topps Finest Baseball (sorry, had to name six).
JS – What products are you most looking forward to being released that are on the calendar now?
Charlie – Everything basketball. It is going to be a great year for basketball; all National Treasures, Immaculate and Flawless products. Prizm Football and Select Football are going to be great. We are also looking forward to 2017 Bowman Chrome Baseball, 2017 Bowman High Tek, 2017 Topps High Tek and 2017 Archives Signature Edition.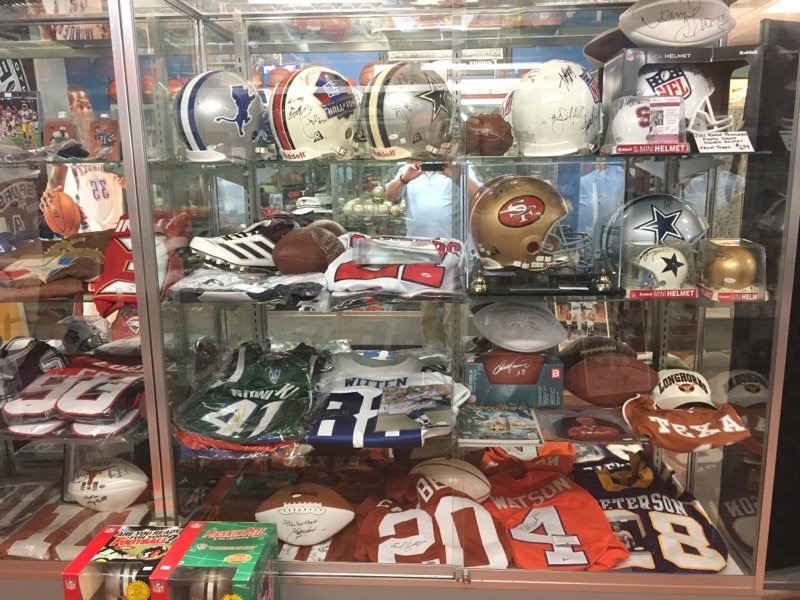 JS – Because the hobby is so hot right now, we have the perfect opportunity to introduce young collectors, or even re-introduce former collectors that left during the 90's, to our current hobby world. What advice would you give to those collectors to help them get the most from the hobby?
Charlie – We advise new and former collectors to read Beckett, read the internet and feel free to ask us questions. My son has been working by my side for six years and he is very patient with new collectors. They always leave our store thanking my son, Jeff, for his time and information.
JS – Along those same lines, what steps would you like to see taken within the industry to keep the hobby fresh and appealing to the masses?
Charlie – The Hobby needs more good hobby shops that are a physical meeting place for collectors to form a community. This community will insure all collectors enjoy collecting and feel good about spending their entertainment dollars. Sports Cards Plus is lucky. We won the Panini America NBA $75,000 Hobby Shop Makeover and have a great looking store. We have many great customers who allow us to get by on a 10% profit margin. Unfortunately, not many card shops can afford to operate a first class store on a 10% profit margin. I would like to see better profit margins for card shops so that it would attract more good businessmen to open first-class card shops. Making it clear that our hobby is professional and entertaining is the best way to grow the hobby.
JS – Lastly, are there any upcoming in-store events you would like to make collectors aware of?
Charlie – Our $500.00 Drawing is October 31st – Get a Free Entry matching your every purchase. And always look for contests and Sneak Peeks listed on our website, Facebook and Twitter.
Sports Cards Plus
2251 Lockhill-Selma Rd
San Antonio, TX 78230
Owner – Charlie DiPietro
Phone – 210-524-2337
eBay – TomorrowsTreasures2003
http://www.sportscardsplussa.com/
Hours:
Monday-Saturday: 11:00 am – 7:00 pm
Sunday: CLOSED