Local Card Shop of the Week: Soaring Sports Cards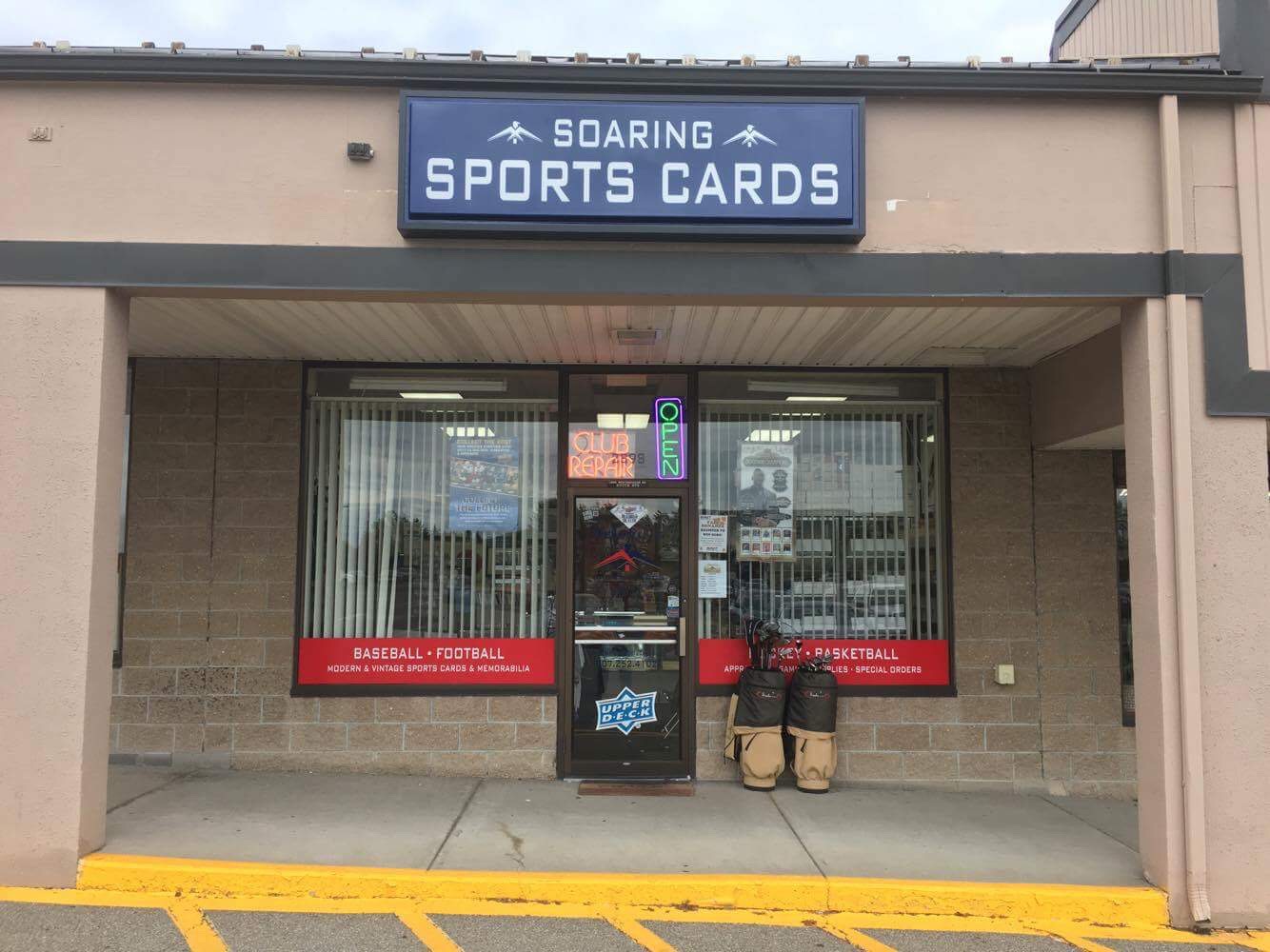 Graig Reeves started collecting sports cards in the mid 80's when he was just 5 years old. A native of Northwest Pennsylvania, Graig was surrounded by sports teams like the Steelers, the Penguins and even the Buffalo Bills. His mother was a native New Yorker so he also had the Yankees in his blood as well. After spending some time in the corporate world, he decided to turn his passion for collecting into a business venture and opened Soaring Sports Cards in Horseheads, NY in November 2016. A relative newcomer to the LCS community, he now owns one of the only card shops in a 70 mile radius. Graig put aside some time to speak with me and tell me about how he got started and how the card shop is doing a year after opening.
JS – Thanks for speaking with me Graig. Can you tell me a little more about how you decided to open a card store and some of the steps you had to take to make that dream a reality?
GR – I had been working in an industry for the past 6 years that had no personal relation to my education or interests. There was a local shop that went out of business in December of 2015 and I spent a lot of time discussing the business with the owner. He got me interested in it as a business opportunity as I had always been an autograph collector but hadn't been directly involved in the current card market in years. However, there was obviously a market here for wax packs and hobby boxes besides the stuff they carry at Wal-Mart and Target. The right space became available in the same strip mall for my ambitions and set up, so I took the plunge and business took off with the holiday season.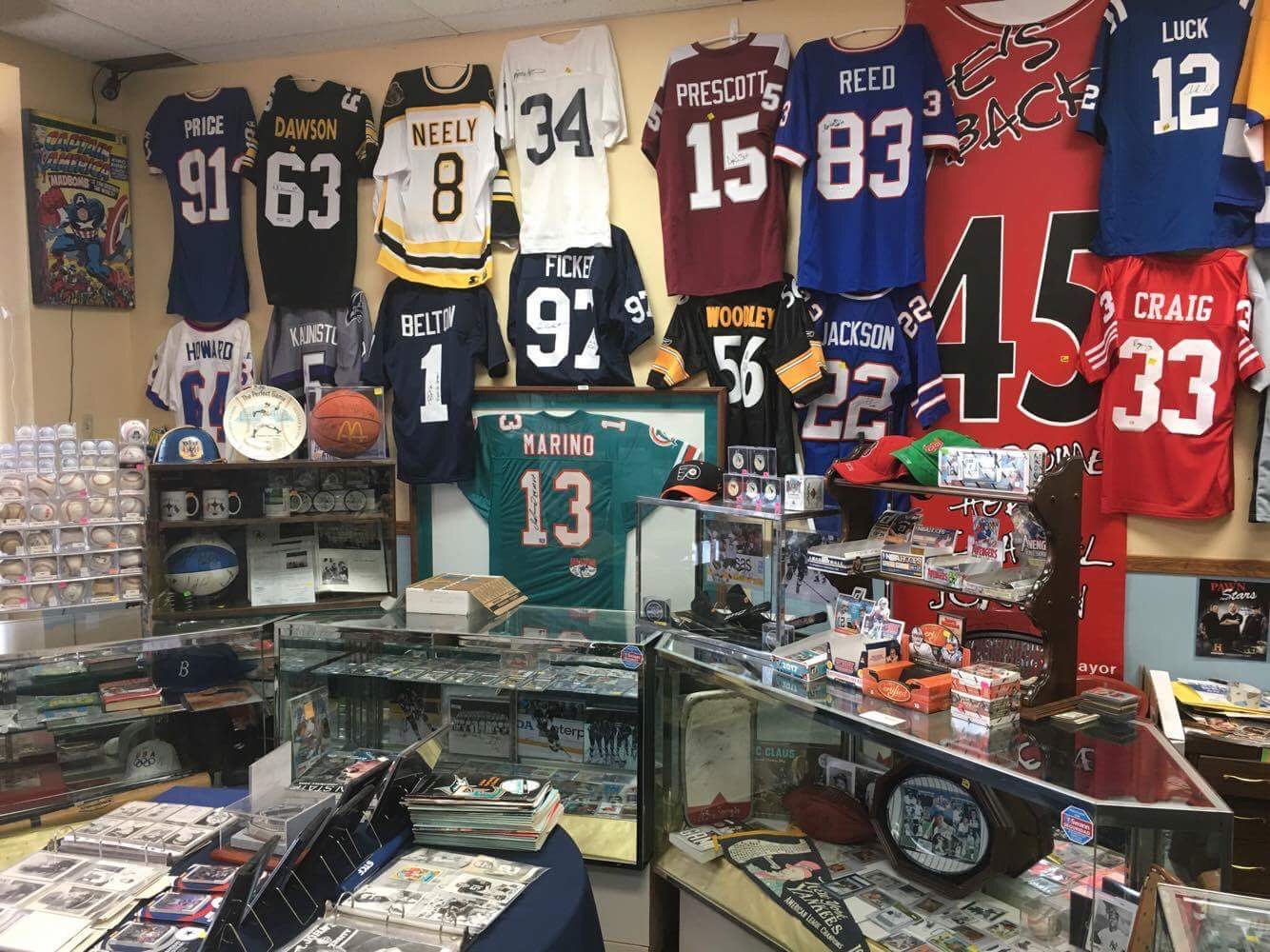 JS – You mentioned in our initial discussion that your father was retired and was working with you at the shop. What is it like owning a card shop and working with your father? Many of us collectors got our start in the hobby by latching on to a sports team or player that our mom or dad taught us about. This must be a great bonding experience!
GR – It is fun and I think he has become more involved in the hobby and collecting because of me. Since he retired has more freedom to attend shows and help out with my shop when he wants too. We have attended the last 3 Nationals in Cleveland, Atlantic City, and Chicago this summer and they give us something fun to do every year while there on business at the same time. I was named after Graig Nettles so I have pinstripes in my blood and I collected vintage baseball autographs and memorabilia for the longest time before getting back into the card market with the shop opening.
JS – What were some of your biggest challenges when you opened the store and over this first year? In conjunction with that, what are some of the steps you've taken to attract and welcome new customers to your store and retain them as return customers?
GR – The biggest challenge was finding a location that worked in size, budget and availability. I didn't want to be in the local mall or in a plaza with Wal-Mart or Target. I am lucky this space became available when it did and the customer was already there with the former shop being right next door.
I have my regulars who come in week after week for packs and boxes. High end to base sets, I wanted to have something for everyone and every budget. I was able to fill out the autograph stock from my personal collection and overstock. Then it was the matter of getting set up with distributors and finding some collections to increase my card stock.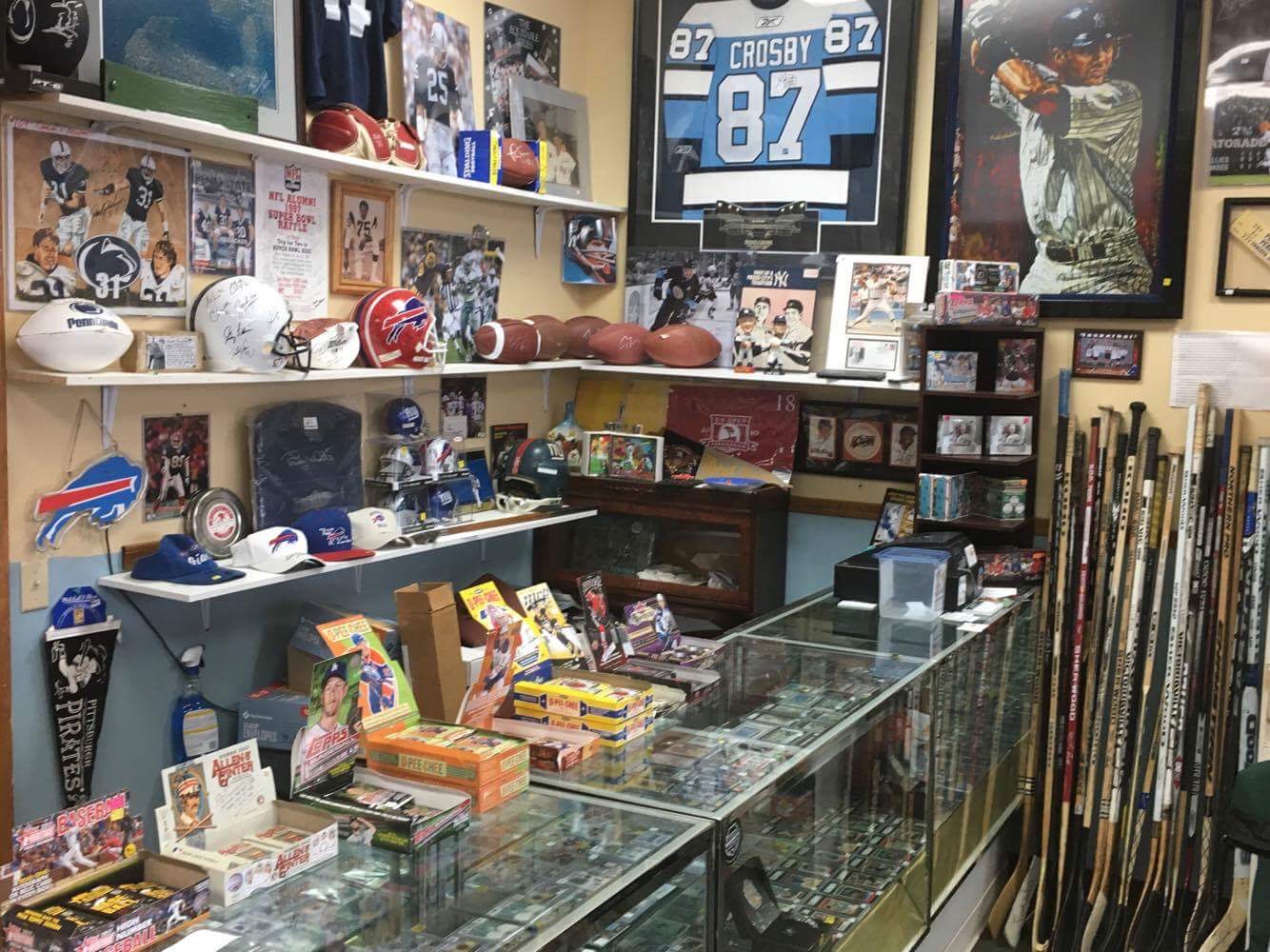 JS –You store has the benefit of being one of the only card shops in a 70 mile radius. What type of collectors have you found in your area? What are the major sports and teams where you are located?
GR – I am the only exclusive sports card shop in my area with includes Elmira, Ithaca, NY and northern Pennsylvania. I have a lot of diversity in customers. I have numerous retired clients who like to build sets of current and vintage cards. They like to come in and talk baseball as much as they do the cards I think. It is a lost era and here it can be relived. I have customers who haven't seen each other in 20 years and reconnect as customers that were here in the shop at the same time.
We have a lot of hockey collectors in this general area with the Buffalo Sabres and Cornell Big Red Hockey nearby and minor league teams in the area. Buffalo Bills fans are all over the area, as are fans of the Giants, Jets, Yankees, Devils, and the PA teams like Pittsburgh Steelers, Penguins and Philadelphia teams. College sports are big as well with lots of Penn State alumni and fans in the area. Syracuse is also a big college.
JS – What are some of the hottest products in the store and why have collectors been drawn to them?
GR – I like to carry rare one of a kind items that have just as much fun in the story as it does in the item itself. I was never drawn to items mass produced somewhere that are hard to display like cards, books, etc. Ernie Davis, 1961 Heisman winner of the Syracuse Orange, is from Elmira, NY. I have had multiple items with his autographs and rare inscriptions. Items like 1955 EFA yearbooks signed by Ernie Davis on his football and basketball pictures. I've even had a one-of-a-kind "Syracuse" inscribed display signed by Ernie. A lot of folks still have stories about him and love to remember.
2016-17 Hockey has been a major seller in my store. UD Black Diamond, The Cup, Artifacts, Trilogy, Ultimate and the yet to be released Black are very popular.
JS – I'm glad you've mentioned Hockey. Hockey has experienced resurgence in the last year, thanks to "Young Guns" like Auston Matthews and Connor McDavid. Hockey cards may not be as "mainstream" on a national level (U.S.) as Baseball, Football or Basketball, but the fan base is very passionate. What are your thoughts on the current hockey market?
GR – Hockey is big here as I mentioned previously. McDavid is popular and Eichel (being from Buffalo) has stirred the pot locally here with lots of Sabres fans. As a Penguins fan myself since I was a kid, I sell lots of Crosby, Lemieux, Gretzky era items including autographed sticks, pucks, photos and cards. But with the hot young players, they drew some collectors into the hockey market as they sought the rookie cards of McDavid, Laine, etc.
It may not be mainstream but in upstate NY it is a big sport and there is not much else to do after football season ends and baseball begins. So it heats up or keeps the momentum going from the Christmas season straight through spring.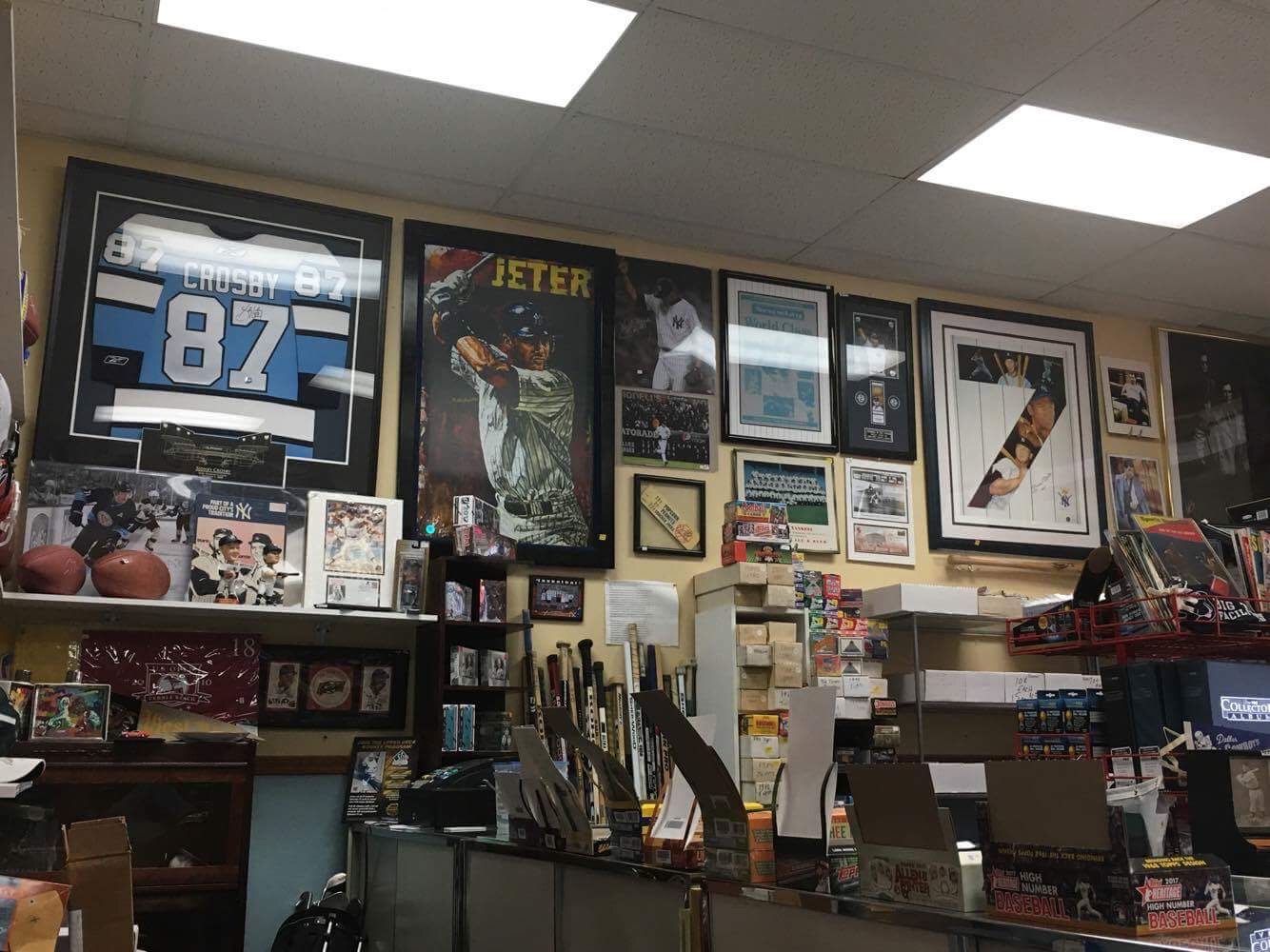 JS – One of the hot topics among collectors revolves around "License Exclusivity" and Hockey is seeing that same trend. In general, have your collectors been satisfied with the availability of products or do they have a desire for more companies to join the Hockey market?
GR – I sell mainly Hockey, Baseball and Football in that order. The hardest part of the current market is trying to figure out which products will sell. Upper Deck is pretty cut and dry with their offerings and there aren't a lot of questions other than release dates being pushed back. Topps is the same way with their traditional products that sell well here and online as well. Panini is the wild card as they are always offering some new products – but with new products, I have no history so I am taking a shot in the dark in hoping my clients will like them.
JS – What are some of the big hits you've seen pulled over the last year at Soaring Sports Cards?
GR – We had a Kris Bryant 2:5 Diamond Kings pulled last year. We also had National Treasures Ezekiel Elliott Swoosh Patch 1:2 and a Carson Wentz autographed /patch 1:10 pulled from the same box. For vintage fans, we had a Ted Williams jersey swatch and check signature 2:5 from National Treasures Baseball.
JS – What is your particular collection centered around? Are you more into new products or do you like another era like vintage or junk wax?
GR – I am a vintage autograph collector – mainly baseball. I like the hard-to-find Roberto Clemente, Thurman Munson, Jimmie Foxx, Lou Gehrig, Jackie Robinson, etc. I like signed programs and items that show the time and era from the autographs. It tells the story of the autograph and that to me is just as fun as the autograph itself.
I have recently had some vintage penny and nickel baseball card vending machines. One had 1956 Topps Cards (250 Count) still in it.
Plus the items that come in every day from people who want to sell. We have had a few estates come in that included vintage Yankees memorabilia and mid grade items.
JS – Vintage cards have picked up a lot of steam in the last couple of years. What do you attribute the increased interest and growth in that market to? 
GR – I think the increased availability with the online market is pushing them as more people collect Mike Trout, Aaron Judge, and Bryce Harper and are pulling cards of vintage players that increases interest. And with the steroid era now in our history, I think people are appreciating the accomplishments of players like Mickey Mantle, Roger Maris and Willie Mays more. Plus, the increased value of sabremetics brings value to the all around baseball players today, not just the sluggers who seemed to be overly immortalized before and especially during the steroid era. I am glad that era is gone and baseball is actually fun to watch again with the young players making huge impacts; especially in key markets like NY, LA and Chicago. I could not watch any more 40 year old guys making $30 million a season breakdown and let teams down.
JS – As it relates to vintage cards vs. the current market, what have been some of the biggest surprises for you in card production or innovation since you started collecting?
GR – For me it is the inclusion of autographs and bat/jersey relics included in cards. However I am a staunch critic of inserting vintage relics from items like Babe Ruth, Lou Gehrig, Mantle, Maris etc that are being destroyed to make cards out of. Is it cool to own a piece like that? Sure. Does it make it affordable to own a rare piece? Sure; but they are destroying irreplaceable pieces of baseball history.
Players today that are still playing and their relics can be found or more produced are better. I am also surprised that the current card market is at the levels it is. eBay provides a market for current items like never before, but with current cards they are more volatile and for me that increases risk. I am not a big gambler so I only sell vintage items second hand as those markets are more established.
JS – Card companies are only going to continue to innovate and bring new products to the market in the future. What do you think card companies could do to enhance the hobby for collectors over the next few years?
GR – Honestly I think the players will be more involved in the companies and in card development. This brings the players closer to the fans. And it will include some form of social media involvement as well.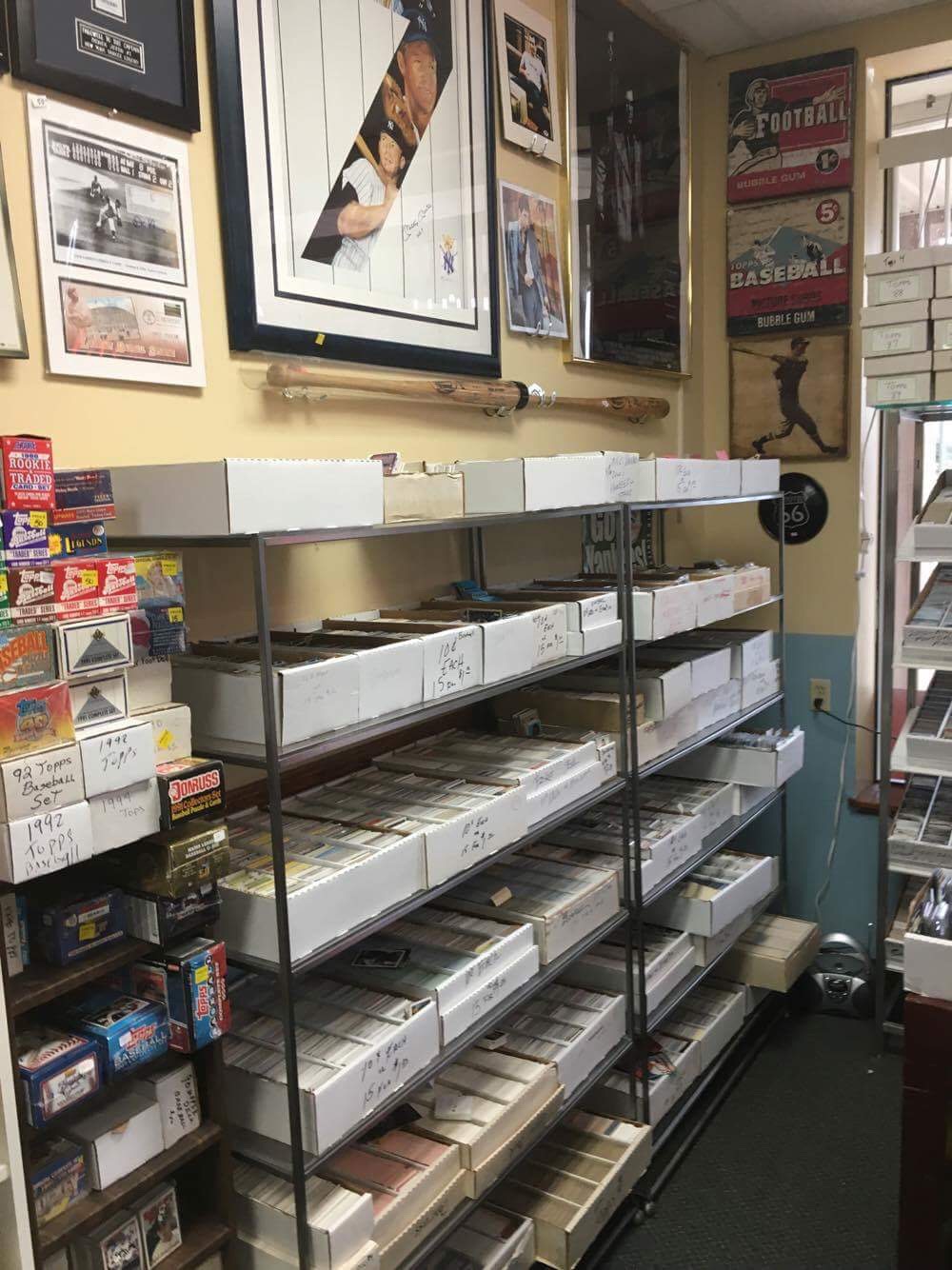 JS – In closing, do you have any events at your store coming up that collectors should know about?
 GR – We are looking forward to the release of Hockey 2017-2018 and we are always bringing in new one-of-a-kind items. We post them on Facebook and work with numerous sports auction houses on a regular basis to procure and sell items. It is the spontaneity of these items that keeps me interested and excited day in and day out.
We are also trying to put together a regional card show for the Elmira/Ithaca NY area as it has none. Stay tuned to our Facebook page for more information.
Soaring Sports Cards
Owner – Graig Reeves
2898 Westinghouse Road – Village Plaza
Horseheads, NY 14845
(607)252-4102
Soaringsportscards@outlook.com
Hours of Operation
Tuesday – Wednesday: 11am-5:30pm
Thursday – Friday: 11am-5:30pm
Saturday: 9am-12:30 pm