Local Card Shop of the Week: Middle Georgia Sports Cards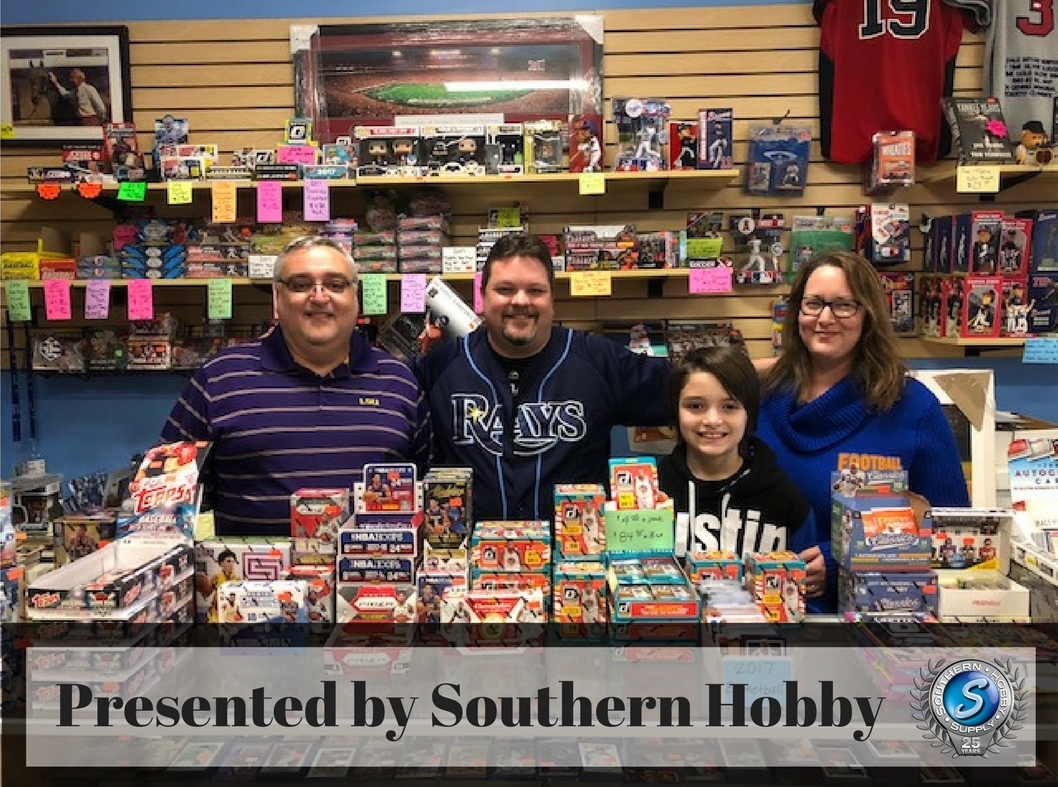 Charlie Heinisch Jr. has been "ripping packs" since 1979 when he was 7-years-old. By the early 1980's he was set building, flipping cards and trading with neighborhood friends. Throughout his life, his love for the hobby has continued to burn strong and that love eventually led to opening booths in flea markets and antique malls to sell cards.
Being an avid hobbyist, he decided to open a shop in November 2015 with his family that includes Lisa, his wife, and their three sons. With some help from friends as well, Middle Georgia Sportscards and Collectibles is now one of the most popular Card Shops in Georgia. I visited Charlie to discuss the success of the shop and his thoughts on the current state of the hobby. Charlie's popularity was evident the moment I walked in the shop and witnessed the steady flow of customers on this cold Saturday afternoon. I snuck in some questions between customers buying the newly released 2018 Topps and getting tips on how to store Five Star Autographs in cases. The experience at a card shop is like no other for those of us that call this our hobby!
Local Card Shop of the Week is brought to you by Southern Hobby, who has been serving the collecting community for nearly 30 years.
JS – Thanks for taking the time to speak with me, Charlie. You opened your store back in 2015. What led you to make that decision?
CH – It has really been a lifelong dream of mine to open a real card shop. I've tried flea markets and antique malls but really wanted my own shop. After a life changing event for me and my family, we decided that the time was right to give it a shot.
JS – You have been collecting for almost 40 years so you have seen a lot of innovation in the Hobby over the years. What are some of the major differences you see in shops today vs. when you were a kid?
CH – One of the major differences in shops today vs. before is that shops before had a lot of coins, stamps and other collectibles that could be found. It would be more difficult to do all of that today. Shops are more specialized now than the "full hobby shops" from my childhood. There were also more kids shopping back then than now. I think the kids from those days have all grown up and are coming back in the shop now. One of our goals is to pull kids back into the Hobby. We offer kids discounts on items in the store if they bring in their report cards. The parents love it, it promotes education and the hobby and it's rewarding for me to see the kids enjoying the whole process.
JS – The state of Georgia has had a great 12 months in certain aspects when it comes to sports teams with both the Atlanta Falcons and Georgia Bulldogs reaching the championship game in their respective leagues. On the other hand, the Braves and Hawks are not at the top of their game right now. What are some of the major players or teams that your client base focuses on and how have recent successes translated to your store activity?
CH – We have definitely seen success in the store from the teams on the field. Georgia is a strong state when it comes to support for their teams. Braves Nation is always going to be supportive of their team regardless of their success. Even with a down few seasons, Chipper being elected to the Hall of Fame has been a big positive. As for Georgia, the fans of that team are much like the fans for the Braves. They support their team in good and bad and we have had more good lately than bad. More success on the field equates to more success in the hobby. More people have been in the store recently looking for Georgia merchandise. It helps that Jake Fromm is from Warner Robins but the team's success has been a boost.
JS – In addition to the above teams, I know that a new baseball team will begin playing in Macon, GA (about 20 miles north of you) in May of 2018. What can you tell us about that team? Do you anticipate any benefits of having a team so close?
CH – I am still learning about the Macon Bacon but I am very interested in working with them in the future to promote the team. I hope to be in contact with them soon to tie in some information from the upcoming season with the store.
JS – If you had to pick, what one particular player, past or present, would you say is the most beloved in Georgia and is in the majority of local collections?
CH – The number one athlete in the state is Chipper Jones. He played his entire career in the state of Georgia and the strong fan base for the Braves grew up with him and feels like he's family. When he succeeds, we succeed. When he goes into the Hall, we go into the Hall. I watched him his entire career but I see collectors who started collecting at the end of his career that still love him and go back and learn about his early career. I would say that a strong second is Dale Murphy because the whole state wants him in the Hall of Fame and thinks he deserves it.
JS – What have been some of the hottest products in your store in the last 12 months and why do you think collectors have been drawn to those?
CH –Topps Triple Threads has been very popular. It was popular here at the shop specifically because we pulled 3 Deca Cards, which are very sought after inserts with 10 autographs or relics and they are numbered to 10 or less. All Bowman products starting in April through the Bowman's Best products in December are hot here. Collectors love prospecting and the Braves hot prospects have included Ronald Acuña and Kevin Maitan. Also, Topps Chrome was big because of the Aaron Judge autographs that were being found. For that matter, any product with Judge was hot.
JS – What have been some of the biggest hits pulled at Middle Georgia Sports Cards?
CH – As I mentioned before, we had 3 Deca cards pulled. One of those had names that included Nolan Ryan, Pedro Martinez, Greg Maddux, Randy Johnson, Clayton Kershaw, John Smoltz, Steve Carlton, Roger Clemens and Dennis Eckersley. We also had a Ronald Acuña 1/1 out of Topps Pro Debut that was big. One customer pulled a John Wayne 1/1 Cut Signature out of Five Star. We also had a John Smoltz 1/1 auto/patch from Five Star. One of the bigger football pulls was out of Donruss Elite and was a triple auto of Don Majkowksi, Brett Favre and Aaron Rodgers. We have had a lot of very neat stuff come out of the shop and there are several Acuña's and Judge's on the list. Most recently, we pulled a 1/1 Albert Pujols sketch card from 2018 Topps, which was coincidentally the same collector that pulled the 1/1 Acuña. (Interestingly enough, he walked in as I was wrapping up the interview and we discussed those pulls.)

JS – You deserve a lot of credit for bringing sports card shows back to Middle Georgia. I know that your store has been vital in providing options for collectors in Middle and South Georgia. Have you seen growth in the desire for shows, guest appearances and overall general interest in the hobby due to those shows?
CH – There is still a need for card shows because collectors love treasure boxes and hidden gems. You can't find those on social media or eBay. Collectors need to still have the option to go through .35 cent boxes to find some of those special cards you are looking for. Card shows are still the best place to go for deals and trades. We have been fortunate to have guests like Alejandro Peña, Levi Walker a/k/a Chief Noc-A-Homa (former Braves mascot) and NASCAR Hall of Famer Rex White.
JS – Do you have a schedule for 2018 shows yet?
CH – We do, starting March 11, we will have a show on the second Sunday of each month at the Hilton Garden Inn in McDonough. Look for additional shows to be in Macon as well.
JS – Your Facebook page advertises a lot of events such as Trade Nights, Live Breaks and other contests. Can you tell us a little more about those events and how you try to engage your customer base through social media and online activities?
CH – As products release, we have breaks on the Facebook page. We don't try to flood our customers with breaks because we are a hobby store first and not breakers per se. We do trade nights every other month here at the shop and it's really like speed dating for card collectors. Traders set up TV trays around the shop and go from station to station making trade after trade. It's a really fun event we have and it has received a great response.
JS – Tell me about the "Sweet Spot" in your shop. What is it and where did the idea came from?
CH – The "Sweet Spot" was a last minute idea. I'm an avid autograph collector and the night before we opened, we still had an empty section of wall in the store. We were trying to come up with an idea that was reflective of the store and was our own "signature" for the store. We have all of our customers sign the wall here to mark their visit. We look at the sweet spot on a baseball as the perfect place to sign and we like to think of our shop as the perfect place for our collectors to enjoy the hobby.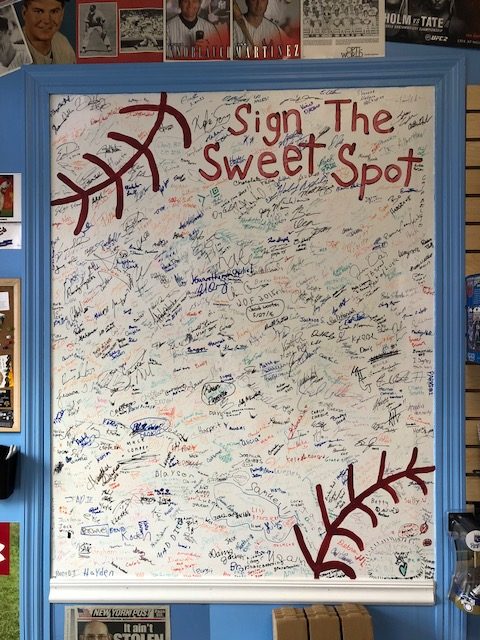 JS – Let's talk a little about your personal collection. You started collecting almost 40 years ago so you have been a part of several hobby peaks and valleys. What is your primary focus now on a personal level? Are you more into vintage/junk wax/modern? What are some of the highlights?
CH – I love vintage! I love the idea that if you are looking for a 1965 card, there is only one card and one set. This is also why I love Topps Heritage. Today, I collect more autograph rookie cards and cards from my favorite teams. Those teams are the Rays, Yankees and Tampa Bay Buccaneers. I am a Super Collector of Thurman Munson, Derek Jeter and Don Mattingly. I may be a Georgia shop owner but I'm not originally from here so that is why I have these unique favorite teams while living in Warner Robins.
JS – Also, as a long time collector, you have also seen a lot of product changes over the years. What changes have been most surprising to you in the industry? What products have changed the hobby in a positive way for you?
CH –The insert craze really began in the early 90's and, while they were fun to collect, they hurt the set builders. But the innovation and inclusion of the first relic and autograph cards were the real game changer. These items brought the collector closer to the game by actually owning a piece of jersey from a game or the signature of the player.
JS – In conjunction with the positive changes you've seen, what would you like to see from card companies in the future to help the Hobby continue to grow and keep it strong? What do you think is missing or could be improved?
CH – I would like to see the card companies focus more on the hobby shops than the retail stores if they want them to succeed. More specifically, I was disappointed as a shop owner to see some of the nicer exclusives, such as Bowman Platinum, Topps Fire and Topps Gallery, only available in retail stores. I also feel that Panini has a great product line and make a great card for a non-licensed company. But I would love to see what they could do with a license in baseball. Because of what they have done with football and basketball products, which are far ahead of the curve, I think they could do the same with baseball. As much as I want Panini in baseball, I also want Topps back in football and basketball. Lastly, I think Topps makes too many versions of their mid to high level products that are nearly identical; i.e. Archives Active Player Signatures and Postseason Signatures, Bowman Tek and Topps Tek. This is probably the biggest complaint I get from collectors, sets look the same but have different names.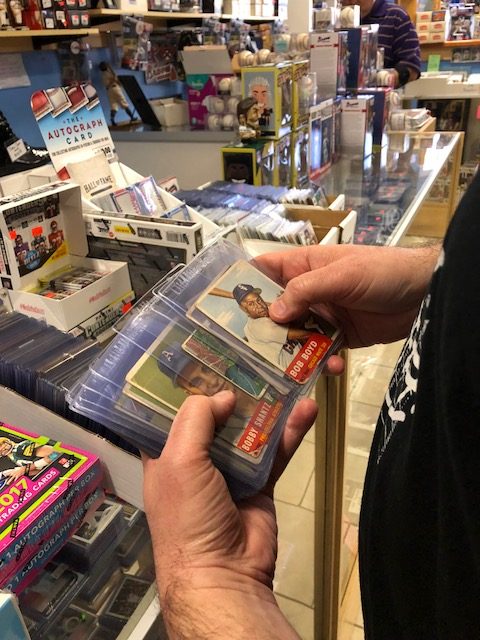 JS – If you could give a future shop owner one piece of advice, what would that be?
CH – From a personal standpoint, if I could give advice to someone who really wanted to have a successful card shop, it would be to love the Hobby first. All of the financial rewards should be secondary. If you don't love the hobby, you aren't going to make it today. If you are in it only for the money, you are going to bypass the Hobby and customers will notice this. They can see how much passion you have for the hobby and they will sense where your heart is.
JS – What else does Middle Georgia Cards offer that helps bring in new collectors and keeps them coming back? Do you have any in-store events you can share?
CH – You have to cater to the hobbyist whether they like vintage, junk era or modern cards. You have to have what the collector wants. You have to have a full line of supplies, wide variety of products and knowledge of current events. We host box and/or case breaks for all the latest products, we accept Beckett grading submissions monthly as well as the hosting of trade night. We play games like pack wars and we host bi-monthly card shows with about 20 dealers and admission is free.
For a virtual tour of the shop, click HERE!
Middle Georgia Sports Cards
Charlie Heinisch Jr.
1107 Russell Pkwy Ste B2
Warner Robins GA
(478)972-2569
Facebook – Middle Georgia Sports Cards and Collectibles
Hours of Operation
Sunday – 12pm:4pm
Monday – Tuesday – Closed
Wednesday-Saturday – 12pm:6pm