Local Card Shop of the Week: The Bullpen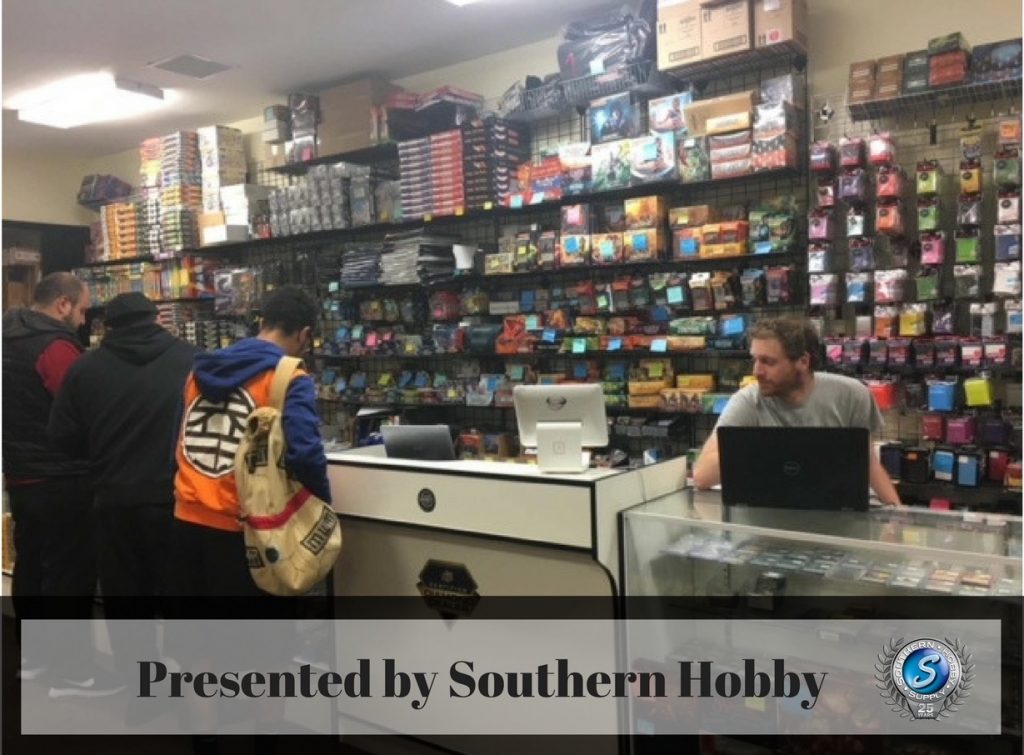 Mitch Guttenberg started collecting sports cards in 1975 at the young age of 4 years old. He has been a baseball fan all of his life and remembers going to his first game in 1974, even remembering the seats he sat in for a Dodgers World Series game that year. This started a lifetime of collecting that really picked up steam in 1979. He started selling at garage sales the next year in 1980 and he found his passion for the hobby from a business perspective. Thirty-eight years later, Mitch is an owner of The Bullpen in Los Angeles and we recently sat down at the Industry Summit to discuss the hobby and how his shop was doing.
Local Card Shop of the Week is brought to you by Southern Hobby, who has been serving the collecting community for nearly 30 years.
JS – Thanks for taking the time to speak with me Mitch. Could you tell me about how you got started in the card shop business?
MG – Yes, I started selling at garage sales in 1980 and always collected from then on. I started doing shows in 1987 when I was 16-years-old. I moved to National Shows around the country in 1989 at 18. After getting out of the Hobby in 1992, I came back in 1998 and worked at a card shop. I then realized I could run my own shop and I opened my first one in 2000.
JS – Can you tell us about your current shop, The Bullpen?
MG – We've moved a couple of times and the current shop I have with my amazing partner, Tai Fauci, who is wonderful, is in Westchester out by the airport and is just under 2,500 square feet. We are open 365 days, basically Noon til 10PM every single day of the year! I have only closed 2 days in the 17 years I have owned a shop. But I like working. I get to sit back and work with sports cards, watch games and talk with collectors. What could be better? We prefer our customers come in and hang out with us for a while. We do Pokemon, Yu-Gi-Oh, Magic and a full compliment of sports cards. We also have almost 2,500 Funko Pop figures on our walls!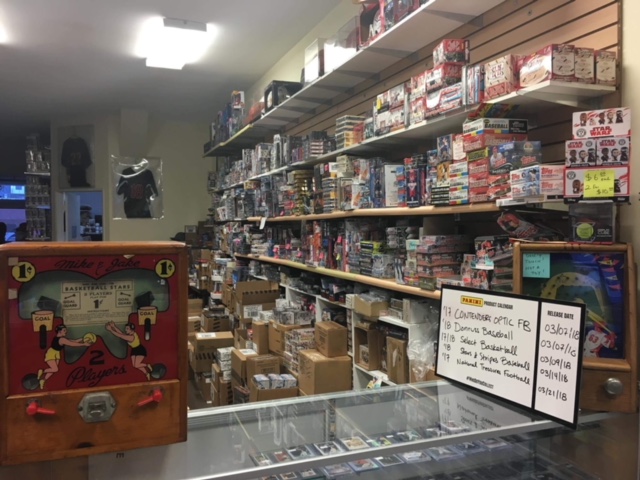 JS – What type of promotions or activities do you have at your store?
MG – We do trade nights, poker nights and anything else that we feel would interest collectors and get them in the door. We run our promotions all the time. We ran some great promotions during the World Series. For example, if collectors came in wearing a baseball jersey, they received a free pack of Topps cards. We have a blast! I don't want to be the best card shop in the country, I want to be the most fun card shop in the country!
JS – What have been some changes you have seen within the shop since you first opened a store in 2000?
MG – Oh wow: First, the price point of packs has changed a lot over the last 15-17 years. There used to be 5-6 products around $50 per box and now most products are based around $100-$150 per box. Kids are a little tougher to get in with that price point. I say this at every conference I attend: we still have kids coming in the door but they are just going to the gaming side. They walk in and see both baseball and Pokemon and they say, "I'll just get Pokemon." We've been able to transition very well with bringing gaming into the store and adjusting. But that is a big thing today. Magic used to be a relatively niche part of card collecting but now it is more mainstream and gaming is more popular. Losing manufacturers has also been a change. Time will tell what the lasting effect will be on exclusive licensing.
JS – You mentioned above that you sit back and watch games at the shop. Tell the readers a little about the TV screen you have at the shop.
MG – What we have is a 3D Projection Screen at the shop that covers part of our Funko wall so when we do big events like the World Series, NBA Finals, Super Bowl, or even just something that everyone wants to watch, we have a 10 foot screen that comes down and we kill the lights, order food and enjoy the event! I think everyone has a blast. It's just another thing we can offer for collectors to have fun in the shop.
JS – You are in LA so you are near some of the most famous franchises in sports like the Lakers and Dodgers. What do you see requested most from your collector base? Is it really LA specific or is it broader? 
MG – No, No, we have a lot of different collectors. The last year or so has been all about baseball prospect collecting, regardless of the team. Bowman Chrome and Bowman Draft have been absolutely ridiculous. As for the Lakers, I would have said they were most sought after when I first opened, when they had Kobe and Shaq. That was the first thing collectors asked for when they came in. People were even looking for Robert Horry cards! Basketball is on so often now and the content of the game has really changed from a bigger story down to 2 minute highlights and videos, collectors are looking for lots of players like Donovan Mitchell and other hot rookies. I would say that Kyle Kuzma of the Lakers is probably the 4th or 5th player people will ask for. Football is much of the same. The Rams are great but besides Jared Goff and Todd Gurley, there are a bunch of players that collectors are looking for. We also sell a tremendous amount of hockey cards.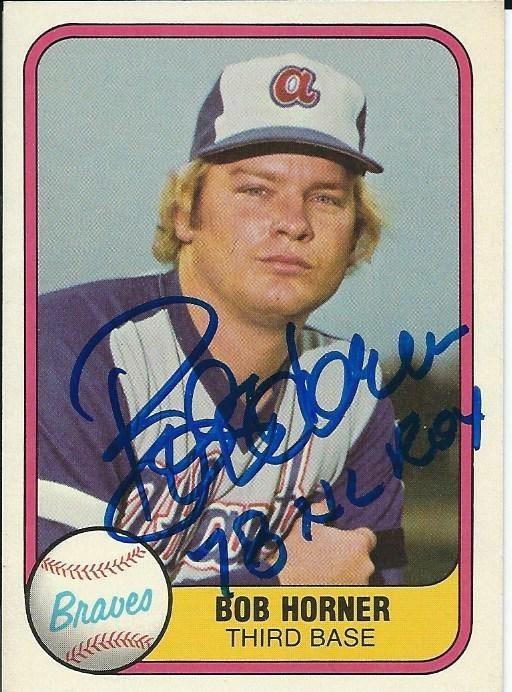 JS – Speaking of hockey, the demand seems to be rising for hockey products. Some people see it as a smaller market but I think some of that can be attributed to the amount of shops that actually sell hockey. It is not in every shop in the country. What can you tell us about hockey products at The Bullpen?
MG – I will say that hockey collectors are some of the most loyal customers in the country. If you carry hockey, they will find you. We have a really wide range of hockey inventory from low end to high end. The Young Guns have been incredible the last few years with Connor McDavid and Auston Matthews. There are even 5-6 other guys from last years products that really sell well! I can talk about hockey until I'm blue in the face so everybody who comes in knows that we can sit and talk hockey anytime. Collectors are welcome to come open in the shop and we can sit for hours and just talk about the players and the cards. I have a couple of customers who come from 40 miles away for hockey products, and in LA traffic, that is 2 hours.
JS – This is usually a clear cut question when I am asking it in a market that has only 1 or even no professional sports teams. But I am anxious to hear your response on it. If you had to name just one player that is the most widely collected in your market at this time, who would it be?
MG – Right now it's Cody Bellinger. Nobody has a bad word to say about him and he is just a nice kid. Everyone likes him and he was raised around baseball with his father playing years ago.
JS – We've touched on changes in the shop itself. You have been collecting since the 70's, so what have been some things you have seen over time that you never thought we would have in the hobby?
MG – Do you remember in 2000 when Fleer introduced the Pylon cards and Topps Stadium Club had Dirt cards? Those cards, still to this day, make me wonder what we were thinking at that point. Now there are jersey, auto and patch cards. Back in the early 2000's, we had memorabilia that was more in the form of box toppers. I really loved the stuff like Absolute Memorabilia from Playoff. I liked the nameplates too and thought those were really cool. I don't know what the next step is at this point. I wish I did because I would love to share it but I just don't know what the next step is going to be. I am still amazed that collectors are not looking for autographs in Prizm basketball but would rather have the Silver Prizm.
JS – As far as the Industry Summit, what do you expect to learn from the conference each year? What do you have in mind when you arrive?
MG – When I get here, most of the shop owners here know who I am and many of them are good friends. It is really a good time for us to just sit and brainstorm. I am an open book and those in the industry that know who I am, know that I am more than happy to sit down and go over ideas. I want the industry to get stronger and stronger. If you ask me a question, I will always give you my honest answer, for better or worse. But if you have an idea and want to bounce it off of me, I'm always here. The Summit has been great and there has been lots of great content. I would like to find a way to get all the manufacturers back together for one conference as opposed to multiple as they are now.
JS – If you could give one piece of advice to a potential shop owner, a new owner or even a seasoned owner that is looking for help, what would that be?
MG – The thing that everyone is talking about everywhere today is social media. It is key to your business but you have to take baby steps with it. If you are good with Social Media, run with it but if you are just starting off, take it one step at a time. Pick up the phone and call someone who has experience if you don't know how to do something. We are online constantly. I am on social media probably 6 hours a day, at least. Another key is location, location, location. And when it comes to distributors, find 1-2 good distributors that you get along with and trust.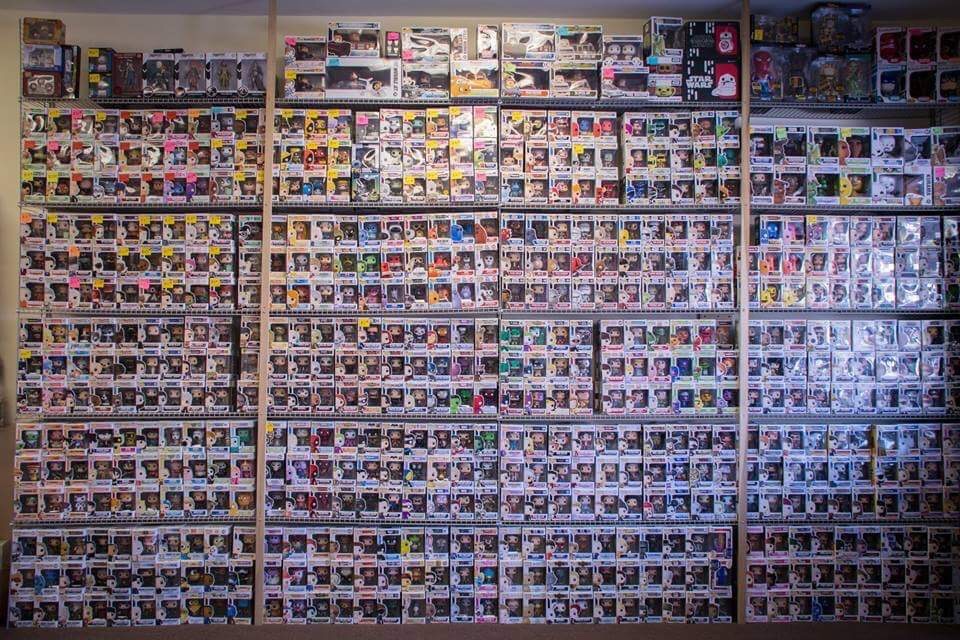 JS – In closing, is there anything going on in store during the next few weeks or months that you want to tell us about? 
MG – We will be running several promotions. For example, when Heritage releases (at time of interview), anyone who comes in and opens the product and finishes the 400 card set, you will receive a free autograph card. If you finish the 500 card set, which could take a while, we have three 1 of 1 cards to choose from: Frank Thomas, Pedro Martinez or David Ortiz. While this will have already happened, these are the kinds of promotions we run and we have something going on every week. We have trade nights and poker nights. Everything is kept current on the website, Instagram, Twitter and FaceBook.
The Bullpen
Mitchel Guttenberg
Tai Fauci
6234 W 87th Street
Los Angeles, CA
(424)228-2830
Hours of Operation
Sunday: 11am-8pm
Monday-Tuesday: 12pm-10pm
Wednesday: 12pm-9pm
Thursday-Friday: 12pm-10pm
Saturday: 11am-10pm
Facebook – @BullpenLA
Twitter – @BullpenLA
Instagram – @bullpenla
Email – bullpensportscards@yahoo.com
Website – www.bullpenla.com