Local Card Shop of the Week: Baseball Card Connection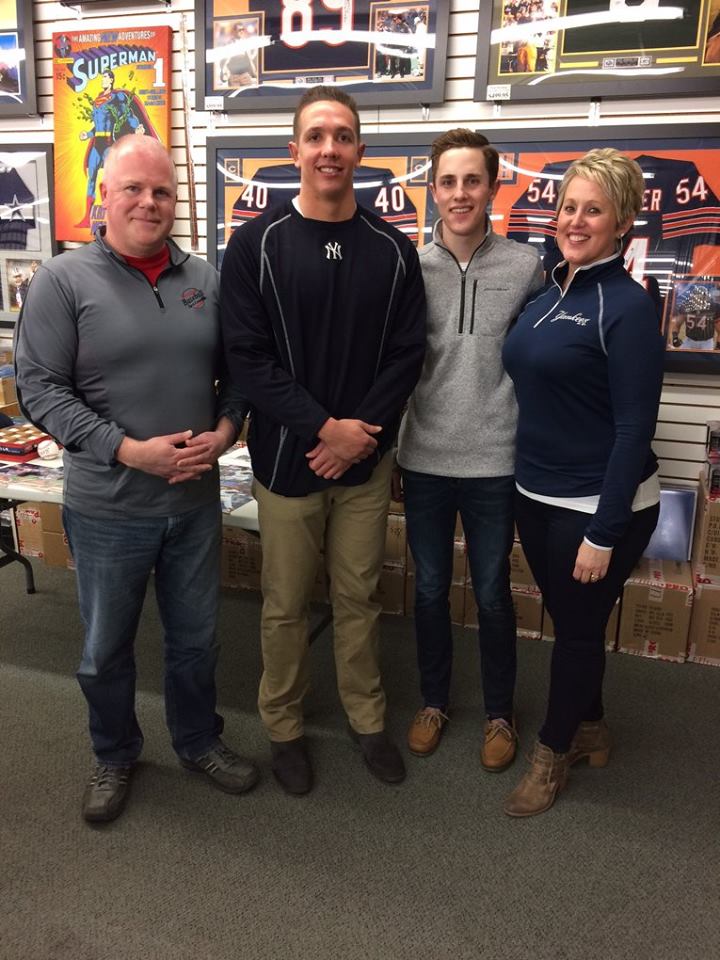 Jon Schafer began collecting trading cards in grade school in the late 70's-early 80's. Instead of heading to Wall Street after college, he made the decision to jump into the card world professionally by opening a card shop in 1992. His wife, Lisa, was working in the dental industry and in 1996, with no previous collecting experience, she became Jon's full-time business partner at Baseball Card Connection.
In 2017 Baseball Card Connection continues to operate as a family business in Effingham, IL with their son, Dawson, helping out as well. The Schafer's provided some insight into the world of Baseball Card Connection.
JS – Thanks for speaking with me Mr. and Mrs. Schafer. Can you tell us a little about how you decided to open a card store and some of the steps you had to take to make that dream a reality?
BCC – (Jon) I had been a trading card collector since my childhood. I always remembered that magical feeling of opening a pack of cards and seeing my heroes on cardboard. I really enjoyed attending card shows in order to purchase more cards for my collection. I thought if I rented a table I would be able to sell cards I did not want and buy more cards for my collection. I set up my first table at a card show at the age of 14 and continued to sell during my high school and college years. I graduated from Illinois State University in 1991 with a degree in Business Finance and Marketing.
I always had an interest in Wall Street and the stock market, but I decided to stick with what I enjoyed the most – The sports collectibles industry. Fresh out of college, I started my first store in the back of a Real Estate office, in a garage. It was all I could afford at the time and I had very little walk-in traffic. I started the business with all the money I could scramble up from shows and secured a small credit line from a local bank. I mainly did mail order and worked on inventory during the week, and sold at card shows every weekend. As the business started to grow, I moved from the garage to a retail store on the main street in our downtown business district. Expansion has now taken us to our 4th and final location downtown, a 6,000 square foot retail store.
JS – When reviewing your store online, one of the obvious things I noticed was that you are very involved in your local community. I saw some great photos from "Downtown Trick or Treat" and an Entrepreneur Showcase with the local High School CEO kids. Can you talk a little about your community and the role your shop plays?
BCC – We are fortunate to live in the great, vibrant community of Effingham, IL. We are definitely in the heartland (middle) of our country, located where Interstates 57 and 70 cross. Those interstates run the entire length of our country in all 4 directions. Our town has a lot to offer, considering the small population of 12,600. While most small town business districts have died off over the years, Effingham's continues to thrive. We are at 100% capacity in our downtown with many more business wanting to re-locate there. We try to stay active in our community and do what we can to make it a better place to live. We are involved in many downtown events and try to focus our efforts on making them fun for kids and families.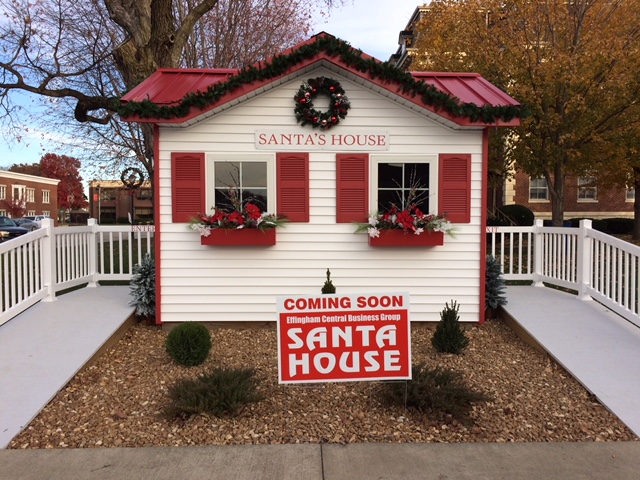 We recently led a project to re-build our downtown Santa House located on our Courthouse Square. Our community once again came through, donating over $10,000 for the re-build of our beautiful Santa House. We have also had multiple autograph signings in our store that have been free of charge to the general public. We are always looking for new ways to create positive experiences for our customers. One of the reasons we volunteered to host our local High School CEO class was the fact that I look at them and see myself. I want to share my experiences, good and bad, and maybe trigger something inside of them that will lead them to pursue their own passion. We have had a lot of positive feedback from previous classes because we are original, honest and don't sugar coat anything – we "tell it like it is".
JS – The hobby community has grown over the last couple of years with some very popular rookies and new products. Some have been new to the hobby and some have been former collectors returning from hiatus. What are some of the steps you've taken to attract and welcome new customers to your store and retain them as return customers?
BCC – We try to work with the major companies to promote that we are a "hobby" store so we can let potential customers know that we have products that the mass chains do not offer. We have been growing for 3 decades so customers are amazed at the amount of inventory we have to offer. Through the years we have had trade nights, special events, and autograph sessions to bring in new customers. We have utilized social media to attract customers and we have worked very hard to become a "destination" store – a store that you just have to visit if you are interested in sports. We try to post a lot of our out-of-town visitors on our Facebook page. We have received a lot of positive customer feedback stating how much they enjoy seeing and learning about these customers. The last visitors we posted were from Moscow, Russia.
JS – Your store is located in the middle of a pretty intense sports hub that includes St. Louis, Indianapolis, Chicago, Nashville and even Cincinnati fans are probably within your reach. What are the favorites for your client base when it comes to teams, players and sports?  
BCC – Without question, the Cardinals and Cubs are the most popular teams in our community and baseball is the most popular sport. The Cardinals were always the #1 selling team, but with the Cubs recent success, it's starting to even out a bit. We have over 250 different general merchandise items available for both teams.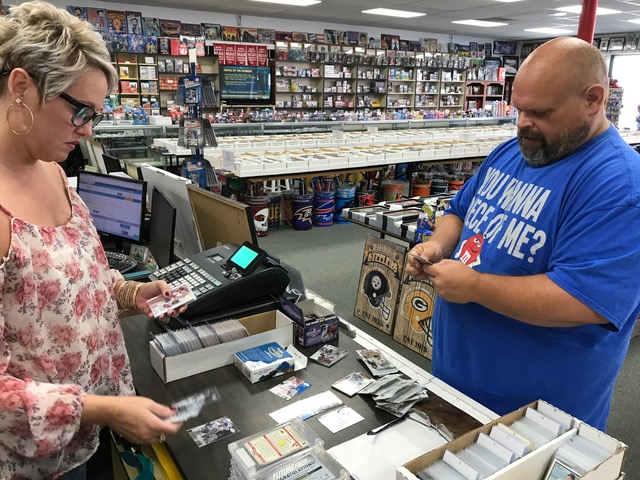 JS – I also see that you have a fair share of in house athlete visitors for signings and meet and greets. What have been some of the highlights for you?
BCC – You might find it amazing, but we currently have 3 kids from Effingham who are currently playing in the Major Leagues. Chad Green (New York Yankees), Nick Gardewine (Texas Rangers) and Danny Winkler (Atlanta Braves). Spencer Patton is from South Central High School, just a few miles away, and he pitched in 2016 for the Chicago Cubs. We also have quite a few local players in the minor leagues and Effingham has become a "hotbed" for baseball. Stan Royer, a friend of mine, played baseball for the St. Louis Cardinals in the early 90's and is definitely our sentimental favorite. Stan was always happy to come and sign autographs for us and meet our customers. When I was coaching 9 and 10 year old youth baseball, Stan would always take a day off and drive 3 hours to attend our practice and talk to our team – not something most retired players would do. As far as highlights, two of my favorite memories are visiting with Pete Rose and having dinner with Stan Musial. I can't predict the future, but topping dinner with "Stan the Man" might be an impossible feat.
JS – What have some of the hottest products been for your store over the last 12 months? 
BCC – Honestly, over the past 12 months it has been hard to keep any "hobby" products in stock. All Topps Baseball products have been on fire for us due to Aaron Judge and a great crop of baseball rookies in 2017. Panini Basketball products have also been selling well and Lonzo Ball is also leading an amazing crop of basketball rookies this year. Overall, the market has been pretty hot.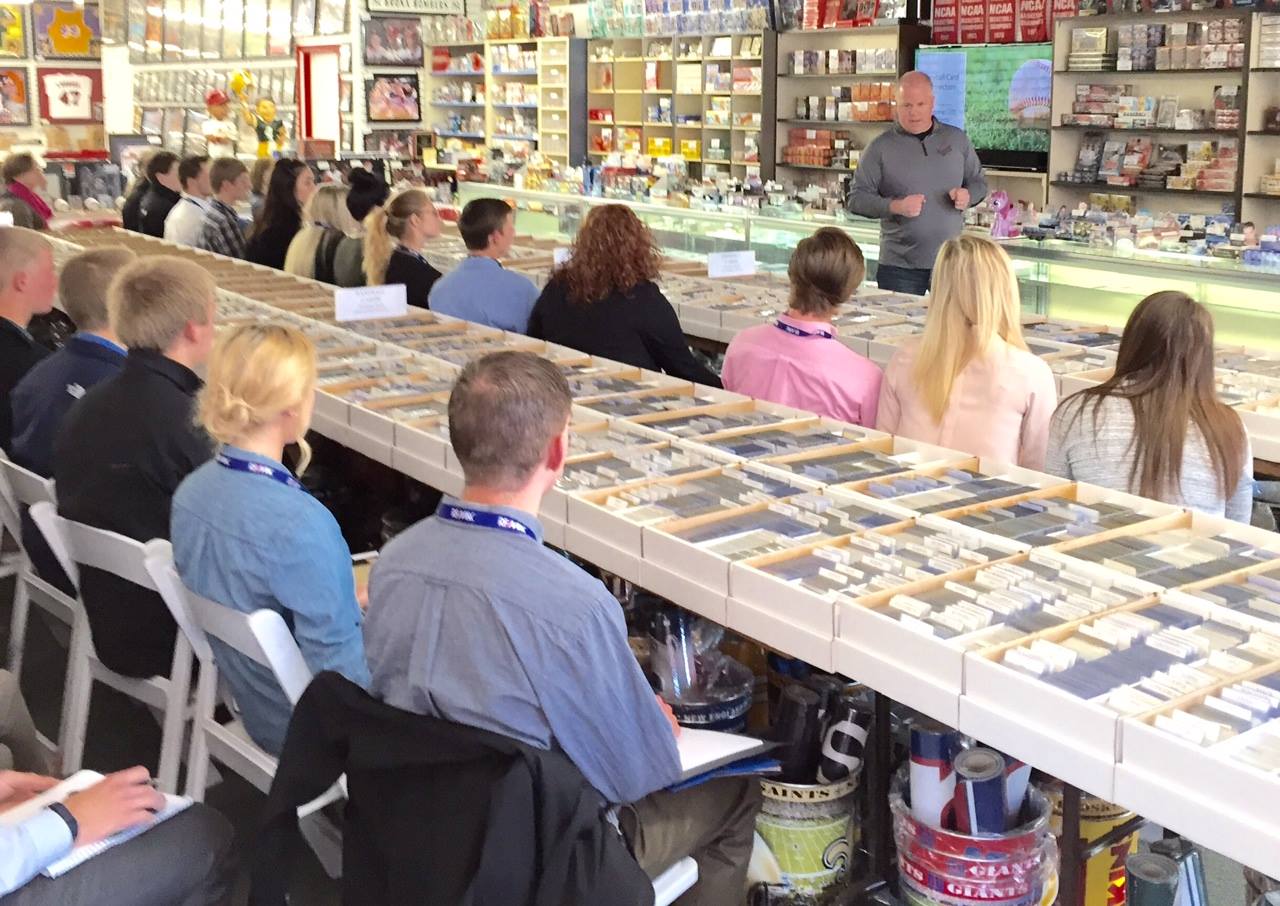 JS – What are some of the big hits you've seen pulled since you've opened Baseball Card Connection?
BCC – We have watched our customers pull so many good cards from packs and if they are not camera shy, we try to post those big hits on our Facebook page. One that comes to mind is a Michael Jordan / Lebron James Autographed 1/1 card from a box of Upper Deck Basketball. The card sold for $6,000.00 at the time and it was pulled from a box of cards that was selling for $49.95
JS – As the online market continues to grow and evolve, what are some of the steps you've taken to make your store a continued preferred destination for collectors?
BCC – Organization is our strong point. We have 4 million cards in stock and we can pull any card you ask for in a minute or less. We are constantly updating and keeping our inventory fresh and priced correctly. We have inventory available for player collectors, team collectors and set builders. We also have a large selection of unopened boxes and packs that are also organized by sport. Shopping online can be a good experience, but nothing beats actually holding the merchandise in your hand before you buy.
JS – What is your personal collection centered around? Are you more into new products or do you like another era like vintage or junk wax?
BCC – It's all over the map. That's the fun of collecting; you don't have to have a reason for buying something. We just buy what we like for fun. If you want specifics, I have a collection of 1959 Fleer cards that have been graded by BVG (Beckett Vintage Grading) and a huge collection of the Andy Griffith Show autographs, my wife Lisa collects PSA Graded 1978 Grease Trading Cards, and my son collects graded cards and is trying to finish up his 1986-87 Fleer Basketball graded set. Together, we are all Indiana Hoosiers basketball fans, so we collect all basketball cards of players that are shown only in their Indiana uniforms. Like I said, we are all over the map and that is why collecting is so much fun. If you saw a list of what we have purchased in the last 12 months, it would make no sense at all.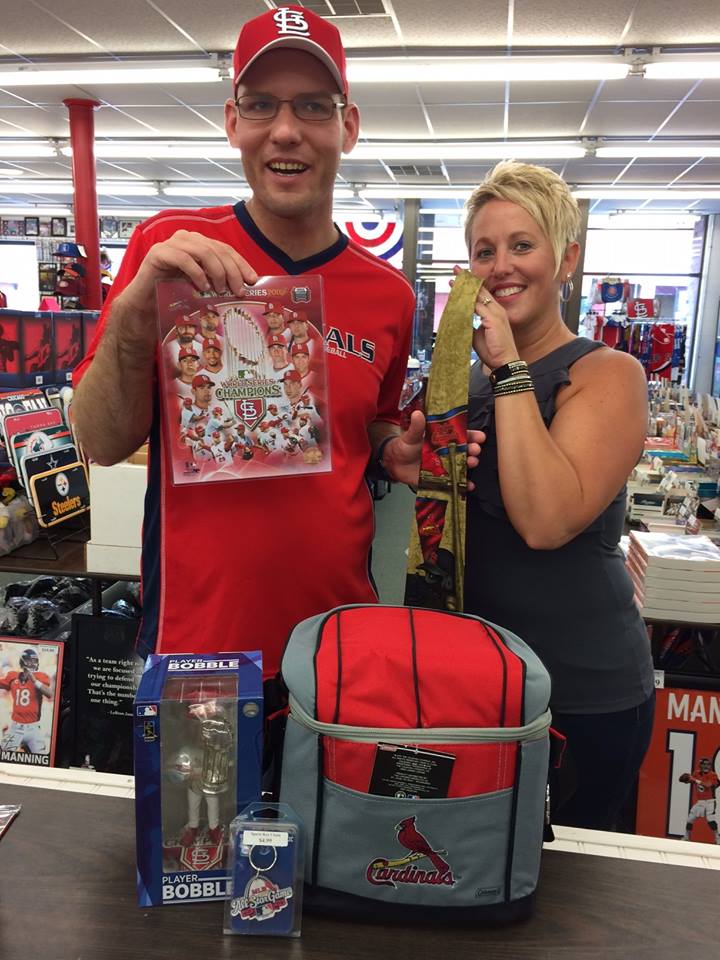 JS – As it relates to vintage cards vs. the current market, what have been some of the biggest surprises for you in card production or innovation since you started collecting (or opened)?
BCC – The technological advances in card production have been amazing. As much as I like vintage cards, I have to admit that some of the new products never cease to amaze me. The photography and card quality is peaking for sure. We are currently at the point where we rip open packs and just take the supreme quality for granted.
JS – Card companies continue to innovate and bring new products to the market in the future. What do you think card companies could do to enhance the hobby for collectors over the next few years?
BCC – They should continue innovating in the actual game used, game worn product lines. We have all experienced worn jersey cards and autographed cards. I would like to see some cards with maybe some pieces from a game used lineup card. How would like your next box topper to be a game used lineup card that has been scribbled on and autographed by the manager? I would also like to see Topps producing basketball and football cards again.  The market is in a good place and ready for more Topps products.
JS – In closing, do you have any events at your store coming up that collectors should know about?
BCC – We have a Topps free pack promotion in November for those who spend $10.00 or more in our retail store (while supplies last). We will also be having our yearly Black Friday and Small Business Saturday sales on Thanksgiving weekend. We are currently working out the details for our next in store autograph session so just follow us on Facebook so you don't miss the details.
Baseball Card Connection
Owner – Jon & Lisa Schafer
313 West Jefferson Ave
Effingham, IL
(217)342-2539
lisaschafer@consolidated.net
Hours of Operation
Monday-Friday: 10am-5pm
Saturday: 10am-2pm
Sunday – Closed
FaceBook – Baseball Card Connection
Ebay.Com – http://stores.ebay.com/baseballcardconnection
Beckett.Com – https://marketplace.beckett.com/baseballcardconnection_794