Local Card Shop of the Week: Wirth Collecting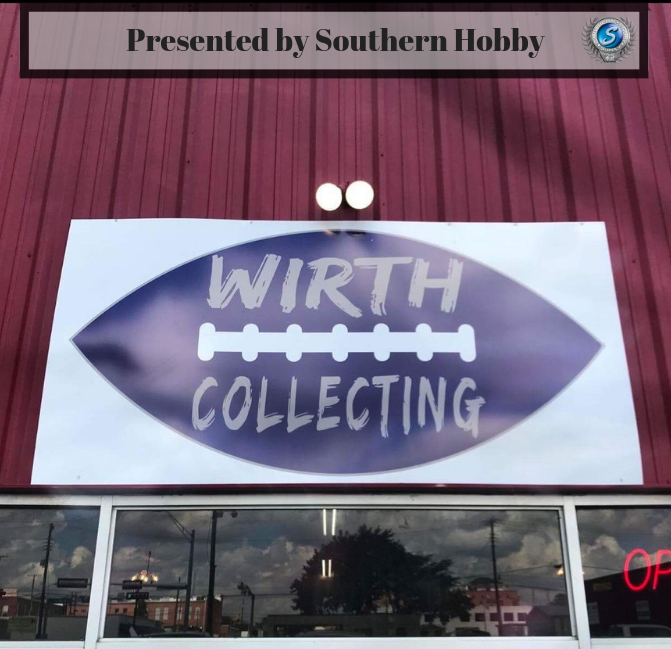 Paul Wirth has been around card collecting since the mid 1980s. He started out collecting and working trade shows at the local malls in his home town. He then spent the rest of the '80s and '90s collecting and selling his cards through various mediums.
After relocating to Texas a few years ago, he moved into another layer of the hobby when he started working at Beckett. He spent the next few years as one of the voices of the Fatpacks Podcast and helped provide some of the values we're all familiar with in the monthly price guide. He recently departed from Beckett to pursue his lifelong dream of being a card shop owner with his new venture, Wirth Collecting in Waxahachie, TX. I recently caught up with Paul to check in on the progress and to get his thoughts on the Hobby.
JS – Thanks for taking the time to speak with me Paul. Before we get into your shop, can you give us a little background of how you got started collecting?
PW – It's kind of crazy. I was at this girl's birthday party when I was a kid and they gave out goodie bags to the kids. Inside was a pack of 1986 Topps Baseball. I opened that pack and I don't think I've stopped opening since then. At the risk of sounding like a cliché, it was love at first sight. I liked baseball and have always been a numbers guy so I just fell in love with the stats, numbers and years on the back. One thing led to another and the next thing I knew, I was off and running doing the local church shows and whatnot. It's been going strong since that birthday party so I'm glad I got invited!
JS – You spent the last few years working for Beckett. When/why did you decide to move over to the card selling side of the business?
PW – I don't know if it ever leaves you once you get into the Hobby. I have always gone through phases where I would sell some stuff off to either buy more or go through other life changes. The funny story is that when we moved from Maryland to Texas about 4 years ago, for my wife's job, I told her that I was only taking a 5,000 count box and I wasn't going to be in the card business or restaurant industry any more. I guess she should've gotten that in writing. I kept my end of the bargain with the restaurant angle but here I am opening a card shop. Even when we moved here, I still wanted to be in the Hobby doing something. I have the buy/sell mentality about everything.
Then working for Beckett was great! I met a lot of cool people and learned a lot about the Hobby that I thought I already knew. I've met lifelong friends and that was awesome. For me, moving from a steady job like working at Beckett to owning my own shop, a couple of things came into play. First, it has really always been my dream and at 40, I found myself still chasing that. I was finally able to realize that and make it happen. That was really important to me and I wanted to give it a shot. I had also had a good bit of success selling on Facebook and other social media outlets so I was encouraged by that and it gave me the confidence to put some brick and mortar behind it. It's been pretty hectic but exciting at the same time.
It also gives me an opportunity to spend more time with my family. My kids enjoy Pokemon and they can hang around the shop with me and enjoy that. The hours are better as I am closer to home. I have already gone to two school functions this year that I wouldn't have otherwise been able to attend working over an hour away from home, whether at Beckett or any other job. That's pretty much how this all came about.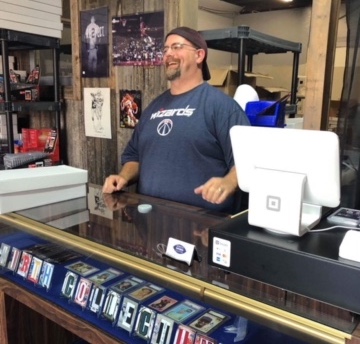 JS – Can you tell us about some of the various avenues to selling you have created over the last few months as you began this venture?
PW – I run a site on Facebook called 24/7 Auctions. It is basically a weekly auction site where I post my items for sale. We run about 250-300 items per week that go off every Thursday night. You just bid in the comments until the expiration and the high bid gets the item. It's been fantastic. I have about 1,300 members in the group and a lot of active people that I have built friendships with. It is fun to see their enthusiasm and what they PC. These guys are my 24/7 peeps and they are just good people. I have sports, non-sports, and plans for other items like Star Wars, comic books, and gaming. It will be a 24/7 explosion!
I also have 24/7 Breaking. I did a lot of breaking with Beckett and Eric and I really enjoyed the Box Buster series. I was never able to fully explore breaking while working at Beckett because it would have been a conflict of interest but now have the opportunity to do that with 24/7 Breaking. I have people from the 24/7 community and new people come in and I really enjoy it. I love hitting 1/1's, PC guys and other cool stuff. Some of the hits may not be big personally but I know that somebody bought into the break and will enjoy that card. It means something to the PC guys. It also helps the itch everybody has to open packs without having to do that by myself and not enjoying that with other people.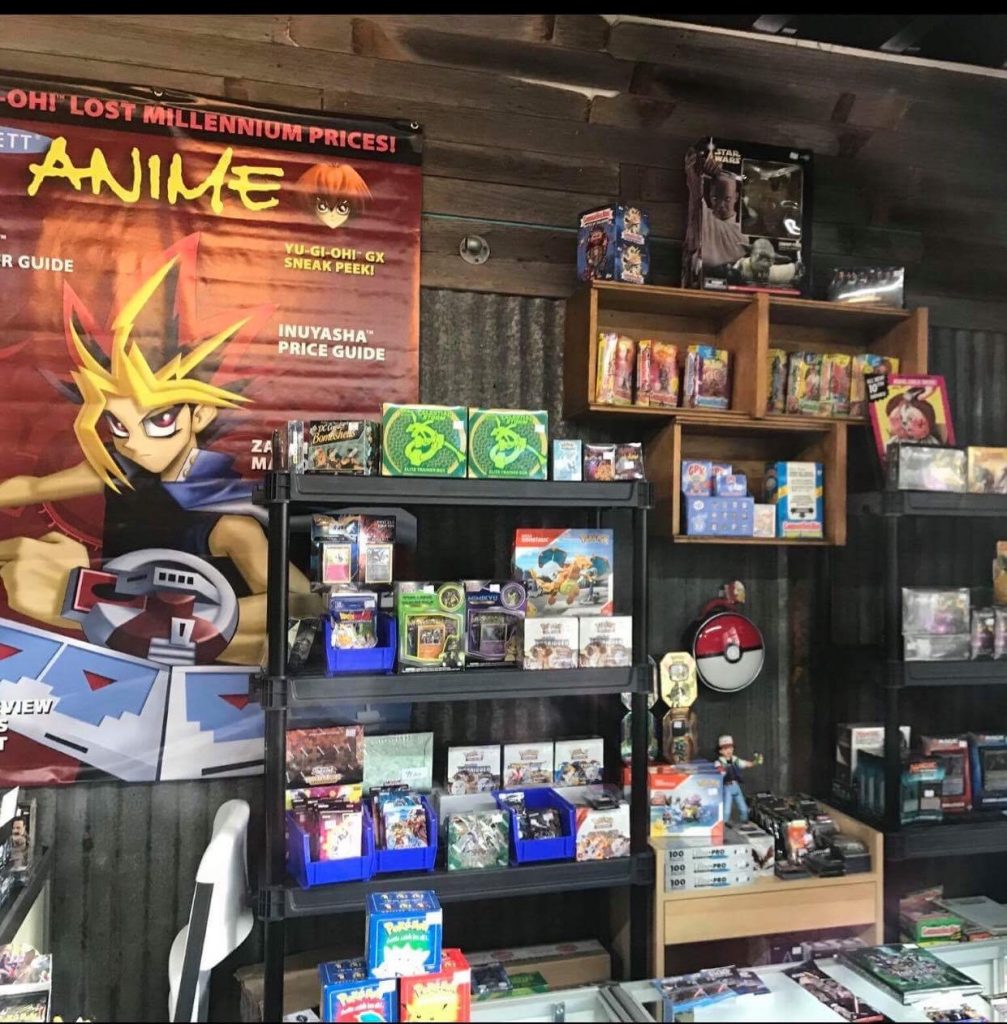 JS – You recently opened your card shop in Waxahachie, TX. What decisions went into choosing your location, size, etc?
PW – It was kind of crazy. There is an antique type mall called "The Red Barn" in the heart of Waxahachie. My dad retired a few years ago and decided to move here and be close to the grandkids. I knew he would love being here but I also knew he would get bored. So I decided to get a booth inside "The Red Barn" to sell toys, cards, and other stuff. It was really just a move to give him something to mess around with and, wouldn't you know, it was successful. I don't really know why but it just was. Maybe it was because it was different than looking at old cedar chests and was fun with Transformers, Star Wars and other stuff people enjoy.
We wound up growing from one booth to three and he was managing those. We weren't making a mint but he was having fun doing it. There was also a BBQ joint next door that decided to move out. I had gotten to know the owner of "The Red Barn" and we went by one Sunday and I really just brought it up with her jokingly. I asked her what she was going to do with the space and she had really just planned to move some of her stuff in there from storage to try and sell. I said, "Nah, just give it to me." She actually considered it and told me to come talk with her later in the week. I wound up getting it and she told me to do whatever I wanted with it and she gave me great rent. So a comment off the cuff led to us having this location.
JS – Can you tell us about your store setup and what you have to offer collectors?
PW – We do all sports, even hockey with the Dallas Stars. The Mavericks are exciting with some young players. Even though the Rangers are not great at the moment, there are a lot of Rangers fans around here. Then there are the Cowboys. So here I am, a Redskins fan, living 30 minutes from Jerry's World. That is a mental struggle but we are getting by. Down here, the sports teams are strong and have a good fan base so it makes sense to do all of the sports.
I also believe that if you are a card shop, you have to have some level of participation in the non-sport side of the Hobby. It's an area that is really booming and I just don't think you can afford to not be involved in it. So I have 3 display cases dedicated to non-sport: Pokemon, Yu-Gi-Oh, Magic the Gathering, etc. I would say that 1/3 of the store is dedicated to that part of the Hobby. I know a lot of people may shy away from it because they don't know enough about it but I know a lot about the non-sport thanks to different jobs and life experiences and like it a lot. It brings a lot of kids in. Sports cards aren't bringing in a ton of kids right now but you get a lot more in for gaming. Also, I wouldn't call myself a memorabilia store just yet but I have a few pieces in my inventory. It's more of a space thing than anything for that.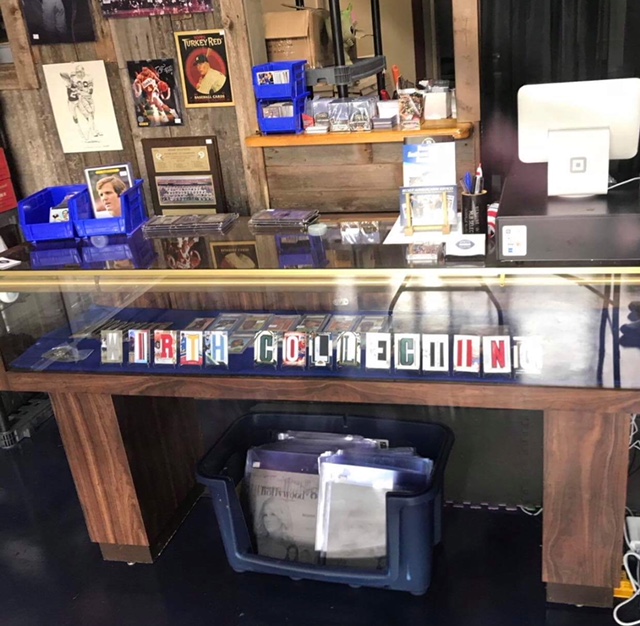 JS – What type of in store events do you have in mind? Do you have any ideas for monthly or quarterly events for your regular customers or to help draw in some out of town collectors through your Facebook pages?
PW – The unique thing about my store is that there is a front room that is 24×24 and a back room that is 17×24 so they are almost the same size. It has somewhat of a natural division because it was previously a restaurant. The front space is my retail space. The back part is where I have my break station set up and now I do all of my breaks from the shop. Right behind that, there are some tables for a shipping center and then a place for my inventory and storage.
If you look at the front of the store, there isn't quite enough room to host tournaments at this point. There are certain rules and structures and I don't have the ability to do that right now. But there are no regulations for trade nights so that is one thing I will be working on by the end of October. I'm still getting settled and trying to get customers in but I am certainly going to be working in trade nights very soon. I would like to eventually rent some space for gaming events and tournaments that would be a separate location. I'm also working on something special for Black Friday. The Redskins play the Cowboys on Thanksgiving so I want to make that a fun postgame event.
JS – I understand that you have your father helping out at the store. Has this been something you have discussed in the past? Baseball card collecting has always been a hobby that brings people together but especially through father/son relationships. Can you tell us about working with and enjoying the Hobby with your dad?
PW – It's a unique situation. After my mom passed away, he had been trying to find something to do with himself. My wife and I moved here and he ultimately retired back home in Maryland. He wanted to get away from the hustle and bustle of Maryland living and enjoyed it out here in Texas. It was really just a natural fit when he came out. He used to help me back when I was a kid. He would get me out of school early on a Friday and take me around to mall shows to set up. I would be doing shows Friday through Sunday, making a few bucks and he was helping me get from place to place. He seemed to enjoy that.
When I got back into cards in the mid 2000s, he would come and hang out because he loved talking to people and enjoys the whole "transaction" aspect of it. He's not a card expert but you really can't find anyone better to help you run a business than someone you trust like your father. He has my best interest in mind. He's a hard worker and likes pricing stuff and greeting people so he is a great help at the shop. He's a proud papa in one aspect and we both give each other a hard time about that. But it has been fun with the kids getting to spend time at the shop with my dad.
I'm really getting the whole family involved as I just had my son do his first video called "Ripping Ryan" and he has been bugging me ever since wanting to know when we are doing it again.
JS – What products are you looking forward to over the next year? You have been involved in pricing new products in the past but now you will be on the front lines in getting those to collectors. What are some of your favorites?
PW – It's funny that we are talking this week because two of my favorite products just came out. The first is Spectra Football, which is one of the best products Panini puts out there. I love the card stock, the bubbles, the pinks and neons, and all the crazy designs. It is such a well put-together set. I know it is a little on the pricey side so it may not be everyone's cup of tea, but I think it is worth the money to spend a little extra. I'm excited to be doing some breaks with that.
I'm also a Star Wars geek so I'm really digging the Master Works product that just came out. I always end up opening some of that when it comes out. Coming up, Bowman Chrome Baseball is a set that I love. It grades fairly well and I love the prospecting aspect. I like being able to put cards away in a box and just saying to the players on the cards, "Alright, what are you going to do in your career? Hit home runs? Or will you be working at the grocery store in 5 months?" I like that part. I don't have a full customer base and they are still creating themselves to be honest, but I know a lot of people online love Bowman Chrome.
I'm also a purist so I like when Topps Baseball drops every year. I'm always excited about that first real baseball release. I embrace Series 1, 2, and Update. I started with those base sets and really still like those. I was excited to get the pre-order for 2019 and I was like, "Yep, I'm checking those boxes off!"
JS – Can you talk about social media for a moment and how important that has been for you in this process? It really feels like the leading tool in reaching customers and promoting products and shops in today's age. What say you?
PW – I think it is a 100% must for shop owners to be visible. We thought the industry changed when eBay came about and it really did. You could all-of-a sudden sell your Seattle Mariners cards to a collector in Seattle. But the difference between eBay, which was great then, and social media is that eBay is so non-personal. You make a transaction with somebody that has a 400,000 feedback and he is going to send you some generic feedback and that is it. But on Facebook, you become friends with people, we can message each other, and I am not talking to a feedback number. The interaction allows for additional sales through conversation, which really doesn't happen on eBay.
You learn more about your customers and get to know them through social media. I think social media (whichever platform you are on) is a game changer and I wouldn't be anywhere without them.
JS – What do you think the companies are really getting right at the moment? What are some things you feel will be real selling points for today's products?
PW – I think the companies are really doing pretty decent right now with putting out products. Whether they admit it or not, the products are being made more towards the breaker and the value, hits, parallels, etc are really reflecting that. Breaking has to be over 50% of buying right now so you have to create a product where there isn't just one hit that someone will walk away with. I think the companies are really smart about creating the configuration and distribution to thrive in that environment.
JS – In contrast, you will be the point person for a lot of collectors and the contact to the companies. And though your shop is new, you are not new to the card industry. What are some changes that would you like to see with products that you think would help with the collectors and shop owners?
PW – On the flip side, configuring the boxes for the breaking environment has inflated the prices. Some of the products are nice looking, they're good, and have decent checklists but the prices are up because you are only paying a portion to get your team. That's not even on the companies but it has given the opportunity to charge up for boxes based on what you can get per team. Panini was genius for bringing Tom Brady autos back but that took a break spot for the Patriots from $18 per spot to $80 per spot because you now have a chance at a Brady autograph, even though there are only like 25 of them.
I think that it's great for the breaking community and that brings a lot of volume into the hobby. But what we are missing is still the kids. We were just at the Industry Summit earlier this year and everything was kid focused, kid focused, kid focused. Plus, we have National Trading Card day and all the other events that have been created. But it is hard with the kids because they want to collect the Pokemon and gaming cards. Part of it is because they can't really afford the sports cards. I really don't know how to combat that issue because there really is no easy answer.
That is really why I embrace Pokemon and Yu-Gi-Oh because it gets the kids into something. Hopefully, that will bridge over to sports cards. I think it is important for kids to have something else to like besides iPad's and electronics. When you have a collection, you are going to stores, interacting, learning values, understanding trades and negotiations, and keeping up with market trends. It also helps kids learn how to take care of their belongings. Card Collecting is very educational.
JS – In closing, as a new shop owner, what sort of advice would you have for someone looking to take this same step in the future?
PW – By nature, I am a go-for-it type of person so I would tell them to go for it. Right now, the economy is pretty decent and people are spending extra dollars on this type of stuff. That's a good thing. My goal is to build relationships through social media and in person to build up the customer base that is there with me even through economical ups and downs. Don't lose sight of needing your core relationships and loyalty so you can stay grounded for any tougher times.
Wirth Collecting
Paul Wirth
240-462-2903
305 W Madison Street
Waxahachie, TX 75165