Local Card Shop of the Week: The Vault Sports Cards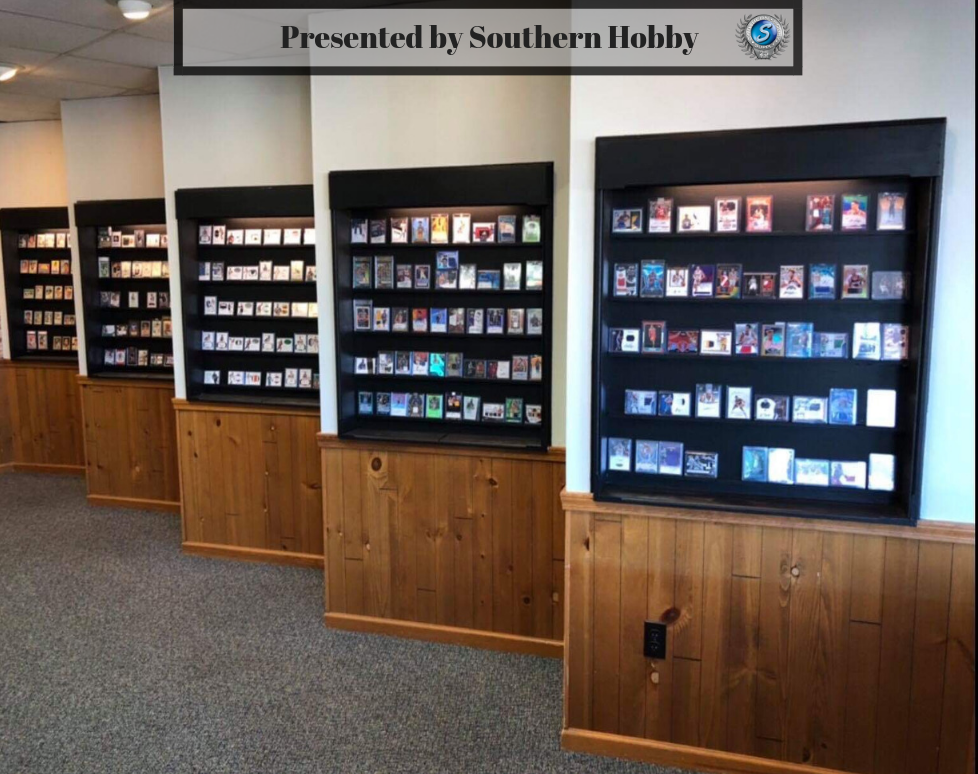 Aaron Bertram began collecting cards in 1990, when the "Junk Wax Era" was pushing the Hobby into an all-time high in popularity and options. He has been in and around the Hobby ever since, even beginning to dabble in sales in the mid 2000s. He eventually was able to realize a dream that he had for years: opening a card shop. He now owns and operates The Vault Sports Cards in Traverse City, MI with friend and business partner Brian Forsman. I recently caught up with Aaron to discuss his shop and get his thoughts on the Hobby.
Local Card Shop of the Week is brought to you by Southern Hobby, who has been serving the collecting community for nearly 30 years.
JS – Thanks for taking the time to talk with us Aaron. Can you tell us what led to opening a sports card store in 2018?
AB – I started collecting in 1990, and have loved cards ever since. I have been buying, selling since 2006 and then got into the break scene in 2017. I met my business partner (Brian Forsman) on Facebook and he had me join him in running his break room. We became fast friends and owning a card shop had been a dream of both of ours for years. We worked out the details and in Feb 2018, I left my career of 17 years and opened The Vault!
JS – Can you tell us a little about your store? Can you talk about your setup and what type of inventory you carry?
AB – We went with a modern approach. So many card shops are cluttered and have very little space to sit, relax, and dig through some boxes. We have a customer lounge with a big screen TV, comfortable chairs, break stations where customers can sit and open boxes, and an area to sit and grab a box and dig for singles. We stock boxes and singles of all (4) major sports, as well as some memorabilia, and all the supplies that one would need for their collection.
JS – What was or has been the most challenging aspect of opening a brick and mortar card shop?
AB – The biggest challenge is getting the word out locally. We are relying heavily on targeted social media ads to try and grow our foot-traffic.
JS – You are right on Lake Michigan and from a geographical standpoint are surrounded by Green Bay, Milwaukee, and Detroit. Can you tell us a little about your collector base? When it comes to the home team, who does everyone collect?
AB – Being in Traverse City, we see A LOT of tourists. Tons of people from Chicago, and Detroit have summer homes here. We see a big mix of Packer Fans, Cubs Fans, and Sox Fans. Most of the local people seem to be Detroit fans. Although, seems like the kids are fans of the "big" teams like the Warriors or Lakers.
JS – What products have performed very well in 2018 and why do you think that has been?
AB – Basketball … basketball… and more basketball! Basketball is by far our most popular sport, mainly because of our break room. But I also think that the secondary market is extremely good for basketball as well and has a huge international presence. We ship basketball cards all over the globe.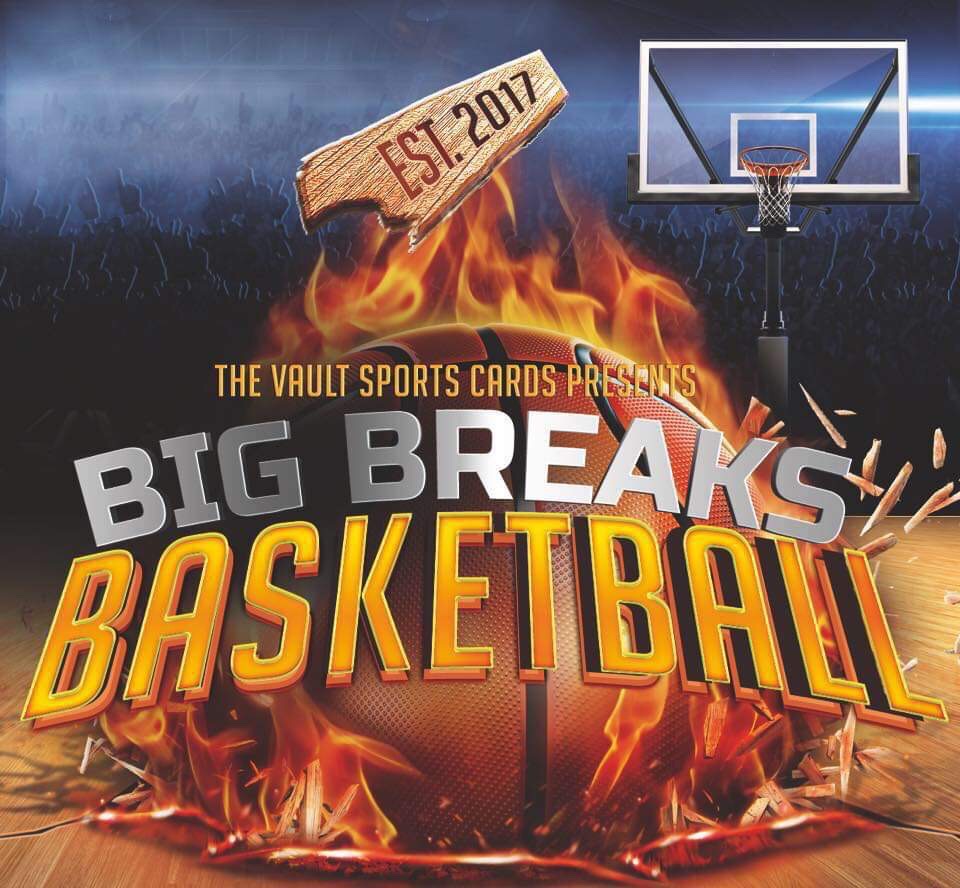 JS – Are there any products that are on the release calendar you are really looking forward to in the next few months?
AB – I am a huge basketball Fan, and I am looking forward to 18/19 Panini Select. This is by far my favorite product and is loved by all of our customers as well. Prizm Basketball was just released and that is a close 2nd.
JS – Your Facebook page shows off some really great hits. Can you tell us about any big hits that have happened over the last year? 
AB – We open a lot of product, but some of the ones that stand out the most from the past year have to be 2016-17 Flawless FOTL Ben Simmons RC Diamond /2, 2017-18 National Treasures, Donovan Mitchell Vertical RPA /5, 2017-18 Prizm Luck of the Lottery, Donovan Mitchell RC Black 1/1 and 2018 Bowman Shohei Ohtani Orange RC Auto /25. We have been extremely lucky this year, and have made some really happy customers because of it.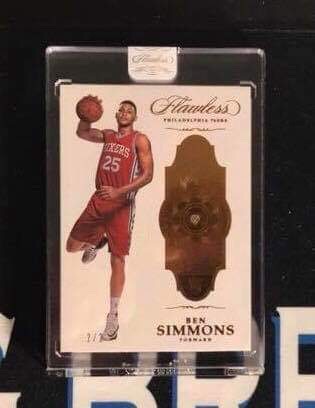 JS – As a newly opened shop, what have you found to be the best method for advertising your store? You have an active presence on Facebook and social media is a big component in today's industry. How do you try to get "The Vault" in front of non-local potential customers? 
AB – Facebook, Instagram, etc. We live on Facebook and are extremely active on all the popular card groups. You have to utilize all the tools that social media offers to survive in this game.
JS – The way we collect has changed a lot since you joined the Hobby in 1990. That year alone saw the release of the Ketchup Red Donruss Baseball Set, error filled Pro Set Football, and many other mass produced products. Looking at the Hobby in general, what changes have been the most influential in the hobby over the last 28 years? 
AB – I think Game Used/Autographed cards have had a huge impact on the Hobby, as well as low numbered/SP cards. These really give collectors something to chase. Also, for the most part, the card companies seem to do a better job with production. You still see issues, but you really don't run into the severe printing/cutting issues like we did in the past. The internet has also completely changed the game, allowing us to see & buy a ton of cards that back in the '90s we would have had no idea were pulled.
JS – Even though the Hobby has been innovative and brought us products we never thought we would see since 1990, I still miss some of the aspects and features from "the good ole days." What do you miss most about when you collected as a kid? 
AB – Simplicity. Putting a complete set together was straight forward. You knew the checklist had 630 cards and it was obtainable. Today, sets are so large with all the variations, and numbered cards you can never truly have the "complete set." I also miss the prices, I remember when Finest first hit the scene it was $13 a pack! I remember thinking, "Nobody can afford that!"
JS – I saw a really cool event advertised as "The Vault After Dark" for the end of November that included case breaks, pack wars, pizza, and even an Old School NBA Jam Tournament. Can you tell us about that and any other events you have at the store?
AB – We have done the "After Dark" event once before, and plan on making it a quarterly event. It's a fun way to get a bunch of local customers, as well as customers from all over the country together and have some fun. The first one that we held this past summer had people from Florida, Oregon, Ohio, and Kentucky all fly into Traverse City. We basically broke case after case until 4 am. It was an absolute blast!
JS – When looking at the industry as a whole, what do you feel is working really well right now and what areas would you like to see improvement? What type of feedback do you hear from your customers when it comes to product offerings, redemptions, points systems, etc.? 
AB – I think the industry has a decent mix of low/mid/high end products for all sports and has something for all budgets. As far as improvement, I think there needs to be more than 1 company with a license per sport. Right now, if you want licensed basketball or football cards you only have Panini, baseball you only have Topps, and hockey you have Upper Deck. There should be two different companies for each sport, I think this would spark a much more competitive marketplace and allow collectors to have a choice. I personally miss Upper Deck Basketball. They have the rights to LeBron James, Michael Jordan and Ben Simmons…yet they can't make a basketball card. Most of my customers have this same complaint. If Panini had a competitor, you know you wouldn't see nearly as many redemptions or point cards. And if you did hit a redemption they would fulfill it quickly, as they wouldn't want to lose your business to their competitor.
JS – In closing, can you tell us about any sales or upcoming events you have scheduled for the next couple of months?
AB – We don't currently have any promotions planned, but if you follow us on Facebook you will be notified when we offer discounts on our website as well as any events that we may plan for the near future.
The Vault Sports Cards
Aaron Bertram
Brian Forsman
(231)252-4558
1325 West South Airport Rd
Traverse City, MI 49686
Hours
Sunday – Monday – Closed
Tuesday – Thursday – 10:30AM-6:30PM
Friday – 11AM-7:30PM
Saturday – 11AM-5:30PM
Facebook – The Vault Sports Cards